CHESTER, Penn. -- On the back foot for much of the match, the San Jose Earthquakes scored late goals at the tail end of each half to collect a road win over the Philadelphia Union.
The Union looked to have the early momentum when Fred put the home side ahead in the 14th minute, but the Quakes rode out the storm, and goals from Chris Wondolowski and Arturo Alvarez in the 45th and 89th minutes earned them three points.
Danny Mwanga, who picked up the assist on Fred's goal, was disappointed with a call not to award a foul when he had his shirt pulled on a breakaway, though the rookie acknowledged that his touch let him down.
"He definitely did grab me, but I could have been much better," the first pick in the SuperDraft said. "I could have taken a touch closer to the goal. But I mean if he didn't grab me, I could have done a better job finishing."
Mwanga also played down some of the hype that has been surrounding him in recent weeks.
"Right now, the most important thing is just making sure that every time I step on the field, I help my teammates win, because we need points right now," Mwanga said. "So I'm not really worrying about the All-Star [game], Rookie of the Year [award], or anything. I'm just worried about my focus when I step on the field and making sure that I bring something to the table to help my team win the game."
Union manager Peter Nowak was critical of some of the mental reaction from his young squad, but proud of their overall play.
"From the flow of the game and team commitment we can't say bad words about this team," Nowak maintained. "The game is not about how many shots we have on goal or if it was a handball or if it was a foul. At the end of the day, results stand regardless. We have to anticipate things that may hurt us. We lost a game we were supposed to win."
On the other side, the Earthquakes were delighted to leave Philadelphia with all three points. San Jose midfielder Bobby Convey, a native of Philadelphia, was happy with the result, saying, "It was relieving. It was a huge deal. That's good momentum going forward."
Convey also praised keeper Jon Busch, who made a number of vital saves to keep his team in the game.
"He was man of the match," Convey asserted. "We couldn't have done that without him. He showed how good is."
San Jose manager Frank Yallop joined Convey in praise of his goalkeeper.
"Jon's a quality keeper," Yallop said of his second string net-minder. "He has played a number of years in this league. He's played well for us in the three games he's had. Tonight was sort of his crowning moment. He played well, and hopefully he continues to play well."
Amid all the praise, Busch preferred to talk about his relief at avoiding a loss against a very impressive Philadelphia side.
"They played well in the first and second halves. We couldn't get close enough to them," Busch said. "They had some good chances.
"We would have been happy with a point on the road. And then we got that break and executed it very well and got the goal. Anytime you can get three on the road, that's great."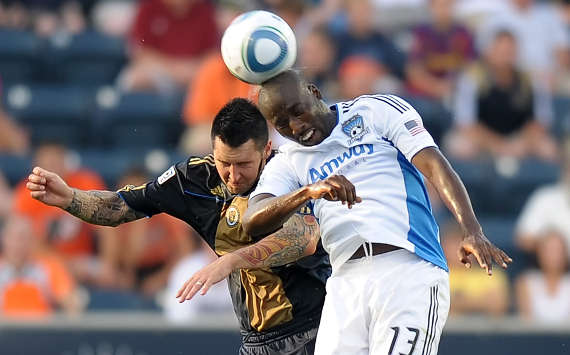 Busch also downplayed the importance of his performance in goal.
"Sometimes you get a little lucky, and I just did my job tonight. At the end of the day, that's what I get paid to do. I get paid to make saves and catch crosses. I'm glad I could help this team, and we got three points tonight. That's all that matters."
His opposite number, Union keeper Chris Seitz, was considerably less pleased with the result, and determined to find success going forward.
"It absolutely stinks," Seitz said of the result. "We play them again this season, and we have another one on Wednesday. We'll go back and try to get the bad taste out of our mouths."
Seitz was also disappointed with his team's mental lapses at the end of the halves. Both of San Jose's goals came in the dying moments of each half.
"I really don't know what it is. I think we need to go back and look at film. I don't know if people are turning off or what. If you push guys forward, you're going to leave guys open in the back, and it's it's a risk that we're going to take at home. With that being said, we need to have cover, and be organized enough to cut that out and not allow things that happened today."
San Jose coach Yallop admitted that his side "didn't deserve to win," but he was proud of his team's ability to capitalize on their chances, saying, "In 90 minutes of soccer, you can score at any time. I was very happy with the demeanor of our team and the fight. I thought we were especially dangerous in the break."
Yallop praised his opposition, saying that they "probably deserved to score more than they did."
He then added, "But we'll take it."
For more on Major League Soccer, visit Goal.com's MLS page and join Goal.com USA's Facebook fan page!