It's Goal.com's MLS game of the week.
On Form
New York Red Bulls, by Terence Steed
: The Red Bulls have lost four in a row, but the results have not reflected the overall form of the midfield and the forward line. Juan Pablo Angel is scoring and Seth Stammler, Joel Lindpere, and Sinisa Ubiparipovic have controlled the bulk of the possession.
Houston Dynamo, by Zach Woosley
: As much as many Dynamo fans would like to pretend Saturday's match against the Philadelphia Union didn't happen, the sad truth is it did. After coming back to take a 2-1 lead, Houston gave up two goals late to grant Philly their first ever road victory and continue the now ridiculous win/loss streak that has been going since April 1. Injuries played a big part in the loss with Mike Chabala leaving in the first half and Eddie Robinson in the second. The Union were able to take advantage of Chabala's absence on the left side and Ryan Cochrane being out of position on the game winning goal.
Off Target

New York
: Despite the adequate play of the attacking players, the previously stout defense has been leaking goals through the same simple mistakes that plagued the team last year. Tim Ream was at the heart of the miscommunication that gifted the Columbus Crew a win two weeks ago and scored an own goal last week for the Revs. The rookie has looked good overall, but he needs to get his confidence back or else more mistakes will follow.
Houston
: The Houston Dynamo cannot win back-to-back games. For now there aren't answers, just a lot of anger and frustration. Brian Ching had some strong words for his teammates after the Union loss and fans can only hope the team listens to their captain. The best explanation I have for the inconsistent play at this point is effort. We've seen what Houston can do when they are focused and aggressive for 90 minutes, trouble is there have been to many times this season that they've seem to lack focus, especially in the first half.
Tactics
New York
: Chris Albright will finally get his chance to stake claim to right back with Ream, Mike Petke, and Danleigh Borman continuing together in the back. It should be time for the reserve team central midfield pairing of Ubiparipovic and Tony Tchani. If Lindpere is shifted to the left wing his work rate should create more opportunities for Angel. Finally, Hans Backe needs to drop Dane Richards and give John Wolyniec, Conor Chinn, and/or Irving Garcia a chance, but his obsession with speed up top makes that unlikely.
Houston
: The defense could look a lot different depending on the health of Chabala and Robinson. Dominic Kinnear will have to decide if he goes with Cochrane and Hainault or puts veteran Craig Waibel back in the mix, The midfield will likely look the same and the only question up front is whether Ching or Landin starts next to Dominic Oduro.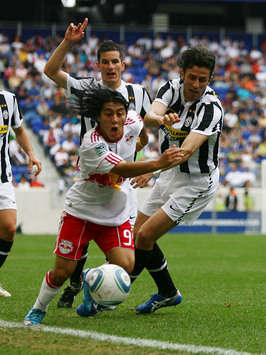 Intangibles
New York
: The Red Bulls return to Red Bull Arena where they have played well all year. Another midweek game will likely mean another small crowd of around 12,000, but even a half full Red Bull Arena provides a boisterous 12th man.
Houston
: Brian Ching. With Ching not going to South Africa, the Dynamo captain is healthy and has nothing but the MLS season to focus on. Ching was livid following the loss to the Union and made it clear that the effort being put forth by the team right now is unacceptable. Ching's leadership on and off the field is needed more than ever, so as disappointed as most around the Dynamo are that Ching is not at the World Cup, no one can deny it might be better for the club that he is back in Houston.
Outcome
New York
: They have played well enough to get something out of the last few games and have lost through bad bounces, bad calls, and most importantly, bad mistakes. They are due to turn that around despite playing a good team in the Houston Dynamo. 2-1 Red Bulls.
Houston
: Houston's first trip to Red Bull Arena against a struggling New York team will continue the win/loss streak. Dynamo win 2-1.
For more on Major League Soccer, visit Goal.com's MLS page and join Goal.com USA's Facebook fan page!