The Forecast issues a tardy version of this week's Goal.com MLS rankings and then unveils its Week 9 picks.
By Kyle McCarthy
In the maelstrom surrounding the United States national team's friendly against the Czech Republic and the subsequently revealed 23-man roster for the World Cup earlier this week, the Goal.com MLS Rankings slipped through the cracks.
For posterity's sake, the Week 9 rankings – Thursday night's 1-1 draw between Chicago and FC Dallas did not influence them, as per usual – are included below:
1. Los Angeles
– (1)
2. Columbus
– (2)
3. Real Salt Lake
– (3)
4. San Jose
– (4)
5. Houston
– (5)
6. Colorado
– (6)
7. New York
– (7)
8. Toronto FC
– (9)
9. Seattle
– (8)
10. FC Dallas
– (11)
11. Chicago
– (12)
12. Chivas USA
– (10)
13. Kansas City
– (13)
14. New England
– (14)
15. Philadelphia
– (15)
16. D.C. United
– (16)
With the perfunctory duties out of the way, the Forecast turns its gaze to the seven matches on the docket in Week 10. One match, however, may overshadow all of the others.
Last week
: 2/4 (50%)
For the season
: 26/58 (45%)
Saturday


Los Angeles @ Columbus – 7:30p.m. – Goal.com Preview
The conference tabletoppers clash at Crew Stadium in a battle of the two remaining undefeated sides. Unfortunately for those hoping to gauge the MLS Cup credentials of each team, neither club enters the match at full strength. The Crew will likely have Chad Marshall and Robbie Rogers back in the starting XI after their midweek World Cup disappointment, but Brian Carroll (right ankle), Frankie Hejduk (right hamstring) and Danny O'Rourke (right quadriceps) could all miss out, according to the
Columbus Dispatch
. Los Angeles will have to cope without the World Cup-bound Edson Buddle and Landon Donovan. Expect a cagey affair with both sides keeping things tight at the back and trying to break when possible. The Forecast called a draw earlier this week when queried for a MLSsoccer video, so consistency demands a similar verdict here.
Prediction
: Draw.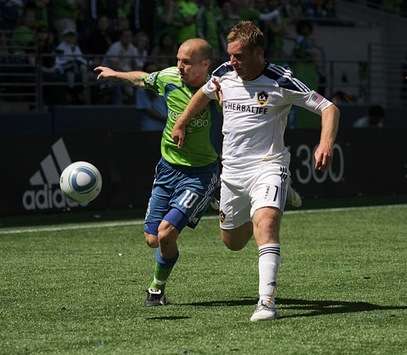 Chivas USA @ D.C. United – 7:30p.m. – Goal.com Preview
The Red-and-White conceded a late goal to Fabian Espindola to turn a draw into a loss at the last moment against Real Salt Lake last Saturday, but the performance from that game should bode well for success in this match. United has struggled all season when confronted with teams that can keep and move the ball well. D.C. simply can't compete in midfield with Chivas USA, particularly if Sacha Kljestan returns from U.S. national team camp with additional motivation. United should draw some inspiration from its midweek friendly victory over A.C. Milan, but a repeat here looks decidedly unlikely against considerably more motivated opposition.
Prediction
: Chivas USA win.

New York @ New England – 8:00p.m. (Galavision) – Goal.com Preview
New York has failed to defeat New England in its previous 13 attempts (0-7-6). A pair of midfield moves over the past week should ensure the dismal run continues at Gillette Stadium. Revolution midfielder Shalrie Joseph returned after missing five games to log 90 minutes in a 1-0 defeat to Toronto FC last Saturday and immediately boosted his side's suspect work in possession. With a full week of training under his belt, Joseph should wield considerable influence on this match as he works his way back to match sharpness. Red Bulls midfielder Carl Robinson could have played a role in hindering Joseph's attempts to dictate the cadence of the match, but the Welsh midfielder went under the knife earlier this week to clear up a lingering right knee problem and will miss the next five-to-six weeks. While the Revs could snap their seven-match winless streak in this contest, their recent failings in front of goal and their tendency to concede from set pieces means a draw represents the more prudent option.
Prediction
: Draw.

Philadelphia @ Houston – 8:30p.m. (Fox Soccer Channel) – Goal.com Preview
Dominic Kinnear will have a surplus of attacking options in the wake of Brian Ching's surprising omission from the U.S. World Cup squad. Pairing Ching with the speedy Dominic Oduro probably represents the best bet as the Dynamo revels in its ability to call on a series of varied striking choices. Odds are Houston could pick any two forwards and find its way through a particularly porous Union back four. Philly manager Peter Nowak will demand a solid and resolute away performance from his side, but mistakes from inexperienced players and veterans alike will likely hinder the Union on a trip where errors aren't permissible. Houston started its pattern of alternating wins and losses in the second game of the campaign, but this match against the expansion side should hand the Dynamo a second consecutive win for the first time this season.
Prediction
: Houston win.

Seattle @ Colorado – 9:00p.m. – Goal.com Preview
Sounders FC coach Sigi Schmid must be wondering what else can go wrong at this point. After falling 1-0 to surging San Jose last Saturday to drop to 2-3-1 at Qwest Field on the season, Seattle received two jarring injury setbacks during the week. Defensive stalwart Jhon Kennedy Hurtado tore his left ACL in the waning moments of the defeat, ruling him out for the foreseeable future. In addition to Hurtado's long-term blow, influential midfielder Osvaldo Alonso tweaked a lingering right quadriceps injury in Wednesday night's friendly victory over Boca Juniors and told the
Seattle Times
on Thursday that he could miss a couple of weeks. Without Alonso and Hurtado available to form the foundation of Seattle's spine in the center of the park, the Rapids enjoy the edge here.
Prediction
: Colorado win.
Kansas City @ Real Salt Lake – 9:00p.m. – Goal.com Preview
Everything is starting to click for RSL. Espindola's late winner at the Home Depot Center last Saturday extended the Claret-and-Cobalt's winning streak to four matches (tied with Columbus for longest in MLS) and kept its franchise-best start (5-3-1) humming right along. RSL's smooth work through the center of the park may face a hiccup or two with influential captain Kyle Beckerman (strained tendon in his left foot) sidelined indefinitely. RSL coach Jason Kreis could opt to hand Jean Alexandre his first MLS start after throwing him on in place of the injured Beckerman last weekend, but Will Johnson looks more likely to fill the vacancy upon his return from his trip to Argentina with the Canadian national team. Kansas City registered the last away victory at Rio Tinto Stadium on May 16, 2009, but the Wizards' recent drought in front of goal (three tallies in six matches) may ensure the barren stretch for road teams continues.
Prediction
: Real Salt Lake win.
Toronto FC @ San Jose – 10:00p.m. – Goal.com Preview

While the Earthquakes must concede a goal at some point, the circumstances indicate the current five-match shutout streak may remain in tact after TFC's visit. Preki set out his stall in the Reds' most recent road success – a 0-0 draw at Los Angeles on May 15 – by naming four combative midfielders in his starting XI and deploying them across the middle of the park to frustrate the Galaxy. Similar tactics could prompt similar success at Buck Shaw Stadium, but San Jose has shown a penchant for popping up in front of goal at opportune moments to break through. In order to keep their shutout streak alive down the other end, the Earthquakes will have to mitigate Dwayne De Rosario upon his return from Canada's Argentine excursion and limit Chad Barrett's chances in front of goal. After stringing together five wins in seven matches, San Jose deserves the benefit of the doubt against a Reds side fatigued from its hectic May schedule.
Prediction
: San Jose win.
Kyle McCarthy writes the Monday MLS Breakdown and frequently writes opinion pieces during the week for Goal.com. He also covers the New England Revolution for the Boston Herald and MLSnet.com. Contact him with your questions or comments at kyle.mccarthy@goal.com and follow him on Twitter by clicking here.
For more on Major League Soccer, visit Goal.com's MLS page.