Goal.com breaks the matchup down.
On Form
San Jose:
It's all about defensive consistency. San Jose has tallied four consecutive shutouts, winning three of the four games, including a 1-0 win at Seattle last weekend. San Jose's offense has struggled the last couple weeks -- both road games -- but the defensive has been consistently improving. Chris Wondolowski continued his scoring touch, netting his fifth goal in six games this year.
Toronto FC
: Despite missing four key starters last weekend (captain Dwayne De Rosario, Nana Attakora, Julian de Guzman, and Maksim Usanov) and playing with a shortened bench, TFC was able to maintain its perfect record at home and ran their unbeaten streak to 3 matches with a 1-0 victory over the visiting Revs. This was able to occur thanks to a strong commitment to team defense, but the individual efforts cannot be overlooked. Jacob Peterson stepped in to the Reds' line-up and instantly found chemistry with his midfield mates and provided some of that missing creativity. Back in the starting XI, the resurgence of former 'Quakes captain Nick Garcia continued in the backline, as the veteran put in another efficient 90 minutes devoid of errors. Chad Barrett, continuing his run of solid performances, scored TFC's goal and was a threat for the entire match. Stefan Frei posted his second-straight clean sheet and was there when called upon to step up. All in all, it was full marks for the win.


Off Target
San Jose:
San Jose's defensive surge coincides with the arrival of Bobby Burling to the back line, as well as the addition of Brandon McDonald to the holding -- or defensive -- midfield position. With the two in the lineup, the Earthquakes have not allowed a goal in 360 minutes while jumping to second in the Western Conference standings.
Toronto FC:
There was very little to take umbrage with in last Saturday's performance. That being said, one could find some fault in the Reds' finishing (or lack thereof), which led to a flattering scoreline for New England. Chad Barrett could probably have buried 3, and really should have done better on a couple of sitters, but his overall workrate in the match made up for that in spades. But still, all the Revs would have needed was a single break, and they would have been leaving BMO with a point thanks to a few missed opportunities on the Reds' end. Obviously, this would have been a much larger talking point had Toronto not taken the win.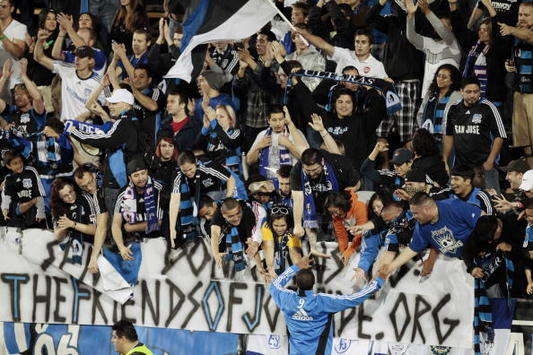 Tactics
San Jose
: As long as the unit on the field continues to produce points, coach Frank Yallop is going to keep running them out there. However, with three games in eight days, expect to see some new faces on the field. Sticking with the same 4-4-2 formation, a couple of the regulars will sit and rest for the more difficult match-up with Columbus on Wednesday, June 2. Against Toronto FC, the Quakes will likely give a couple midfielders and defenders a rest -- perhaps Bobby Convey, Chris Leitch, Jason Hernandez and Ramiro Corrales.

Toronto FC
: Both De Rosario (international duty) and Usanov (suspension) will be available for selection, and it appears as if Attakora and de Guzman will be good to go, as well, so Preki should be looking at a full complement of players for Saturday night. Considering that it's been a virtual impossibility to breach the Earthquakes' defense this season (4 straight clean sheets for Frank Yallop's men and only 6 goals conceded overall), Preki's defense-first approach on the road will be probably taken once more, as the Reds will be desperate not to concede against a club who've proven to be more than comfortable when playing with a lead. A 4-5-1, at least in the 1st-half, wouldn't be out of the question for TFC on Saturday.

Intangibles

San Jose:
Home cooking is what the Earthquakes offense needs. San Jose's offense doesn't click on the road as it does on the friendly confines of Buck Shaw Stadium in Santa Clara. Couple that with a game against a team from the weaker Eastern Conference and everything is set up for the Earthquakes offense to break out of its slump.

Toronto FC:
In their last road outing, 2 weeks ago against the Galaxy, TFC seemed to have shaken off a great deal of their seemingly fatalistic approach to away matches, so it will be critical to build upon that at Buck Shaw. If ever there was a match where it would be perfectly acceptable to play for the draw, it would be here and it's highly likely that this will be TFC's mindset going into Saturday. The problem with this, though, is that there is a very fine line between playing not to concede and playing scared. If the Reds cross the line into trepidation, their hosts will make them pay, and it's of the utmost importance that Toronto remains cognizant of this for the full 90 minutes.

Outcome

San Jose:
Without the regular players in the lineup (not a guarantee, but likely to happen) the Quakes won't come out hitting on all cylinders, but will still have the better team on the field. San Jose's depth will show, with its defense holding off Dwayne De Rosario and crew, and ultimately beating TFC, 2-0 on Saturday night.
Toronto FC:
TFC's road form will continue to improve, but the iron curtain that is Joe Cannon and the Earthquakes' defense will hold strong and pull out a home win. Take San Jose here, 1-0.
For more on Major League Soccer, visit Goal.com's MLS page and join Goal.com USA's Facebook fan page!