It's Goal.com's MLS game of the week.
On Form
Columbus Crew, by Nick Rosano
: Emilio Renteria and Eddie Gaven have been in fine form over the past week, keying wins over New York and Kansas City. Despite the absences of Robbie Rogers and Guillermo Barros Schelotto (the latter just against New York), Renteria and Gaven have picked up the slack and demonstrated the Crew's strength in depth, a factor that will be crucial in the Crew's push for a title. Also, after a mistake against New York on Thursday, Will Hesmer bounced back nicely against Kansas City, setting the Crew record for career shutouts, with 26.
Los Angeles Galaxy, by Jonathan Vera
: The Galaxy may be without their two shinning stars in Edson Buddle and Landon Donovan (both making the U.S. 23-man roster), but the team still has the tools needed to get the three points. Granted, it's only been one MLS game; however, defeating the legendary Boca Juniors in a friendly holds some merit. One thing is certain, regardless if it's Josh Saunders or Donovan Ricketts, the LA goalkeeping has been top notch, blanking out the opposition seven times this regular season - eight if you count Boca.
Off Target
Columbus
: Emmanuel Ekpo has not looked fit in his first two starts of the season, beginning games strong, but then fading out and eventually being substituted. It does not look like he has done enough to keep a starting spot with the return of Robbie Rogers from the U.S. training camp. Adam Moffat has also not been playing well as of late, with some difficulties giving away the ball, but has probably done well enough to keep his spot. Also, although the Crew are still undefeated, the general quality of play is still fairly low from a team expected to contend for the Supporters' Shield and MLS Cup this season.
Los Angeles
: Simply put, the offense - it needs to get better. The Galaxy cannot continue winning games on their goalkeeping alone, each component has to be in play. Recording two shots with one on goal doesn't suffice. The team has to start creating chances, being the ultimate opportunists, and finishing what they started.
Tactics
Columbus
: The Crew welcome back Robbie Rogers and Chad Marshall after not making it into Bob Bradley's final 23 for South Africa, but will have to do without Frankie Hejduk, Brian Carroll, and Danny O'Rourke, all out with injury. The return of the national team players means Emmanuel Ekpo and Eric Brunner will probably be benched, while the injuries to first-teamers mean Gino Padula and Jed Zayner will likely start as full backs while Duncan Oughton could come in to replaced Carroll. Despite two goals in two games, Renteria will likely remain on the bench, as Robert Warzycha has seemed to favor him in a supersub role.
Los Angeles
: Last week's friendly against Boca gave Coach Bruce Arena a chance to test out the depth of his roster. He studied, he evaluated, and will come out with another different line up, but still utilize the 4-4-2 formation. At net the Jamaican giant, Donovan Ricketts. Sean Franklin (making a full recovery from an ankle injury), Omar Gonzalez, Gregg Berhalter, and Todd Dunivant in the backline. In the middle Juninho, Michael Stephens, Mike Magee, and Chris Birchall. And Tristan Bowen and Alan Gordan in the front.
Predicted Lineups
Hesmer
Zayner - Brunner - Iro - Padula
Oughton - Moffat
Gaven - Schelotto - Rogers
Lenhart

Bowen
Magee
Stephens - Birchall - Juninho - Klein
Dunivant - Berhalter - Gonzalez - Franklin
Ricketts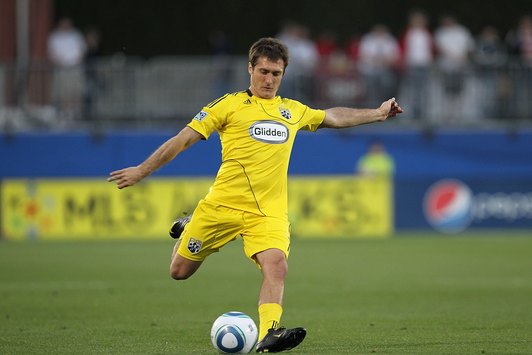 Intangibles
Columbus
: The bottom line is that, despite it being early in the season, these teams are the only two that remain undefeated. This match will be a big one for both. Both sets of players will need to perform under pressure, and the team that can do that better at that will likely win.
Los Angeles
: It's undefeated versus undefeated. LA might be on the top of the table, but the Crew are knocking on their door. Each squad has something to prove and both are going to lay it all on the pitch come Saturday.
Prediction
Columbus
: With LA missing its offensive stars and the Crew playing average, but effective soccer over the past few weeks, this could be a dull one. Nonetheless, the occasion should warrant a couple goals. I'll go with a 1-1 draw.
Los Angeles
: It's going to be a tough one to watch. Columbus is going to have a major advantage on their side, that being the home field rooting for them. There's going to be a hero for the Galaxy, and once again, it's going to be the goalkeeping. 0-0 stalemate.
For more on Major League Soccer, visit Goal.com's MLS page and join Goal.com USA's Facebook fan page!