Goal.com previews the MLS game of the week.
On form
Real Salt Lake, by Jeremy Horton
: Home Sweet Home has certainly been sweet for the defending champs - they are currently riding a 13-game unbeaten streak at Rio Tinto, dating back to last season. The swagger is back after that dismal road trip. The defense continues to be rock solid for RSL, only conceding four non-PK goals the entire season.The midfield is getting healthy once again, and up top, Pablo Campos is reminding us why the coaches are so high on him.
Houston Dynamo, by Zach Woosley
: Meet your 2010 Houston Dynamo, or if you prefer, the Strange Case of Dr Jekyll and Mr Hyde. The up and down, roller coaster season for the Dynamo continued against Chivas USA as Brad Davis and Adrian Serioux gave Houston an early 2-0 lead that they would not relinquish. It was Houston's first road win of the season and finished the sweep of Chivas USA. Davis showed his importance to the long-term success of the Dynamo with a great performance against a Chivas USA side that looked as if they didn't feel up to playing defense. No complaints of course, you'll always take three points, especially when they are in the opponents home stadium. The win increased Houston's point total to 13, good enough for second place in the West.
Off target
Salt Lake
: Real are so thin at forward that they may hold open tryouts. With Fabian Espindola and Robbie Findley both injured, Salt Lake lack the speedy forward to pair with big, strong Alvaro Saborio. Against Philadelphia, RSL played 60 minutes with Saborio and Campos, who are both target forwards. They combined remarkably well, but Philadelphia's awful defense may have had something to do with that. If Findley's injury forces Saborio and Campos to play together again, you have to wonder if that will make RSL a bit easier to mark.
Houston
: It's not as if the Dynamo are having a bad season, they just can't seem to put together consistent back to back performances. A trip to Real Salt Lake will provide both a challenge for the Dynamo and another opportunity to find some much needed consistency. I know I've been beating the consistency drums the past couple weeks but it's the core issue facing the team at this point in the season. When the Dynamo are at their best, they clearly have the ability to play with anyone in MLS, but the ability to perform at a similar level match in and match out has thus far eluded Kinnear's team.
Tactics
Salt Lake
: With the short turnaround, coach Jason Kreis will likely sit Tony Beltran in favor of Robbie Russell at right back. Russell's size might make him a better matchup against Houston. Ned Grabavoy could be available for selection for the first time in a month, which could open up options for Kreis in the midfield. But with RSL's history of picking up silly penalties and cards against Houston, expect Kreis to give his entire squad an anger management workshop prior to Thursday.
Houston
: Dominic Kinnear rested a couple players and utilized the rarely seen 4-5-1/4-3-3 against Chivas USA. The adjustments worked to perfection as Craig Waibel and Adrian Serioux played well in their first starts of the season. The question now is what will Kinnear do against RSL. Up front, Luis Landin will likely return if he's healthy enough, allowing Kinnear to return to his favored 4-4-2 formation. The core midfield of Davis, Ashe and Mullan and Palmer should remain the same, with the only real decision in the back being whether to play Waibel again or bring Ryan Cochrane back.
Predicted Lineups
Rimando
Russell - Olave - Borchers - Wingert
Johnson
Grabavoy - Beckerman
Morales
Campos - Saborio

Landin - Oduro
Ashe - Davis - Palmer - Mullan
Chabala - Boswell - Cochrane - Hainault
Onstad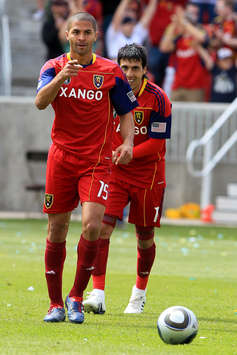 Intangibles
Salt Lake
: Revenge will be fresh in RSL's minds after losing in Houston 2-1 just a month ago. RSL played fairly well in that match, and actually had the lead until two penalties by Jamison Olave just minutes apart gave the Dynamo both their goals. Houston didn't register a shot on frame the rest of the match. Real feel they let an opportunity for a rare point (or three) in Houston slip away - they won't be happy to take anything but full points away from this one.
Houston
: One last match and the Dynamo get a whole eight days before they have to take the field again. This stretch of four games in thirteen days with a fair amount of travel thrown in has pushed this injury-depleted roster to the limit, but six points from a possible nine is nothing to be to sneeze at. Against RSL it's all about energy and desire. Houston knows what Real Salt Lake can do and what their plan will be, it comes down to how Kinnear motivates his players and how badly they want the points.
Outcome
Salt Lake
: Like most of the other RSL/Houston matchups, expect this one to be spirited, entertaining, and more than a bit chippy. If RSL can keep their emotions in check, I like their chances for victory. Real Salt Lake 2-1 Houston Dynamo.
Houston
: Every time Houston wins and I predict success in the following match they let me down. So while I'm not going to predict a win for Houston, I think they will want to end this road trip on a high note, and a solid 1-1 draw at Rio Tinto wouldn't be a bad way to end a wild two weeks.
For more on Major League Soccer, visit Goal.com's MLS page and join Goal.com USA's Facebook fan page!