It took seven weeks, but Donovan finally won the MLS player of the week award.
In all the hubbub surrounding Edson Buddle's impressive scoring streak, some fans may have forgotten about the attacking influence of Landon Donovan on the Los Angeles Galaxy. That's no longer possible after this week's performances, however.
In two road wins, Donovan provided four assists and his first goal of the season.
First, the Galaxy traveled to Colorado, where Alan Gordon's goal from Donovan's service proved the difference in a 1-0 result over the Rapids.
Three days later, the Galaxy captain assisted three and scored one himself in an impressive 4-0 drubbing of Seattle Sounders FC in Qwest Field.
"It almost seems like he was playing possum so far this MLS season," Philadelphia correspondent Ramin Majd said of the 28-year-old's breakout week. "If he's decided to round into form to get ready for South Africa, LA's remaining pre-World Cup opponents should be very afraid."
Deputy editor Shane Evans disagreed slightly, insisting Donovan's contributions have never been in question.
"His performance against Seattle showed why he's the best player in the league . . . and it's not even close," Evans said.
After the Seattle match, Donovan insisted that several key components to this Los Angeles team are yet to come. One of the parts that the team won't see on the field this year is English midfielder David Beckham. The 35-year-old will sit out until November with an injured Achilles tendon. Still, given how the team is performing, the Galaxy may not miss the former England captain too badly.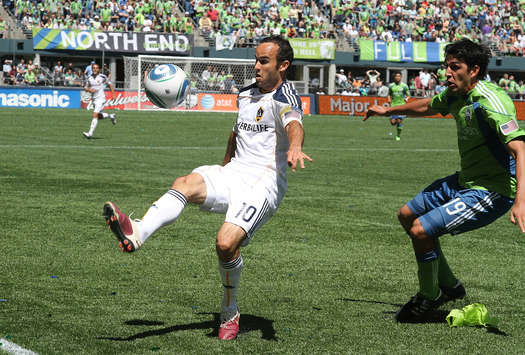 "Who needs Beckham?" asked Seattle correspondent John Zielonka.
On Saturday, one other player matched Donovan's hat-trick of assists: Bobby Convey. The San Jose winger orchestrated the Earthquakes' 4-0 demolition of the visiting New York Red Bulls. Convey, D.C. United striker Danny Allsopp, and Toronto FC forward Chad Barrett also received votes this week.
For more on Major League Soccer, visit Goal.com's MLS page and join Goal.com USA's Facebook fan page!