On Form
Seattle Sounders FC, by John Zielonka
: In their new 4-3-3 formation, the Sounders managed to get 16 shots off against the Columbus Crew, three of which were on goal. Head coach Sigi Schmid was pleased with the effort and number of scoring chances his new tactics created. He feels the team is finally starting to show their true potential.
Los Angeles Galaxy, by Jonathan Vera
: Look at any Major League Soccer stat and try to find any favorable one that doesn't have a Galaxy member. YOU CAN'T! The Galaxy have monopolized the billboard. Forward Edson Buddle leads the league with 32 shots, 15 of them on target, nine netted, with five of them a game winner. Landon Donovan is atop the list with six assists, three of them game-winning passes. And goalkeeper Donovan Ricketts in the best in the league with five clean sheets and only two goals allowed.
Off Target
Seattle
: Seattle's defenders have given up crucial last minute goals towards the end of the half and full time. Schmid and 'keeper Kasey Keller attributed the breakdowns to lapses in concentration for the full 90 minutes of the match. The veteran coach is working with his squad to focus from start to finish.
Los Angeles
: Qwest Field may be a bit of a sore spot for the defending Western Champs. Last year Los Angeles lost the MLS Cup Championship match to Real Salt Lake on the slip-and-slide field of Seattle. The space age turf makes it a slick surface that could be troublesome for ball control, especially for a team that plays and practices on fiction-favoring sod. Precise passing and control will in the key to this match, only then will the Galaxy be able to leave a dent.
More:
Tactics
Seattle
: Sigi Schmid rolled out a 4-3-3 formation that yielded more scoring opportunities but only one goal against Columbus. The intent is to provide Freddie Ljungberg additional chances for deeper runs into the box. In the upcoming Galaxy match, the surprise factor won't be there. The visitors will surely have adapted their own tactics to the new formation.
Los Angeles
: May 15 will be the FIFA World Cup send off of Landon Donovan, and maybe -- I'm not ruling anything out -- Edson Buddle; a situation that will leave a huge void in the frontline. Therefore, expect Coach Bruce Arena to start his bombers, establish the pace of the match, and sub them out to allow the bench to get their feet dirty. As usual, The Galaxy will start with a 4-4-2 formation and, given that they take the lead, revert to a conservative 4-5-1.
Predicted lineups
Keller
Riley – Marshall – Hurtado – Gonzalez
Vagenas – Alonso
Evans – Ljungberg – Zakuani
Montero

Buddle – Gordon
Stephens – Juninho – Birchall – Donovan
Dunivant – Gonzalez – Berhalter – DeLaGarza
Ricketts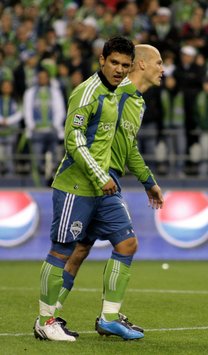 Intangibles
Seattle
: The Sounders will be up for this encounter with the streaking Galaxy. LA, however, will be playing their second road opponent in four days. The Galaxy's fitness level may be the key deciding factor in this match.
Los Angeles
: Fatigue is going to play a astronomical factor for the Galaxy. This will be their third game in eight day. If the starters cannot execute anything because of an empty gas tank, it will be up to the bench to make something happen. The starters have proven themselves, it may the reserves' time to write their names on the history books.
Outcome
Seattle
: The Galaxy continue their unbeaten run and walk away with one crucial point on the road. Seattle Sounders FC 2 (Montero, Zakuani) - L.A. Galaxy 2 (Buddle, Donovan).
Los Angeles
: There are many obstacles in LA's path. A Galaxy victory can only be achieved if they conquer Qwest, their reserves pack a punch, and if they've rehabbed completely from the mid-week wear and tear. This will, unfortunately be too much; Galaxy and Sounders halt in a stalemate 1-1.
For more on Major League Soccer, visit Goal.com's MLS page and join Goal.com USA's Facebook fan page!