Edson Buddle vs. Conor Casey. Who will prove decisive?
On Form
Colorado Rapids, by Zac Lee Rigg
: Colorado has yet to lose at home. This record has helped buoy the club up to tied for second in the West, only behind the Galaxy. Furthermore, the Rapids have scored two or more goals in each home game this season.
Los Angeles Galaxy, by Jonathan Vera
: Last week in a 3-1 victory over the Philadelphia Union, the Galaxy showcased an array of talent. AJ DeLaGarza netted his first goal of the season. The fullback is the only other person to tally one for LA besides Buddle. Clint Mathis made his season debut, while other sideliners got the chance to show their skills. But the high point remains Galaxy's shining star Edson Buddle, who scored a brace and accumulated a total of nine goals in six matches.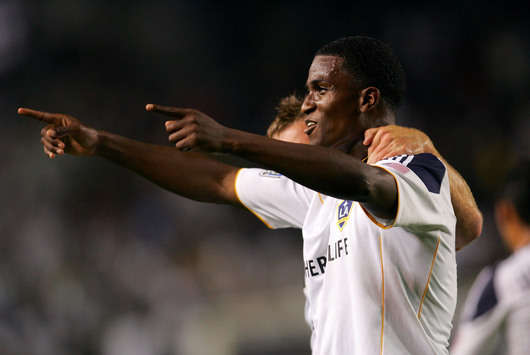 Off Target
Colorado
: Buddle comes to town visiting a team that hasn't kept a clean sheet since the opening game of the season. Growing pains with Marvell Wynne adjusting to a new centerback position have put the backline at disease, causing it to cough up at least a goal a game in the last five outings.
Los Angeles
: Confidence is always a good thing but too much can be the Galaxy's black hole, just ask Omar Gonzalez. In a 45 minute powerplay, following the ejection of Philly's Stefani Miglioranzi due to a reckless tackle, Gonzalez failed to properly execute a risky move that eventually was turned over in the midfield and resulted in a Union goal. Coming out hard and strong is what LA does best, but playing smart will ultimately make or break them.
Tactics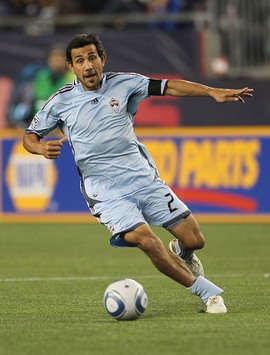 Colorado
: Watch the center of midfield in this one. Pablo Mastroeni and Jeff Larentowicz form a tandem not many teams in MLS can match. The Galaxy will be without Dema Kovalenko through injury, so the onus will be on Chris Birchall to keep pace in the center of the pitch. He might need help from Juninho and the wingers to stitch together enough possession away from home.
Los Angeles
: Mastermind Bruce Arena is still tinkering with the formation. His latest contribution moved Landon Donovan from the frontline to the midfield, a maneuver that better utilizes his play-making ability. This opens the door to other forwards to fill in his spot, so expect a 4-4-2 formation with the captain in the middle. Protecting the net as always will be Donovan Ricketts, with Omar Gonzales, Todd Dunivant, AJ DeLaGarza, and Gregg Berhalter as the defending troops. In the middle: Landon Donovan, Juninho, Michael Stephens, and Chris Birchall. Up front: Edson Buddle and Alan Gordon.
Intangibles
Colorado
: These affairs tend to be high-scoring. Only one match out of the past six between these teams had less than four goals. The key for the Rapids will be to keep a sturdy shape and persist even as the goals fly by, which, given Edson Buddle's form, is likely to happen again.
Los Angeles
: This is the first of two away games for the Galaxy. Donovan commented on his Facebook account it's going to be a "big test for [the] team this week." LA currently has a victory and draw on the road, and this week will be a true testament of their ability to be a dominant powerhouse squad. Good teams win at home, but great team win on the road.
Outcome
Colorado
: Let's go with a high-scoring draw. 2-2 perhaps, with Buddle getting at least one and Conor Casey hitting a penalty.
Los Angeles
: Weather conditions may play a role in the Galaxy's matches; so far, rain seems to be LA's Achilles Heal. Fortunately for them the weather in Denver is projected to be between 67 - 76 degrees Fahrenheit and partly cloudy. These are favorable conditions for the road team so they should have no problem dishing out some pain. LA wins 3-2.