Time for Texas tussle.
On Form
Houston began a stretch of 4 matches in 13 days with a 3-0 defeat of the Kansas City Wizards. The first half red card to Davy Arnaud helped the effort but for the first time all season, the Dynamo spent the majority of a match with their heads up and looking to create scoring chances. They easily could have scored 6 on Saturday if not for some near misses and great saves. Luis Angel Landin was the man of the match but it just as easily could have been given to Dominic Oduro as the two forwards combined to give the KC defense fits.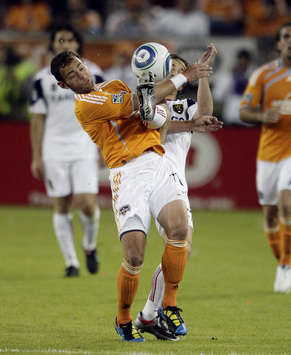 FC Dallas:
Well, Dallas has two things going for it. Firstly, the team has scored in every single game. No one has managed to shut down FCD in 2010. This is thanks to Jeff Cunningham's penalty prowess but also because guys like Eric Avila, Dax McCarty, and Atiba Harris are chipping in. Secondly, Dallas has only lost once in the five games played. That's not horrible.
Off Target
Houston:
After the match, head coach Dominic Kinnear admitted there were a couple times in the first time he was a bit upset with his team's defensive effort. On one particular counter by the Wizards off a Houston corner, the back line over-shifted to the left, leaving Kei Kamara alone on the right against Pat Onstad. A great decision by Onstad to close Kamara's angle saved a goal, but the breakdown will be something that Kinnear will likely stress to his club as they prepare for the offensive-focused FC Dallas.
Dallas:
Only D.C. United has a worse record than Dallas. Schellas Hyndman can't seem to erase the goose egg in the "win" column. Last week Dallas bombarded a nine-man New England Revolution, but once again only managed a draw.
Tactics

Houston:
The match against the Wizards was physical so Kinnear's lineup will likely be determined by any injuries that his players might of picked up. Landin's knock doesn't seem to be serious so he and Oduro will likely start up front again. Oduro was outstanding for Houston on Saturday and he'll need to have another strong performance occupying the Dallas defense, giving Davis and Mullan room to operate. No reason to assume that the midfield or the back line will change unless someone is rested.

Dallas:
One particular area of interest in the center of midfield. McCarty and David Ferreira dominated possession against the under-manned Revolution. With Geoff Cameron out for the season and Brad Davis filling in at attacking center midfield, the midfield trio (with captain Daniel Hernandez holding) of Dallas should get plenty of time on the ball. It will be up to Ugo Ihemelu to keep pace with Dominic Oduro.

Intangibles
Houston:
Consistency. In the last two matches we've seen the best and the worst that the Dynamo have to offer. Despite the injuries and lack of offensive punch at times, Houston still sits second in the Western Conference. The key now is to have more performances like we saw against Kansas City and less like we saw against Chicago. Kinnear will want Landin and Oduro to build on their positive performances and the defense to tighten up on counter attacks...no more gale force winds at matches would be nice as well.
Dallas
Since the Dynamo joined the league in 2006, Dallas has never won in Houston. Not even one narrow result. That, compounded by a winless 2010 record, will play on the FCD players' minds.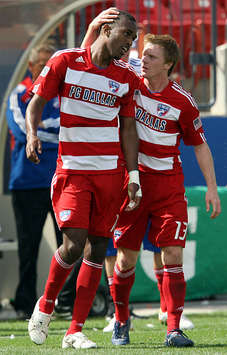 Outcome
Houston:
El Capitan, the Texas rivalry trophy, is on the line as the Dynamo and FC Dallas meet for the last time this season (barring a playoff match-up). FC Dallas' offensive minded team is peppering opposing goalies with shots but they aren't finding the net much. Houston will need to be solid defensively and continue the creative and aggressive play up front to prolong Dallas' lack of success at Robertson Stadium. Houston celebrates Cinco de Dynamo with a 2-1 victory over their rivals from the north.
Dallas
: Houston is hot, hot, hot, right now, having dismantled a far better squad than Dallas in the form of the Kansas City Wizards on the weekend. Look for another home win for Houston.

There are Twitter feeds and then there is Goal.com contributor Zach
Woosley's Twitter feed, follow him @GTTF
and join Goal.com USA's Facebook fan page!