For the first time all season, someone not named Edson Buddle scored for the Los Angeles Galaxy. Of course, the goal was assisted by Buddle, who went on to notch a brace in the match against the Philadelphia Union on Saturday.
"Beckham who? 'In Buddle we trust' -- slogan that for Galaxy fans' bumper stickers," said Bay area correspondent Giovanni Albanese Jr.
By now, Galaxy fans have little choice but to trust in Buddle. The 28-year-old has scored nine of the Galaxy's 10 goals this year, assisting the other one.
He got things rolling in the opening minute of the match when he busted through the offside trap and pushed the ball to the back post, where AJ DeLaGarza tapped it in at full stretch.
Two first half strikes followed, the second a particularly precise shot from distance.
"The two goals he scored were from a player who just knows he has that capability to score whenever, wherever," gushed D.C. correspondent Steven Steff.
Youth editor J.R. Eskilson just wanted to join in on the Beckham jibes.
"David Beckham now plays on Edson Buddle's team, not the other way round," Eskilson declared. "That is how good he has been."
With U.S. head coach Bob Bradley set to announce a 30-man roster on May 11, pundits and fans alike are calling for Buddle's name to at least make the preliminary list. The striker has one solitary cap to his name, yet with a lack of depth in the forward position for the United States, he could find himself adding to that number in South Africa.
"I'm pretty sure I saw him buying an English-to-Afrikaans phrasebook in Barnes and Noble the other day," revealed Philadelphia correspondent Keith Hickey.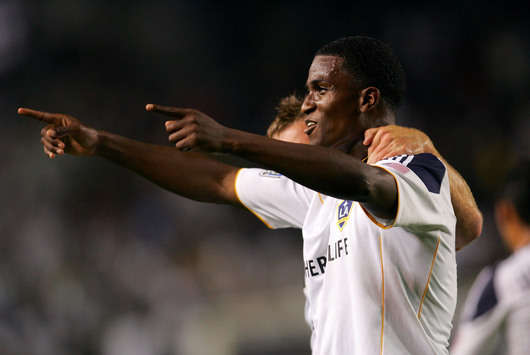 This is Buddle's second Goal.com MLS player of the week nod in only the sixth matchday. He previously won matchday four's award after a brace against Real Salt Lake.
RSL also started matchday six quickly, usin two quick-fire goals to secure a 2-1 win over Toronto FC, with Andy Williams playing a key role.
"Williams had a very nice night against Toronto and even scored the eventual winner with a wonderful shot from just outside the box," said associate editor Allen Ramsey. "The 2-1 scoreline doesn't tell the story though, and Williams was a big player in RSL's domination of the match."
Houston Dynamo designated player Luis Angel Landin also received votes.
For more on Major League Soccer, visit Goal.com's MLS page and join Goal.com USA's Facebook fan page!