Edson Buddle set a Major League Soccer record Saturday. He has scored the Los Angeles Galaxy's first seven goals of the campaign, which betters the previous record Carlos Ruiz set, also with the Galaxy - six.
A brace against Real Salt Lake in a rematch of the 2009 MLS Cup final gave LA some revenge for the penalty shootout loss in November and helped Buddle atone for his PK miss.
"His seven goals in four matches are the kind of gaudy numbers usually reserved for the elite strikers of international football, and for that Buddle deserves recognition," said Salt Lake correspondent Jeremy Horton.
Goal.com recognizes the 28-year-old by awarding him matchday 4's player of the week. "There is simply no way to look past Edson Buddle," as correspondent Nicholas Rosano pointed out.
Buddle followed up his 15 goal haul in 2008 with an injury-plagued 2009. Although his team reached the MLS Cup final, Buddle only contributed five goals in the regular season, and none in the playoffs. But the striker has put last year behind him, racing to the top of the MLS goalscoring charts and leading his team to a perfect 4-0-0 record.
Considering the injuries to Charlie Davies and the inability of Robbie Findley and Jeff Cunningham to adopt to the international game, talk in U.S. circles is awash with calls for U.S. coach Bob Bradley to take a closer look at Buddle as a potential member of the World Cup roster.
"He is making me eat my words (or eat
my puke
) regarding a national team call-up," admitted youth editor J.R. Eskilson. "His game-winning goal on Saturday was a sublime piece of skill."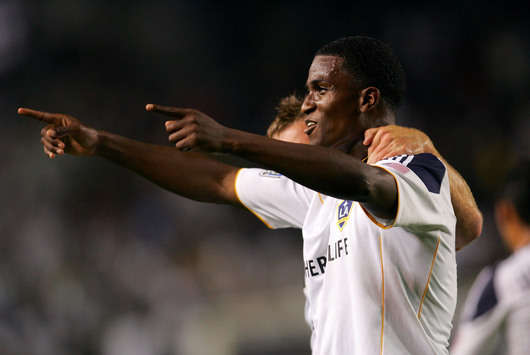 One striker who knows what it's like to play in the World Cup is Brian McBride, a long-time United States veteran. Now retired from the international game, McBride focuses on his Chicago Fire career.
In a goalless game with D.C. United, the 37-year-old entered as a substitute and immediately affected the outcome.
"He was on the field for only 15 minutes Saturday night, but his presence was undeniable for Chicago, in their first win of the season," D.C. correspondent Steven Streff said. "He immediately combined with Patrick Nyarko to create a chance and then later on assisted on Marco Pappa's winning goal. To seal the deal, McBride headed a long ball home for the 2-0 victory."
McBride's assist was a clever behind-the-back touch in the box to free up Pappa. He then finished off the match by latching onto a 60-yard goalkeeper clearance to catch Troy Perkins napping near post.
Close by, in Red Bull Arena, New York Red Bulls goalkeeper Bouna Coundoul was definitely awake. His alarm clock read: Bouna Time.
"Maybe, it's time for someone besides an attacker to get some recognition," suggested New York correspondent Avery Raimondo. "After Bouna Coundoul's howler against Chivas USA last week, Red Bull fans began wondering how long Hans Backe would remain with the Senegalese goalkeeper. But a phenomenal performance that handed the Red Bulls a victory they certainly didn't deserve now has NY supporters behind Bouna once again."
Michael Fucito's 92nd goal gave Seattle Sounders FC a win it didn't deserve over the Kansas City Wizards, earning him a nomination.
For more on Major League Soccer, visit Goal.com's MLS page and join Goal.com USA's Facebook fan page!