Goal.com begins its MLS previews with the defending champion, Real Salt Lake.
To say that 2009 was a landmark year for Real Salt Lake would be a serious understatement. Not only was it RSL's first full season in their soccer-specific stadium, but they made an improbable run through the playoffs, entering as the lowest-seeded team and leaving with their first-ever MLS Cup championship.
Last Season:
2009 was a season punctuated by ups and down for the Royal Army. RSL turned newly-minted Rio Tinto Stadium into a home-field fortress, posting a league-best 9-1-5 record at home. But for the majority of the season, they were unable to take that momentum on the road, ending their year on the road at 2-11-2. Their impressive home goal differential of +23 stood in stark contrast to their dismal road goal differential of -15.
But in the end, Real accomplished just enough to get what matters: a playoff berth. They accomplished the feat on the last night of the regular season with a 3-0 win over Colorado, and four other matches on that weekend fell out exactly the way RSL needed to sneak into the final playoff spot.
Once the playoffs began, Real finally figured out what it takes to win on the road, snagging a win at Golden Boot winner Columbus to advance to the Eastern Conference finals. There, RSL played well at Chicago and eventually knocked the Fire off in penalty kicks to make it to MLS Cup in Seattle.
Playing for the third week in a row away from home and in the role of underdog, RSL hung with the heavily-favored LA Galaxy for 120 minutes before winning the Philip F. Anschutz Trophy in another penalty shootout.
Dearly Departed:
RSL management spent the offseason doing whatever they could to keep their championship-winning roster together, and they did an admirable job. Backup goalkeeper Chris Seitz was sent to Philadelphia as part of a trade that kept Salt Lake from losing a key field player in the expansion draft. A few other young players like Raphael Cox and Tino Nunez were released to free up roster space and cap room.
Clearly the club's biggest loss of the winter was striker Yura Movsisyan, who decided to try his hand at football on the European stage by signing with Danish Superliga side Randers on a free transfer when his contract expired. Movsisyan's eight goals in 2009 were good enough for second on the team, and his size and physical play were a natural compliment to Robbie Findley in the forward line.
New Faces:
In 2010, head coach Jason Kreis and GM Garth Lagerway continued their trend of drafting hard-working players who flew under the radar in most scouting circles. First-round pick midfielder Collen Warner should see some time in MLS games and other competitions. Warner is a prototypical #10 attacking mid who sees the field well and already has MLS-quality touch and passing ability. And second-rounder Chris Schuler is a raw but physically gifted center back who many experts have called the steal of the draft.
Salt Lake landed another promising young player this offseason: 16-year-old Luis Gil, a member of the U.S. U-17 national team. Gil snubbed an offer from EPL giant Arsenal to play in MLS, where Kansas City won his rights via weighted lottery. He ended up it Salt Lake thanks to a trade with the Wizards.
The departure of Movsisyan left an obvious gaping hole in RSL's compliment of strikers. But that hole was recently filled when Real announced that Costa Rican international Alvaro Saborio would be joining the team on loan from Switzerland's FC Sion. RSL are banking on the 28-year-old Saborio to be the player to step in for Movsisyan, and on paper at least, he could be a step up. In addition to a successful club career, Saborio has 55 caps for his native Costa Rica, scoring an impressive 22 goals.
Projected starters:
Nick Rimando (GK)
- Despite criticism for his lack of size, Rimando earned himself the reputation as being a top-notch penalty stopper during last year's playoff shootout drama.
Chris Wingert (LB)
- Wingert played some of the best soccer of his career last year, and RSL need him to continue that in 2010 due to lack of depth at outside back.
Nat Borchers (CB)
- The definition of consistency at the center back spot, Borchers' contribution last season was acknowledged when he won team MVP honors.
Jamison Olave (CB)
- Big, strong, fast, and a bit of a risk-taker, Olave is effective when he is matched up with a conservative back like Borchers. The team will need him to keep his head about him and watch the risky tackles - he led RSL with three red cards last year.
Tony Beltran (RB)
- The third-year man from UCLA raised eyebrows around the country when he was taken 3rd overall in 2008. Showing steady improvement and locking down the right back spot has certainly vindicated RSL management at this point.
Kyle Beckerman (DM)
- Real's veteran captain has become the poster boy for the franchise, and not just for his dreadlocks: Beckerman's blue-collar, win-at-any-cost attitude has come to define the type of player this team wants.
Will Johnson (LM)
- The young Canadian international's offensive numbers dropped off a bit last season, but he made up for it on defense. His tremendous work rate has made him a favorite of fans and the coaching staff.
Andy Williams (RM)
- Williams tends to get written off by fans and the media every preseason, but the team is much better when he is out there. To borrow a hockey statistic, RSL was +13 in 2009 when Williams was on the field - the highest on the team. Nevertheless, this is probably the most open starting position on the squad, and there is plenty of talent waiting in the wings if he falters.
Javier Morales (AM)
- Morales' production suffered last season as teams focused more on stopping him, but that didn't prevent him from making his first All-Star appearance in 2009. When Morales is on his game, Real are nearly impossible to halt.
Alvaro Saborio (FW)
- Saborio is clearly the biggest unknown among the projected starters. Taking over for Movsisyan will be no easy task, but Saborio clearly has the pedigree to do so.
Robbie Findley (FW)
- In his three years in MLS, Findley's season goal totals have been eight, six, and 12. That jump in production will keep opponents up at night.
Best of the rest:
Robbie Russell (DF)
- This versatile defender can play any spot along the back line, making him Kreis' go-to guy when a spot opens up on defense. Russell wrote himself into the RSL history books last season when he converted the penalty kick that won MLS Cup.
Ned Grabavoy (MF)
- The journeyman midfielder has found a home in Salt Lake. When Beckerman can't go, or RSL is looking to ice the final few minutes of a win, Grabavoy will be the first person RSL looks to.
Nelson Gonzalez (MF)
- A young, dynamic outside mid on loan from Quilmes (Argentina), Gonzalez is a project who might be hard to keep off the field this year. Coaches love his speed, work rate, confidence on the ball, and ability to take defenders on.
Fabian Espindola (FW)
- Armed with one of the deadliest left feet in the league, Espindola will be one of the first guys off the bench when RSL needs a goal. He will likely be the starter this summer if Findley makes the U.S. World Cup team.
Pablo Campos (FW)
- Campos is a prototypical target forward, but he also plays well with his feet. He can hold up the ball, maintain possession, hit runners, and score with his head or feet. Expect to see Campos take the field in the final minutes when RSL is winning.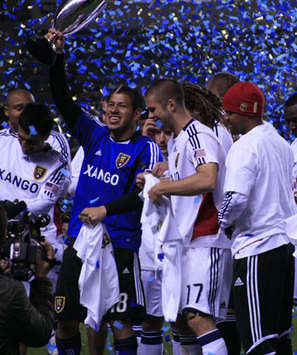 Season Storylines:
There are no shortage of intriguing storylines in Salt Lake this season. Below are the five that should capture the most interest:
1. Generating chances
- One bit of good news for RSL in 2009 was that, despite dropoffs in production from most of the midfield, Real still generated more scoring opportunities than any other team (423 total shots, compared to 376 for second-place FC Dallas). Real survived in 2009 on sheer volume of chances, so it will probably be important that they continue to rate highly in the shots category.
2. Turning chances into goals
- One bit of bad news for RSL in 2009 was that, despite leading the league in total shots by a significant margin, they were seven behind FC Dallas in total goals on the year. Real could do themselves a lot of favors this year by finishing a better percentage of their chances. This is an area where Saborio and all his goal-scoring experience needs to help RSL.
3. Managing the schedule
- Life will get pretty complicated for Salt Lake this year, especially in the fall. In addition to their MLS schedule, the team will have to deal with the U.S. Open Cup and the CONCACAF Champions League. RSL management has talked for a long time about how much depth they've built - this will be their chance to prove it as the entire roster should see significant team in meaningful competition. It will also be interesting to see how Kreis manages playing time throughout, especially for his key contributors.
4. Hitting the road
- Much was made of RSL's struggles on the road last season. Likewise, much was made of their success on the road during last year's playoffs. The question on everyone's mind is, was the road run in the playoffs an aberration, or has Real gotten over the hump and learned what it takes to win away from Rio Tinto? We won't have to wait long for the answer as Salt Lake opens the season with four of their first five on the road.
5. Dealing with the pressure
- For the first time ever, RSL will be playing with a target on their backs in 2010. Going from being the hunter to the hunted will be a new experience for this coaching staff and most of the team. How will Kreis and the players handle the pressure? How will they manage the expectations? Can they deal with the extra effort they're sure to see from the rest of the league?
Predicted Placement:
Just like 2009, Real should do well enough at home to make it into the playoffs. If they really have solved their road woes, then they could challenge teams like LA and Houston at the top of the West. What happens at that point is anyone's guess. As RSL certainly know, once you're in the playoffs, anything can happen.
Did You Know?
Real Salt Lake's MLS championship was the first professional championship in any sport in the state of Utah since the Utah Stars of the American Basketball Association won the ABA title in 1971 - a drought of 38 years.
For more on Major League Soccer, visit Goal.com's MLS page