The Canadian rivals meet in the first leg of the Nutrilite Canadian Championship Final.
On Form
Toronto FC:
Despite its defensive failings, Toronto has slowly begun to put the ball in the net, scoring four goals in its last two league wins. Behind most of them has been rookie sensation Joao Plata, a final round selection in this year's MLS SuperDraft. His contributions have been mighty for most of the season and his two goals against Houston and Chicago have proved vital.
Vancouver Whitecaps:
I'm not sure if you can categorize him as being on form but Davide Chiumiento is doing everything in his power to get 'on form'. Dede has been the most outspoken member of the Whitecaps during this winless run and fans love him for it. With losses and ties mounting up, Chiumiento does what every elite performer does- he demands more of the ball. "I can win the game, I should always have the ball" his heart and head tell him, but unfortunately his hips and legs are screaming "I wish I was faster". Jay DeMerit is the Caps unquestionable leader but in his absence Davide has been the heartbeat, soul, and slightly upset stomach to this point in the season.
Off Target
Toronto:
As suggested earlier, the defensive side of things has slipped a great deal recently. Up 2-0 against the Fire at the weekend, Toronto allowed two second half goals and had to settle for a point. You also have to consider how keeper Stefan Frei has faced the most shots out of any keeper in the league...by quite a margin. Also, Plata has two goals on the year, which is one behind the team's leader, Maicon Santos with three. Someone has to pick it up and take charge offensively.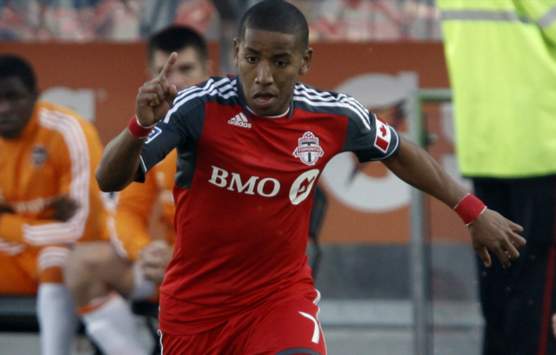 Plata| Rookie starting to make his mark in the league
Vancouver:
Teitur Thordarson. The fans are getting restless in VanCity. Two 90 minute wins in total this season will have that effect. Teitur has been dealt a difficult hand. The Whitecaps are only getting healthy now and that has seriously tested the Caps depth, which everyone agreed at the beginning of the season was their biggest weakness. There has been questionable usage of the squad and the players are worn out. If you're going to keep Rochat and Hassli at home instead of flying them across North America (Hassli due to slight hamstring pull) then why fly Terry Dunfield across the country just to sit him on the bench? There have been some questionable game tactics as well. In the last two games, Teitur's kids have been down 1-0 and he used all three substitutions in a like-for-like swap. There defiinetly were some other considerations in those substitutions like getting Jay Demerit up to game speed, but the fans still have many unanswered questions.
Rant Alert: If the Whitecaps/MLS had a better reserve game set-up they could use it to get Jay Demerit game fit there and not have to blow a substitution swapping defender for a defender while being down a goal.
Tactics
Toronto:
Like its opposition, Vancouver isn't exactly great at keeping out the goals as the Canadians have allowed 16 on the year, one less than the Reds. If Aron Winter can get his men to press early, and not sit back in a defensive shell on the road as some teams do, it could pay dividends. Against a team like the Whitecaps you have to keep up the pressure and go right at them. It could be a long night otherwise.

Vancouver: The bad news is the Whitecaps haven't won since opening night (away to an NASL squad doesn't count!). The good news is that win was against Toronto FC. In that game, the Caps looked confident and poised, pushing the ball back and forth through the midfield with ease. Adrian Cann was particularly poor and Davide Chiumiento exposed him for what his isn't, a left back. TFC looked lost in their 4-3-3 Total Football arrangement. Since then the Whitecaps have lost almost every single midfield battle and Toronto have started to settle into their tactics. Teitur has made a point of resting his stars in preparation for this game so expect the strongest side of the year from the Whitecaps.

Probable Starters (4-4-2):

Nolly, Leathers, DeMerit, Akloul, Rochat, Salinas, Dunfield, Koffie, Chiumiento, Hassli, Camilo.

Intangibles
Toronto:
Playing in the first official Nutrilite Canadian Championship, the Reds have a chance to stamp their dominance on the country's soccer scene with a huge road win at Empire Field. Both teams will be up for it and the crowd will be loud, in a very similar way that it was in the other 'new' rivalry between Seattle and Portland this weekend. Whoever plays the most composed and organized soccer usually wins in these types of rivalry matches and that should be the case in this one.
Vancouver:
This game is a big test for Whitecaps fans. Ten minutes down Hastings Street, the Canucks NHL Conference Finals match with the San Jose Sharks will be going on at the same time. Many fans will have tickets to both and it would be hard to imagine a lot of them choosing the Whitecaps over the Canucks. To their credit, the Caps are doing everything in their power to fill the place with ticket deals including a great one on Groupon (2 tickets and FIFA 11 for $54. Purchased by 1032 people at time of writing). If there is one thing that Vancouverites like more than their hockey it's their hate for Toronto, so maybe that will be enough to fill Empire Field. Fingers crossed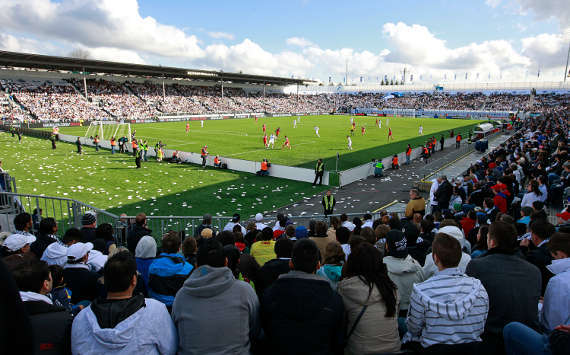 Fans at Empire Field haven't seen a win since opening day
Outcome
Shane Evans:
Separated by a mere 2,700 miles, Toronto and Vancouver is an odd rivalry but one that will be exciting nonetheless. Expect the road to again be unkind to the Reds as their record away from home will remain winless in a 2-1 win for Vancouver.
Trevor Leach:
This is the first 90 of a 180 minute game. Almost as important as scoring in the first leg is doing what the Caps can't seem to do, keep a clean sheet. Neither team has won on the road yet this year (again, NASL doesn't count TFC!), and both teams have very similar GF/GA stats. If TFC give the Caps midfield room they'll lose this game, but I can't see the Whitecaps keeping a clean sheet. 2-1 Whitecaps with the usual extra time shenanigans (Camilo).
For more on Major League Soccer, visit Goal.com's MLS page and join Goal.com USA's Facebook fan page!