Eric Hassli will look to duplicate his heroics of last week at home against the Union.
On Form
Philadelphia Union
: The Union cross the border to Vancouver this weekend undefeated in their last four matches. Philadelphia's rock-solid defense has driven the team's success throughout the season. Veteran goalkeeper Faryd Mondragon has surrendered only 11 goals in 13 matches this season, tallying four shutouts along the way. Last week against Real Salt Lake, widely considered one of the strongest clubs in the league, Philadelphia's defense held RSL to only one shot in the first half.
Vancouver Whitecaps:
Eric Hassli. How can it be anyone else? Eric the Red scored what might end up being the goal of the year Saturday in Seattle. The goal has been replayed over and over all around the world but lost in the madness is that Hassli also scored an audacious Panenka penalty kick chip. His confidence must be through the roof, and if he can stay on his feet and stop lunging into tackles he's going to be dangerous all night long.
Off Target
Union
: Philadelphia has finally shown promise on offense, maintaining possession for much of the match against RSL last week. Philadelphia also broke the ice a few weeks ago by scoring six goals against Toronto FC. However, it has struggled to consistently score goals when it truly matters. There also hasn't been a clear leader on the offensive side of the pitch. Forward Sebastien Le Toux, who was the leading goal scorer on the club last year with 14 goals, has only found the back of the net once so far this year, which has further exacerbated Philadelphia's woes on offense.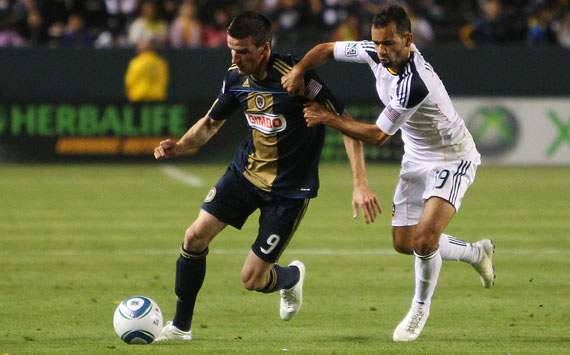 Le Toux | Has struggled to find his 2010 goalscoring form
Whitecaps:
Peter Vagenas. After locals figured out the proper pronunciation of his name the shine quickly left this Whitecaps signing. No doubt that Vagenas has been top class in the past but those days are long gone and he could be regarded as the Whitecaps fourth string central midfielder. It's unclear what he's been up to since signing in April, but when called upon to play in Salt Lake on June 4 he wasn't fit enough to play longer than 45 minutes and that half was shockingly poor. Then, last game, he came on late against Seattle and the Sounders routinely drifted past him with ease. Vagenas was directly responsible for the second conceded goal. Thank goodness Eric Hassli put some lipstick on the pig that was Vagenas' performance.
Tactics
Union
: Philadelphia will be without its offensive fulcrum in Carlos Ruiz due to Gold Cup commitments. Looking for an offensive spark, Manager Piotr Nowak will likely be starting several of his younger players such as the Farfan twins and midfielder Kyle Nakazawa.
Whitecaps:
The final product has yet to emerge but Tom Soehn's Whitecaps are taking shape. Camilo and She Salinas will be out wide bombing up and down the wings with Camilo cutting in to shoot on his favored right, or more likely trying to draw a penalty, and Salinas using his speed to create space for Hassli. The Whitecaps will get Terry Dunfield back from the Gold Cup and that should shore up the center of the park a little bit but that space is still the Caps' biggest weakness. This will be a rare game where the Whitecaps get to field their full stating XI. Probable (4-4-2): Cannon, Leathers, Akloul, DeMerit, Rochat, Salinas, Dunfield, Koffe, Camilo, Chiumiento, Hassli
Intangibles
Union
: The last time these two clubs met was the home opener at PPL Park in Chester, Pa. with Philadelphia coming out victorious in a 1-0 victory off a Carlos Ruiz goal. This time, it will be a much different situation. Philadelphia will certainly be missing its supporters, as this match will take place in Vancouver, a city still recovering from a devastating loss in the Stanly Cup finals. Philadelphia has not been nearly as strong on the road this year, but with Vancouver struggling they'll certainly be looking to come away with three points.
Whitecaps:
This is the Vancouver home leg of the season series with Philly. In the first match way back on March 26 the apple-cheeked Whitecaps headed East for their first road game and came home with their first MLS loss. Danny Califf spent most of the game using Atiba Harris' ankle as meat tenderizer and Eric Hassli got his first ever red card. Oh, the memories. It was a weakened side with regulars, DeMerit, Akloul, Salinas, and Chiumiento not available. The Whitecaps will field a much stronger side this time around and that combined with a red hot Hassli will likely improve their performance.
Prediction
Aamer Bajwa:
Even though the match is on the road, I see Philadelphia dominating the last-place Whitecaps to a 2-1 victory here, led by the familiar scoring tandem of Danny Mwanga and Sebastien Le Toux.
Trevor Leach:
Philly is a very strong team and has recently pounded TFC 6-2 away. Vancouver, although looking soft on its road trip, has to be feeling good after the tie in Seattle. I think Eric the Red beats Mondragon for two and Philly can only bring one back. 2-1 Whitecaps win.
For more on Major League Soccer, visit Goal.com's MLS page and join Goal.com USA's Facebook fan page!