Vancouver hosts New England Wednesday night after a stunning comeback Saturday
On Form
Vancouver Whitecaps:
Camilo Sanvezzo. When you score two deep into injury time to pull back a draw, it's safe to say you're on form. MLS rewarded him accordingly with their player of the week award but that doesn't tell the whole picture. Camilo played a very good 90 minutes versus Kansas City on Saturday and seemed to have the rare ability to find shooting space in a crowded penalty box. He may not start in this game, as he is still gaining match fitness, but at the very least he's solidified himself as the first choice striker off the bench.

New England Revolution:
New England is coming off of a disappointing 1-1 draw against the expansion Portland Timbers. The start of last weekends game was fairly good for the Revolution as Midfielder Stephen McCarthy scored his first ever MLS goal. Dider Domi looked very strong in his performance at left back. Domi was very dangerous going forward and very good while shutting down his side of the field on defense. Shalrie Joesph was the best offensive player for the Revolution. The central midfielder seemed to be the only New England player who was confident on the ball as his distribution was once again spot on.
Off Target
Vancouver:
Greg Janicki. After the game on Saturday the center back admitted he should have pulled himself off at halftime due to a hip problem. The knee he took to his hip in the 20th minute hobbled him for the rest of his time on the pitch and he was directly responsible for Kansas City's second goal and partly responsible for their first. With a long season ahead and captain Jay DeMerit still a question mark with a sore groin, it was no time for Janicki to risk further injury.
New England:
New England still needs to get a solid offensive performance under their belts to build confidence. On the injury front, defender Franco Coria (strained left hamstring) and midfielder Andrew Sousa (strained right quadriceps) are both out against Vancouver. Goalkeeper Matt Reis also appeared to be feeling the adductor strain on his right side Saturday.
Tactics
Vancouver:
There are a lot of injury unknowns in the Whitecaps camp right now but don't be surprised to see an opening line-up that is similar to the final line-up from the Kansas City game. Thordarson will play his beloved attacking 4-4-2 with Khalfan and Chiumiento out wide with Hassli and Camilo up front. It is possible Camilo will start on the bench despite his MLS player of the week performance. He is still getting up to full match fitness and two 90 minutes in 4 days could be too much to ask. Expect Atiba Harris to get the start if that is the case.
New England:
New England's formation has been talked about a lot in the media the past two weeks. Steve Nicol has finally come out and said it is a 4-3-3 formation. While that may be, it does not seem like there are three forwards on the field for the Revolution given the lack of offensive production. Nicol will most likely address this if he plays the same formation Wednesday. Look to see Nicol mix up his lineup on Wednesday with some possible new starters like defender/midfielder Chris Tierney and forward Kheli Dube.
Intangibles
Vancouver:
Eris Hassli returns after his red card two games ago. The Frenchman should have a bee in his bonnet after costing his team points in Philadelphia and having to watch from the stands as his team mounted an incredible comeback without him against Sporting Kansas City. He knows the Whitecaps have been good enough to have three out of three wins this season, so expect him to put in a big performance and hopefully stop with the silly yellow cards.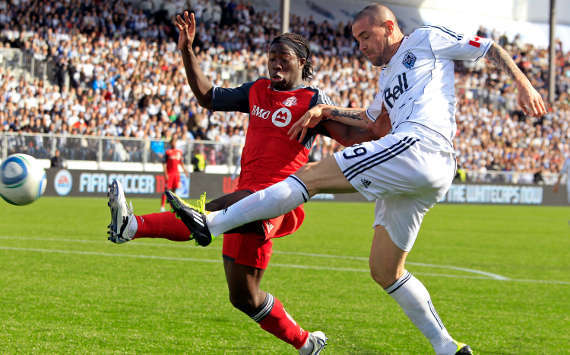 New England:
This will be New England's first ever trip to play the Whitecaps. New England had a very long travel day on Monday filled with some airport delays. This could add to the fatigue of a team that just played on Saturday. Adding to the fatigue is the fact Vancouver looks to be a very hot team right now. The Whitecaps are 1-1-1 which is great for an expansion team. The team is coming off an amazing stoppage time come-from-behind 3-3 tie against Sporting KC. Vancouver is also the second highest scoring team in the MLS.
OutcomeTrevor Leach:
Soccer is a funny game. One big performance can influence the confidence of a team for weeks. There can be no bigger confidence boost then coming from down 3-0 with 17 minutes to go and level the game in extra time. The Whitecaps will come out flying and they should win this game with a comfortable 2-1 score line.
Justin Churchill:
I can see this game being an improvement on Saturday's game because of the experence within the team. Being that New England is away they would be happy with walking away with any points in the contest. My Prediction is a 2-2 tie.


For more on Major League Soccer, visit Goal.com's MLS page and join Goal.com USA's Facebook fan page!