A late equalizer from Diego Castro was enough to salvage a draw for nine-man Sporting...
A resilient Sporting side were reduced to nine men, but managed to score a late equaliser against all odds from a Diego Castro penalty after Villarreal took the lead after half an hour following a mistake from the Rojiblancos keeper Ivan Cuellar.
Both sides started positively as it was an end-to-end game, but Sporting piled on the pressure as their quick passing defied Villarreal's defence. After some great inter-play between the away side's midfield, Alberto Rivera spotted Andre Castro with a long ball but the Porto loanee put his shot wide of the post.
The home side began to find their feet not long after and midfielder Cani fed Nilmar who could only hit the side netting.
The first goal came from some poor defending by the away side at the half hour mark. Goalkeeper Ivan Cuellar made the wrong decision in trying to catch a high ball from a corner, which he eventually missed and it fell kindly to
Giuseppe Rossi
, who tapped it into an open net.
The goal seemed to give Villarreal a much needed boost as they had control of the possession but struggled to find their forwards. However, the Yellow Submarine's defence lacked concentration as Miguel de las Cuevas beat the offside trap but his cross was intercepted by keeper Diego Lopez.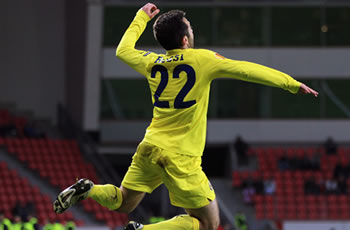 The Rojiblancos were the better of the two sides at the beginning of the second half as they were constantly threatening the home team's, but shots from David Barral and Diego Castro weren't good enough to level proceedings.
Nilmar won a free kick after a poor challenge from Ivan Hernandez as Rossi nearly doubled his tally with a header but was well saved from Cuellar.
Cuellar went down with an injury, but as the Sporting players surrounded the referee, defender Jose Angel appeared to clap him on the back and was duly punished with a second yellow card after a handball in the first half resulting in a red.
After the confusion culminating over the incident, Cuellar was replaced by Juan Pablo Colinas in goal and with 20 minutes left on the clock Sporting had much to do with only 10 men.
Youngster Wakaso Mubarak came on to make his debut for Villarreal and looked promising with his passing but El Submarino couldn't increase their lead.
Sporting continued to put pressure on the home side but their back line remained solid and made it hard for Juan Carlos Garrido's side.
More misery was poured on Sporting as Sastre took down Rossi outside the box and was deservedly given a red card to leave the away side to end the game with nine men.
However just as it looked to be over, a long ball was poorly dealt with by Gonzalo as he took down former Rangers forward Nacho Novo and Diego Castro converted the penalty in the 90th minute with an audacious chip down the middle.
The Yellow Submarine will be gutted with the draw as they looked as if they'd done enough but Sporting deserved a point from the game.
The draw puts Villarreal eight points clear of Espanyol and remain in fourth place whilst Sporting's heroic equaliser keeps them three points above the relegation zone in 17th place.
Follow Goal.com on

to get the latest soccer news directly. Check out Goal.com's

page; be part of the best soccer fan community in the world!