The Yellow Submarine have been outstanding this season, and it would be a shock if they were to slip against los Rojillos...
Powering Along
Wednesday evening's Copa del Rey match against Sevilla proved to be a frustrating affair for Villarreal, who were held to a rare home draw by the Andalucian side. Had Juan Carlos Garrido's side not been going so well in the league, that result would have been a particular disappointment, but presently the Yellow Submarine are moving at full steam ahead to try and claim third spot.
Champions League football presently looks on the cards at El Madrigal next season. Villarreal command an impressive five point lead over fifth placed Espanyol, and with a remarkable home record spill only a limited number of cheap points.
Their strength on the east coast was questioned by Sevilla in midweek, when the Andalucians became only the third Spanish club to avoid defeat at the venue since Garrido took over, and drawing clearly irked the competitive coach.
"Tonight's result is a negative one because it was a draw," he lamented after the game. "Once we had a 3-1 lead, we controlled the match well, but we lacked something in defence. They managed to level proceedings, but we should have held on at 3-2."
Without Carlos Marchena at the back, Villarreal's rearguard certainly looks a good deal more febrile, but their offensive power should be enough to see them through at the weekend.
Firing Blank After Blank
Survival for Osasuna in the top flight this season is by no means a foregone conclusion, and the Pamplona side have endured an alarming slump over the winter that has brought their participation in the Primera Division into question. Over the course of the last six games, they've failed to win a single match, maintaining any forward momentum only by three draws.
Perhaps the most concerning statistic for head coach Jose Antonio Camacho is his side's consistent failure in front of goal. In their winless run, los Rojillos have only managed to find the net in one of their six games, and they were utterly reliant on goalkeeper Ricardo to earn them a 0-0 draw against Getafe last weekend.
"We started very well and could have scored first. Then we had 15 minutes of uncertainty, but we played well the second half and if we were lucky we would have won," Camacho explained after the fixture, choosing to focus on his side's defensive strength.
To an extent, the coach is correct. Osasuna did have a glaring late chance to claim three points against el Geta, but Walter Pandiani headed wide when superbly placed late on. But had the South American's header found the net, it would certainly have come against the general flow of the game.
The limited success that the Pamplona club have enjoyed this term has come solely at home. With two points from a possible 27 away from home, Camacho's men have the worst away record in the league, and it would be a massive surprise if that was to change on Sunday.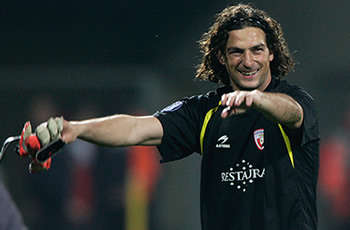 TEAM NEWS

Villarreal
Juan Carlos Garrido's men have suffered a series of set-backs this week. Santiago Cazorla will miss at least a week of action due to a hamstring injury, while backup goalkeeper Juan Carlos faces a spell of six weeks on the sidelines. Additionally, Bruno Soriano is a doubt for Sunday's fixture.
Marcos Senna, Nilmar and Angel were already missing. Carlos Marchena won't play at the weekend, but he'll at least start to train from Monday.

Osasuna

Walter Pandiani is due to miss 10 days due to a slight muscular issue. Nacho Monreal, Ruper and Nico Medina are existing problems. Javad Nekounam and Masoud Shojaei are on international duty, while Patxi Punal is suspended, leaving Juan Antonio Camacho with only 16 senior players to select from.

Follow Goal.com on

to get the latest soccer news directly. Check out Goal.com's

page; be part of the best soccer fan community in the world!