The two Western Conference teams will try to get some momentum going in this exciting affair.
On Form
Vancouver Whitecaps FC: Mouloud Akloul. The personable Frenchman of Algerian descent has been wonderful in his last two games with the Whitecaps. After a grueling comeback from a shattered ankle last year he is finally fully fit and would be a dream center back partnership with Captain Jay DeMerit. Akloul has a big bubbly personality and he spends most games cheering on the crowd and his team. Don't let his smile fool you, if anyone is out of line he'll make sure they know it. His on-field voice and leadership are invaluable to the Whitecaps who are still trying to find their wings in their new league. With him and DeMerit in the back line it is very possible that you won't be able to hear the crowd over their chatter.
San Jose Earthquakes: The Earthquakes saw a vastly improved defensive effort in the league match against Philadelphia and the Open Cup victory against Portland, conceding nothing from the run of play in 180 minutes. Ike Opara was at the heart of this improved effort, and also netted the winner in the 120th minute against Portland to send San Jose through to the final round of U.S. Open Cup qualifying. Justin Morrow also looked good against Philadelphia and in his substitute appearance versus Portland. Brandon McDonald proved his versatility with a strong performance as a defensive midfielder, while Steven Lenhart has shown glimpses of what he can bring once he is fully fit.
Off Target
Vancouver: Eric Hassli. The Caps DP is playing scared. After he started his MLS career with 3 suspensions he has softened his game. He was creating room for himself by playing a physical style but MLS refs didn't like it and threw yellow and reds at him. Partly embarrassed and partly just trying to survive, Hassli has shied away from the physical game these days and his play has suffered. He needs to find a happy medium where he can play his game yet not pick up cards. It would also be nice if once he got his shinny scalp on the ball or didn't scuff a shot, but we'll deal with that in due time.
San Jose: The team's offense has failed to click for some time now, as evidenced by the fact that Chris Wondolowski's goal against Chivas USA has been the only goal scored by an Earthquakes forward (or midfielder, at that) in the last four games over all competitions. Despite making nearly twice as much as any of his other teammates, Bobby Convey's contribution to the offense has so far failed to live up to the levels he showed in 2010. Furthermore, Frank Yallop's choice to deploy two more defensive-minded midfielders in the middle has meant that creativity and service to the strikers is an issue.
Tactics
Vancouver: If the Whitecaps shut down Wondolowski they'll have a good chance of winning this game. The San Jose right sided attacking midfielder has taken by far the most shots on his team and little happens without him. Fortunately for the Caps Wondolowski will be facing there star left back Alain Rochat and as long as Gershon Koffie can cover when Wondolowski drifts inside the Caps should have no problems.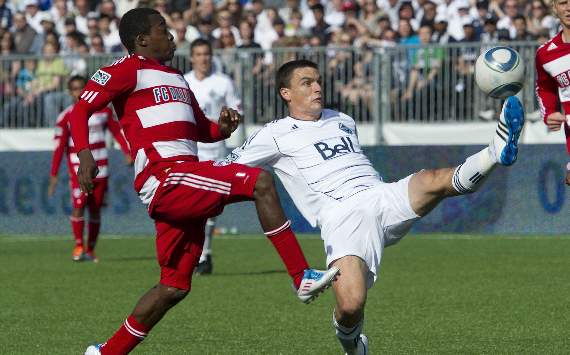 San Jose: Defensive solidity has been the name of the game and in that sense, Frank Yallop will likely stick to the 4-4-2 formation. Sam Cronin could see himself back in the starting XI after missing out against Philadelphia and would provide a better in the middle option insofar as passing is concerned, especially as Simon Dawkins is set to miss up to two months through injury. Ike Opara, who is finally returning to full fitness, looks to have played his way onto the team, while the big question in defense is whether Yallop sticks with a below-par Jason Hernandez or opts to continue the Bobby Burling-Opara partnership that kept a clean sheet against Portland.
Intangibles
Vancouver: Jay Jay Jay from the USA! News out of Caps camp has captain America Jay DeMerit nearing full fitness and may make an appearance Wednesday night. If you're counting this would be his second return from this injury. Last time his drive to play got the better of him and he returned way to early and reinjured himself and cost his team a goal on the play. This time around the coaching staff is taking it slow so it's possible the Caps will make Jay sit out a bit longer.
San Jose: In Vancouver, the Earthquakes come up against the side just above them in the standings, meaning a win would be a huge boost to the momentum of the team, especially after beating an in-form (albeit mostly reserve) Portland Timbers side. The prospect of boosting themselves off the foot of the Western Conference and back into the playoff mix should be plenty of motivation for the players, and a good vein of form heading into the summer months could be just what the team needs to shake off a forgettable spring.
Outcome
Trevor Leach: The Whitecaps are coming home after getting their first road points of the season and also getting something equally as rare, a shutout. San Jose is the only team below the Caps in the standings so Caps fans must think a win is in the cards. Prediction: Caps gut out another thriller, 2-1 with Hassli scoring the winner late.
Nick Rosano: The Whitecaps are in no better form than the Earthquakes, but will still take some heart from their 0-0 draw at Chicago. I'll go for a 1-1 draw in this one.
Follow Goal.com on

to get the latest soccer news directly. Check out Goal.com's

page; be part of the best soccer fan community in the world!