VA and Sainte are both teams in need of points.
Remedied
On the face of it, an encounter between 14th placed Valenciennes and 12th positioned Saint-Etienne wouldn't seem to have any great bearing on the race towards the top of Ligue 1, but with these sides playing a game in hand, the tight nature of Le Championnat means that les Verts could end the night as high as fifth, while VA could make a big step into the top half too.
Valenciennes approach Tuesday's match on something of a high after a fine performance against Arles-Avignon at the weekend. Philippe Montanier's side proved much too strong for Le Championnat's bottom club, with Gregory Pujol's goal midway through the first half signaling the start of the end for the guests, who would ultimately go down 3-0 as Rudy Mater set-up goals for Carlos Sanchez and Gael Danic.
"It's said that the only remedy for a defeat is a victory. We really wanted to get back to winning ways," Montanier told the press after the weekend fixture. "It was important for our season that we didn't lose too much confidence, and - overall - the players stood up to be counted."
Valenciennes' campaign to date has been very stop-start. They've yet to record consecutive victories or successive defeats, and their unpredictable form is likely to continue until Montanier can call upon his full squad. With a good number of long-term injuries, the team is stretched and putting together a cohesive run is proving tricky.
Thinking Of The Drop
Carlos Bocanegra and Saint-Etienne are also fretting over the possibility of being sucked back into the relegation battle after a bright start to the campaign saw them top Le Championnat after beating Olympique Lyonnais in the Derby du Rhone on the final weekend of September. That was, however, the last time les Verts picked up maximum points, and coach Christophe Galtier is beginning to fret.
"We've got 20 points and five matches left before the winter break. We've got to try and put some distance between ourselves and the competition, because they're just behind us," he explained to the media, according to Ligue 1's official website.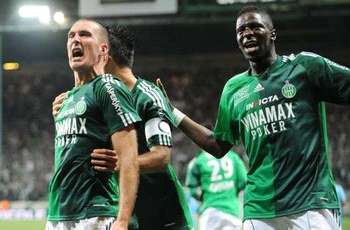 At the weekend, les Verts squandered the chance to pick up a victory. Loic Perrin gave them the lead early in the second half against Nancy, but Sainte were pegged back and in the end were a little fortunate not to lose, with their hosts twice finding the frame of Jeremie Janot's goal.
"We can have some regrets because we didn't take the chances we created in the first half during which I think we deserved to open the scoring," Galtier stated. "When we eventually did do that, we should have continued playing, and I'm sure we would have had more chances in the second half if we'd shown more technical quality. We were under pressure after Nancy equalized."
With the Christmas run-in varying greatly in difficulty for Sainte – they go to Lille and Monaco but host Arles and Bordeaux – they will be eager to put points on the board quickly, though with a mediocre away record, perhaps the best they can hope for is a draw.