The U.S. and Poland will meet Saturday in Chicago.
Who:
United States vs. Poland
What:
International Friendly
Where:
Soldier Field, Chicago, Ill.
When:
Saturday 8 p.m. ET
TV:
Fox Soccer Channel, Galavision
The United States will play their second post-World Cup friendly on Saturday when Poland visits the Windy City but it will be the first game since Bradley and U.S. Soccer agreed to move forward for another four years.
New Formation?
With only three forwards on the roster, it seems now would be a good time to tinker with a new formation. The biggest strength on this roster – and with the national team overall – is the number of talented midfielders Bob Bradley can call in. On this roster alone, talents such as Maurice Edu, Stuart Holden and Michael Bradley are available – throw in Benny Feilhaber and Jermaine Jones and the midfield is a crowded one.
Where does Clint Dempsey fit in? During the World Cup, he was in the midfield as Jozy Altidore and Robbie Findley were the preferred pairing up top. Dempsey should have his spot guaranteed on the field but exactly where he lines up remains to be seen.
Sorting Out The Defense
The mainstays on the back line are the team's most veteran players as Steve Cherundolo and Carlos Bocanegra are each 30 years old. Still, there are no other defenders now capable of doing what both 'Dolo and Boca can both in terms of their defensive qualities and their leadership abilities. So while the phasing in process of young players is vital, it's not exactly easy to phase out such important players as the two 30-year-old veterans.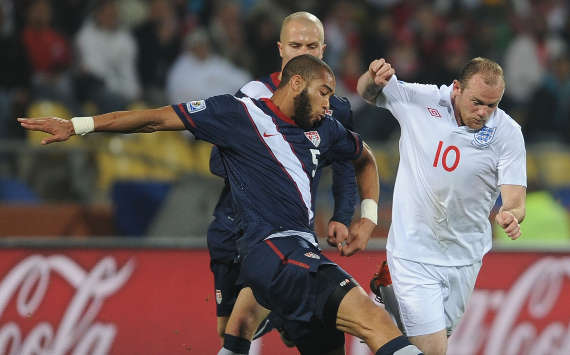 Onyewu | Needs to provide impact
Jay DeMerit is without a club and likely not in a spot to play for the national team but Oguchi Onyewu is around and should be ready to show what he couldn't show in South Africa. Onyewu will likely have the opportunity to show he's ready to handle the responsibilities in central defense, and doing so could help Bradley and the coaching staff breath a collective sigh of relief. Otherwise, Clarence Goodson would be next in line to play alongside Bocanegra.
Michael Parkhurst never took the next step from strong league player to worthy national team contributor but perhaps some European seasoning will help him take that step. But this is Onyewu's opportunity to grab, and if Parkhurst plays then perhaps Onyewu did not grab it.
Forwards Folly
While goals haven't been rare for the U.S. – the team has scored 16 goals in 11 games in 2010 – forwards haven't been contributing their share of them. Only one of the four forwards who have scored for the U.S. this year is on the roster in Altidore. The last time a forward scored for the U.S. was the week before the World Cup opened as both Edson Buddle and Herculez Gomez scored in a 3-1 friendly win over Australia.
There may be something to be said for the entire team producing goals, but the lack of production from players such as Altidore and Robbie Findley is alarming. Altidore in particular is in the spotlight and must show some sort of scoring touch but the same can be said about Eddie Johnson. Whatever the case, more goals must come from forwards to add to an already effective attack.
Projected Starting LineupsUnited States
----------------------Howard------------------------
Cherundolo---Onyewu---Goodson----Bocanegra
Feilhaber--------Jones------Bradley----------Holden
---------Altidore--------------Dempsey-------------
Poland
--------------------------Boruc-------------------------
Piszczek-------Pietrasiak--------Glik------Zewlakow
Blaszczykowski---Murawski---Majewski---Obraniak
-------Lewandowski--------------Smolarek----------

Goal.com Prediction: United States 1, Poland 0.
Visit the U.S. national team page on Goal.com for more and join Goal.com USA's Facebook fan page!