Clarence Goodson scored in the second half, but it was too little too late for the Americans, who fell into a two-goal deficit early on. TAMPA - It was an embarrassing night for American soccer.
For the first time in 27 group play matches in its Gold Cup history, the United States suffered a loss as it was outworked by Panama early and never fully recovered in a 2-1 decision at Raymond James Stadium, leaving coach Bob Bradley looking for answers.
Luis Tejada and Gabriel Gomez scored for Panama, which defeated Guadeloupe in its tournament opener. The U.S., coming off a win over Canada, didn't get on the board until Clarence Goodson knocked in a header in the second half.
"We just came out slow and didn't have enough energy from the get-go and kind of put us on our heels," U.S. defender Tim Ream said. "If you come out slow, you're going to get punished for it."
The Americans now need a good result against Guadeloupe Tuesday night in Kansas City to avoid even further embarrassment if they fail to make it to the knockout stage. A change to the starting XI will likely take place after yet another slow start for the U.S. team.
"With the fast turnaround, we're clearly going to consider some changes," Bradley said. "And they'll be ready to go for the game on Tuesday."
Panama jumped on the U.S. in the 19th minute when Luis Tejada trickled the ball past U.S. goalkeeper Tim Howard off a rebound. The play was set up with a free kick following a questionable call on Jermaine Jones, who received a yellow card despite not making any contact with the opposing player.
"For some reason we were just a little lackadaisical, a little complacent early," U.S. winger Landon Donovan said. "We had some of the ball and we felt OK about ourselves, but they put us on our heels a few times and they made a play that changed the game. The penalty is a little fluky and now we're chasing the game."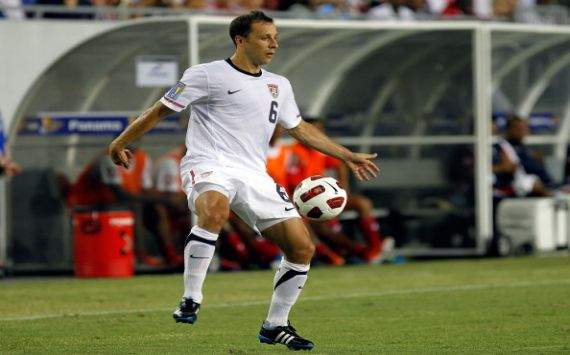 Panama's second goal came as a result of a terrible tackle from Ream, who lost track of Blas Perez before taking the Panama player down in the box. On the penalty kick, Howard guessed the right direction but was beat by Gomez.
"I went to clear [the ball] and as I was swinging I was already committed and he gave me a little nudge," Ream said. "And so as I was swinging through it, I caught him."
Goodson gave the Americans hope in the 66th minute when he put the ball in the net with a header off a beautiful corner kick from Donovan which was flicked on by Michael Bradley.
There was the question if heat would be a factor leading up to the game, but the U.S. team was quick to point out that the 93-degree temperature at kick off didn't have an impact on its performance.
"We trained in it the last two days and we trained for it for a week down in North Carolina, so the weather is never a factor," Ream said.
Panama leads Group C with six points, while the U.S. and Canada each have three. Eight of the 12 teams in the tournament advance to the quarterfinals.
Follow Mike Slane on Twitter