The Canadian championship will be decided Wednesday night between the two teams.

On Form
Toronto FC
: In a season that has been, so far, defined by only glimpses of hope, goalkeeper Stefan Frei has been consistently good throughout. Frei was one of the main reasons why the Reds escaped with draws from Vancouver and Colorado this week. He will need to be equally as sharp on Wednesday night as the Caps come to town needing to score goals.

Vancouver Whitecaps:
Eric Hassli has finally started to settle into his game after an interesting start. At one point he led MLS in scoring, but after multiple suspensions and being targeted by referees he is only now adjusting to life in North America. He was a bull in the first leg of the Nutrilite Championship. Toronto's defenders had a hard time dealing with his combination of skill and size and he finally did what everyone in Vancouver has been waiting for, score a highlight reel goal. Whitecaps fans will hope he spends more time cutting in on the right than left so he can emulate his wonderful strike in Toronto.
Off Target

Toronto
: Fitness levels. Playing every three days with a physically very demanding formation is really starting to take its toll on the Reds. Toronto has been very good in the first period of their recent games, but seems to simply dwindle away. Whether it's giving up a two-goal lead last week against Chicago, or just scraping draws against Vancouver and Colorado, the general fitness of the team, not to mention the injuries, is far from stellar. Having to play a Vancouver side that has had a whole week off, only three days after their Colorado game will be extremely difficult.
Vancouver:
Scoring. In the first leg the Whitecaps threw everything they had at TFC and somehow only came away with one goal. Posts, headers, open nets the Whitecaps missed goals everyway in the book. If that game exposed anything is that the Whitecaps don't have the strikers to roll with the big boys. Camilo has been useful in spots this year but his talent might best be used as a sub and not a starter. Omar Salgado is too young and unrefined to start and Long Tan is basically there to make the numbers. Whitecaps brass surely has noticed and fans are hoping they can bring someone in to play with Hassli.
Tactics

Toronto:
With a 1-1 draw in Vancouver, Toronto has the tactical advantage going into the second leg, in that it doesn't have to go out and chase the game. Aron Winter can afford to play the waiting game and the opportunities will come against a leaky Caps side that, as the game goes on, will have to open up more and take more chances as it searches for a goal.

Vancouver:
Those that saw the first leg of this match all agree, TFC got away with one. If Toronto had one bright spot it was Nick Soolsma on the right wing. This is strange because he was up against one of MLS best left backs Alain Rochat. Rochat got caught up the field one too many times and he needs to make the adjustment away in Toronto. Rochat is too good of a player to be outplayed two games in a row and being away, expect Vancouver to play a more defensive style.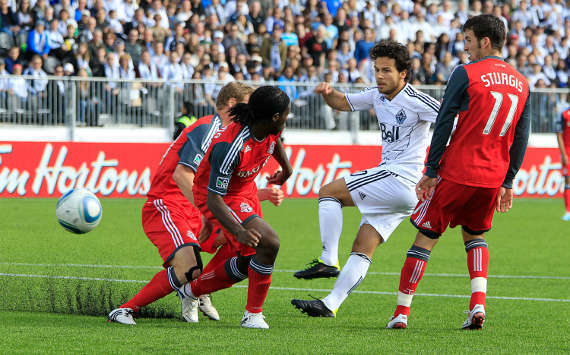 Toronto will defend hard against Vancouver

Outcome
Nick Sabetti
: There's no mystery as to how the Whitecaps will play on Wednesday. They will go out and play to win as they always have done this season. For a tired Toronto side, the best thing would be to keep things tight and play on the counter instead of trying to fight fire with fire, which is just the kind of game Vancouver wants and are better at. Except, I don't think Aron Winter is willing to play that kind of game because that's not what he was hired for.
A goal from Dunfield and Camilo in the last 20 minutes and the Whitecaps win 0-2.
Trevor Leach:
Despite not being a MLS game it should still follow the cardinal rule of MLS: Teams don't win if they travel across North America. Toronto is currently ahead on away goals so Vancouver needs to score at least one. I can't see Vancouver scoring more than one goal though, and TFC hasn't scored more than 2 goals at home all year. What does all this mean? A 1-1 game that TFC win on penalties.
Follow Goal.com on

to get the latest soccer news directly. Check out Goal.com's

page; be part of the best soccer fan community in the world!