The Eastern Conference leading Union look to continue its offensive improvement at BMO Field.
On Form
Philadelphia Union:
For the first time this season, the Union offense continually put pressure on the opponent for nearly all 90 minutes. They had 12 shots on goal against Chicago, and two hit the back of the net for the first time all year. Carlos Ruiz silenced his growing number of critics with a nominee for the goal of the year. Rookie midfielder Michael Farfan started, and contributed a goal as well. While the team continues to take advantage of these opportunities less than they should, it is at least a welcome sign for the offense to open up compared to previous games.
Toronto FC:
There have been some glimmers of hope thus far in the season, mostly led by goalkeeper Stefan Frei and solid defense. They had a strong and somewhat shocking performance against the defending MLS champions Colorado Rapids last week, holding them to a 0-0 draw. It was Toronto's third clean sheet of the season, and this is the type of defense they'll need to bring to the pitch this weekend against the surging Philadelphia Union.
Off Target
Philadelphia:
The Union has a bevy of versatile players in their midfield. That will be tested this weekend, as both Amobi Okugo and Stefani Miglioranzi are missing the game due to injury. Brian Carroll is the team's only true holding midfielder with experience in the starting lineup now. Manager Peter Nowak moved Michael Farfan around to hold the speedy Fire striker Dominic Oduro back. That did not work, as they let up a goal in the second half. Taking on an attacking offense would seem to be less of an issue against a Toronto team who is playing its fourth match in ten days.
Toronto FC:
Toronto's offense has been mediocre at best. They've scored an underwhelming 11 goals all season and recently they've only been able to generate enough to walk away with ties. In their last match against Colorado, they nearly secured a go-ahead goal in the 62nd minute from defender Mikael Yourassowsky, but he just hit the ball into the crossbar.
Tactics
Philadelphia:
The last two games have shown a much stronger devotion to attacking the opposing team's defense. With a defense that has played as well as they have this year, the Union can afford to take more risks offensively. While they did score two goals last week, they continue to be off set pieces, or the continuation of them. Sebastian Le Toux's lone goal this year was from a penalty kick. Look for the Union to continue to try and break out of its shell.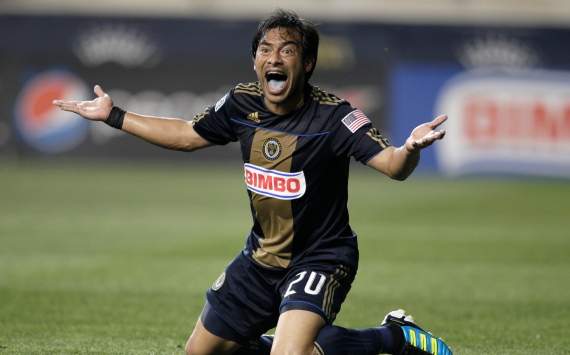 Carlos Ruiz scored a blockbuster last weekend
Toronto FC:
As solid as Toronto's backline has been so far, the Union's been much stronger, letting up only seven goals this season. The Reds will need to get an offensive spark going early on to get the home crowd behind them, most likely from top striker Maicon Santos or red-hot rookie Joao Plata.
Intangibles
Philadelphia:
Now with sole possession of first place at the top of the standings, both the Union and the league know that the Union are as improved as any team in MLS. The additions of keeper Faryd Mondragon, midfielder Brian Caroll, and defender Carlos Valdes have had an immense impact on the outlook of this team. One hurdle they have yet to cross is playing away from PPL Park, where they are 1-3 this season.
Toronto FC:
Coming off of a strong result on the road against Colorado, the Reds will be elated to be in front of their raucous supporters once again. With many of the teams in the Eastern Conference currently neck-and-neck, a win could potentially leapfrog Toronto up to a more respectable and competitive place in the conference.
Outcome
Bryan Robison
: It seems the team as a whole is starting to really put it all together. While he did let up a goal last week, look for Mondragon to have another strong game. Missing some defensive help in the midfield will not help, but look for the Union to pull out the road victory 2-0.
Aamer Bajwa:
Toronto's defense will hold up well against Philadelphia's seemingly resurrected offense. However, the Reds won't be able to get the ever-so-elusive three points in this one because their offensive woes will continue as they play to a 1-1 draw; a result they'll be somewhat happy to walk away with against the current leaders of the Eastern Conference.
For more on Major League Soccer, visit Goal.com's MLS page and join Goal.com USA's Facebook fan page!