The Fire became the first team to visit LIVESTRONG Sporting Park on Thursday and walked out with a draw.
On a glorious, eventful Thursday night, Sporting KC and the Chicago Fire played out to a scoreless draw.
First Half
The much-anticipated opening had quite a start to it. LIVESTRONG Sporting Park's liveliness grew parallel to the hosts' energetic beginning with plenty of action inside Chicago 'keeper Sean Johnson's box.
The first legitimate chance for Sporting KC came in the 8th minute when an inviting ball from Chance Myers was luckily intercepted by Bratislav Ristic.
Shortly following that play, the Men in Red bolstered their attacking tactics when in-form Corben Bone took a lethal shot at Jimmy Nielsen. It was quite a test for the Danish goalkeeper.
The 17th minute was quite a buzz kill for Sporting's Graham Zusi. A well-driven ball played across the box from Kei Kamara, was completely missed by Omar Bravo before being knocked it by an on running Zusi. The goal was eventually ruled offside because of interference with the play from Bravo.
Zusi was again involved in a huge opportunity in the 29th minute when he hit a teasing shot that flew just inches over Johnson's bar. Zusi was a given a late nod in the starting lineup after replacing Ryan Smith who suffered a pregame injury tweak.
Minutes later, Daniel Paladini showcased the exact same type of shot. The former Railhawk let Kansas City know just what kind of shooter from distance he is when a solid attempt was deflected off a blue shirt.
Sporting KC seemed to have calmed its enterprising play as the half came to a close. The score stood deadlocked as both teams looked into putting an end to a combined 19 games without a win.
Second Half
The second half kicked off in a balanced fashion. If anything, Sporting KC had the slight edge in the first ten minutes or so but was far from as dangerous as it was in the first half.
Sporting KC suffered a massive mistake in the 67th minute by Jimmy Nielsen when he handled the ball, unaware of his placement outside the box. Nielsen was shown a red card and the Fire were given a free kick just outside the area, however Cristian Nazarit hit his effort straight at the wall.
Shortly after Chicago brought on Diego Chaves and Orr Barouch, hoping to expand the striking options.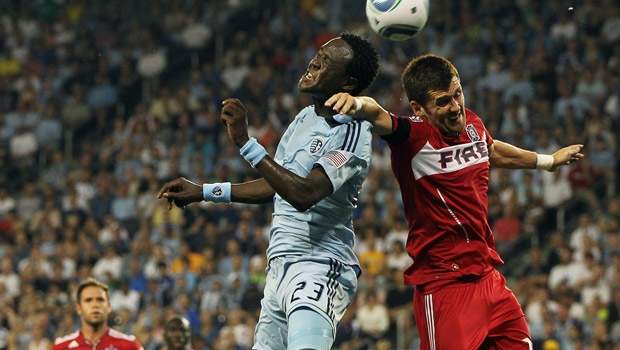 Barouch came as close as ever in the 80th minute when Daniel Paladini once again unleashed a long stinging shot at Kronberg. The backup goalkeeper struggled in handling the ball before letting it loose in front of Barouch but the crossbar denied the shot.
Five minutes later Bravo found himself in an opportunistic situation when Bratislav Ristic came in hesitantly from behind, taking out the Mexican striker in the box. The referee had none of it and continued play on. The furious Peter Vermes could do nothing about it.
A minimum of nine minutes was added on in the game but neither side was able to take advantage of that extra time. It was a much less energetic second half in comparison with the first and rightfully cost both sides valuable points. The winless streaks are now extended to ten and eleven for Sporting KC and the Chicago Fire respectively.
A result unfavorable for both clubs, but in the neutral perspective, it was a magnificent stadium opener. An event certainly beneficial for MLS and overall soccer expansion in America.
Keep updated with Major League Soccer by visiting Goal.com's MLS page and joining Goal.com's

page.