The curtain will finally be raised on LIVESTRONG Sporting Park on Thursday night
On Form
Chicago Fire:
Despite playing out to a scoreless draw with Seattle at home, the Fire have managed to end its rather poor run of football, as the team put in an inspiring performance that was much due to the collaborative efforts of Daniel Paladini and Corben Bone. Paladini is a player that's solidifying his pivotal midfield role with partner Logan Pause. He had two wicked shots that gave Kasey Keller a scare last week and showed the MLS public what kind of player he can be. Corben Bone has also been doing well recently. He is filling in for the absent Marco Pappa these next couple of games, but tends to bring a more possessive, attack-minded style to the Fire's game.
Sporting Kansas City:
After starting the season as one of the league's worst units, Sporting has managed to shore up its defense a bit in recent weeks, allowing just two goals in its last three matches after conceding four to the Galaxy on May 14. Much of the credit can go to center-back Matt Besler, who has been the team's best defender and has solidified his role in the starting lineup in his third year out of Notre Dame.
Off Target
Fire:
We talk about inspiring and impressive performances coming from the Fire, but the club's longest winless streak record keeps growing. With the streak at ten, maximum points are now a top priority every game. A third of the season is over and Chicago's playoff hopes are fading away. Now that Frank Klopas took charge, defensive mechanisms could now tighten up, however a consistent striker is something the Fire could use. Diego Chaves had a stellar start to the season but hasn't produced much in recent outings. Should he return back to form, the Men in Red should ease their striking problems and finally get a win.
Sporting KC:
Teal Bunbury looked to be primed for a breakout season after scoring three times in his first two matches, but has gone cold since. It has now been seven games without a goal for the U.S. international, who is still stuck on three goals. His slump likely cost him a spot on the U.S. Gold Cup roster, as he was bypassed for the in-form Chris Wondolowski of San Jose.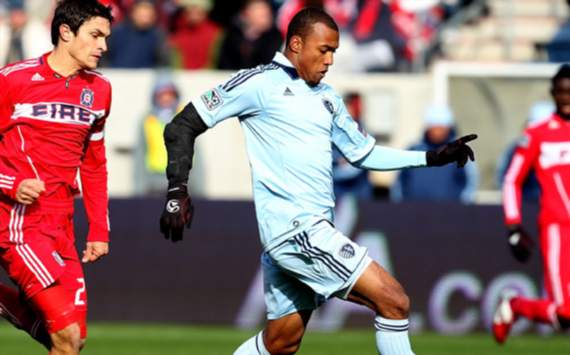 Bunbury | Has struggled to find his best form in 2011
Tactics
Fire:
We will most likely be exposed to another 4-4-2 with Johnson in goal, Ristic-Cuesta-Gibbs-Segares in the back, Bone-Pause-Paladini-Oduro in the midfield, with Diego Chaves and Cristian Nazarit pairing up front. It's a promising lineup that brought excitement to last week's meeting with Seattle. If everything goes according to plan, Fire fans can feel hopeful if not safe about this one bringing them their first away win of the season.
Sporting KC:
The team finally has its first choice attacking trio in Peter Vermes' 4-3-3, as Bunbury, Omar Bravo and Ryan Smith are now all healthy, and will be looking to build some chemistry in an attack that has sputtered at times this season. Meanwhile, former number one overall pick Chance Myers looks to have put his injury troubles behind him and has earned a spot in the starting XI at right back, with normal right back Michael Harrington sliding over to left back in place of Roger Espinoza, who's away on Gold Cup duty with Honduras.
Intangibles
Fire:
The Men in Red are the main guests of the show once again this year as they open up another stadium. LIVESTONG Sporting Park is the venue this time around and it will definitely be a challenge. The Fire fell 4-2 while opening Portland's JELD-WEN Field and 1-0 in last year's Red Bull Arena opener. It will be a big occasion for Sporting KC and it's always difficult spoiling a party, so the Fire must double their efforts if they want to get the result they want Thursday night.
Sporting KC:
This is the night Sporting has been waiting for. All those years playing at cavernous Arrowhead Stadium and then tiny CommunityAmerica Ballpark have finally led to this night: The grand opening of LIVESTRONG Sporting Park in front of a national TV audience on ESPN2. If the players aren't completely amped up for this one, they may as well retire.
Outcome
David Gubala:
The Chicago Fire ruin the party for Sporting KC and come away with a shocking 3-1 victory. Paladini, Chaves, and Nazarit all with first half goals for the away side.
Seth Vertelney:
It's hard to bet against the side lifting the curtain on its new stadium. Sporting wins for the first time since opening day, 2-1.
For more on Major League Soccer, visit Goal.com's MLS page and join Goal.com USA's Facebook fan page!