The East's best head cross country for their playoff opener.
Momentum
Both teams were hoping to come into this one with some more consistent form. San Jose, after dismantling Chivas USA 3-0 in the penultimate game of the regular season, received a shellacking of their own at already eliminated Kansas City, where the defense completely broke down and they lost 4-1. However, Chris Wondolowski scored San Jose's lone goal, securing a Golden Boot title that would have been unthinkable at the beginning of the season. Add to that his MVP nomination and you have a player who will be eager to carry his form into the playoffs.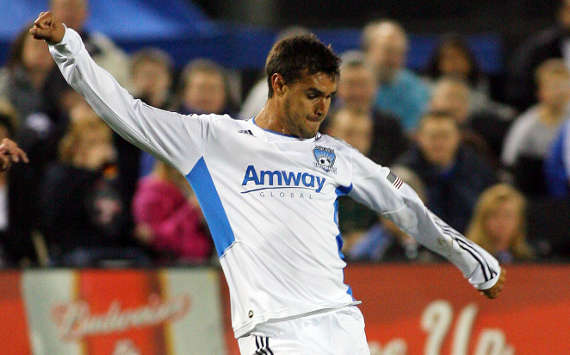 New York, on the other hand, defeated New England 2-0 in the last game of the regular season thanks to goals from Dane Richards and Joel Lindpere. As usual, they put in a solid performance at home, but their away form has been sketchier. They lost 2-1 to Philadelphia the weekend prior, and have only won one of their away games (2-0 at Los Angeles) since the start of September.

Tactics
Frank Yallop can count on a nearly full strength lineup, but Hans Backe and the Red Bulls face some questions thanks to injury. It is unlikely that Yallop will make any changes to the backline that got dismantled in Kansas City, as it is nonetheless the defense that has served him well through the end of the season. Yallop will stick with his regular midfield, with the possible exception of Khari Stephenson, who could find himself replaced by Scott Sealy. Ryan Johnson and Geovanni will in all likelihood be the names up top. Tactically, much will depend on how well the Earthquakes can isolate Juan Pablo Angel from service. The New York midfield has been perhaps the best in the league this season, and if allowed to operate unhindered, can easily pick apart San Jose and find the lethal Angel.
With injuries to both Thierry Henry and Salou Ibrahim, Hans Backe is faced with the dilemma of whether to go with Juan Pablo Angel as a lone striker, or whether to go with the promising, but inexperienced Juan Agudelo up top. Backe has experimented with a 4-2-3-1 formation, but much of that has been helped by Tony Tchani's presence, and the young Cameroonian will also miss the first leg through injury. Backe has a few options to partner Marquez, though most of them will force Marquez to play more defensively than he would like. Nonetheless, New York has enough weapons that if Hans Backe plays his cards right, it shouldn't be too much of a problem.
Turning Points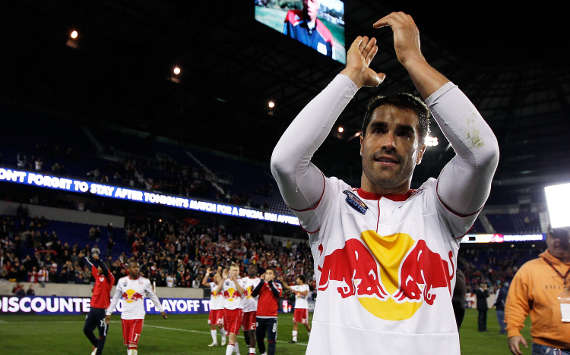 Injuries could play a significant role in this one, as and the Red Bulls are missing some bite both in the offense and in the center of the park. Much of the series could hinge on how well San Jose takes advantage of these first leg injuries, because with the players likely to return in the second leg at Red Bull Arena, the Earthquakes will face a very tough battle to advance if they do not pick up the lead at home.
Aside from Angel and Marquez, the other player who could really throw a wrench into the San Jose defense is Dane Richards. The speedy Jamaican has had a season to remember and has been as good as any player in the league in the back half of 2010. San Jose's back line isn't exactly blessed with pace, so a lot of the series could depend on how they deal with Richards (who notched a goal and an assist in the Red Bulls' 2-0 victory over the Earthquakes in August). The experienced Ramiro Corrales could be the man to handle the job should he play, but no matter who is defending San Jose's left flank, whoever is assigned the task will need to be at the top of his game.
Question Marks
Aside from three long-term injuries - Thierry Henry (right knee strain), Salous Ibrahim (right hamstring strain) and Tony Tchani (right hamstring straing) are all listed as out - midfielder Sinisa Ubiparipovic is listed as questionable with a right hamstring strain. The absence of Ubiparipovic could give Hans Backe even more of a headache when constructing a midfield to face San Jose.
The Earthquakes, apart from their own long-term injuries can count on a fully fit side. Cornell Glen is not showing lingering effects from the hamstring injury that forced him out of the matchup with Chivas USA and Ramiro Corrales is nearly at full fitness. Goalkeeper Joe Cannon, sidelined in mid-August with an ankle fracture, has been involved in light training, but is unlikely to feature in the playoffs.
Up Next
The home and away first round of the playoffs is decided on aggregate score, so no matter who wins the match, the final fate of the series depends on the second leg, which will be played at Red Bull Arena. The winner of the series will then move on to the Eastern Conference final, awaiting the winner of the Colorado-Columbus series. (Colorado currently leads that series 1-0.)
Nick Rosano is a NorCal-based contributor for Goal.com. Follow him on Twitter @nicholasrosano for more MLS insight and the occasional moment of hilarity.
Keep updated with Major League Soccer throughout the playoffs by visiting Goal.com's MLS page and joining Goal.com USA's Facebook fan page!