Will San Jose be able to capitalize on their positive play as of late or will New England spoil the party at Buck Shaw Stadium?
On Form
San Jose Earthquakes:
The offense finally clicked in the two games last week. Chris Wondolowski is now breathing down the necks of Charlie Davies and Landon Donovan in his quest to retain the Golden Boot after a pair of goals against Vancouver and Houston. Steven Lenhart is beginning to show what he can offer to his new team after an immense performance in his role as a target forward, grabbing two assists after his goal against Columbus was awarded to Brandon McDonald. Ryan Johnson and Jason Hernandez both put in improved performances to stake a claim for a regular starting spot while Bobby Convey adapted well to his role as a left back.
New England Revolution:
Midfielder Benny Feilhaber is critical to the New England Revolution offense. He created the game winning penalty kick on Saturday, by making use of space in the box. Feilhaber knew exactly what he was doing at the top of the Vancouver Whitecap box. His addition to the New England roster has instantly been felt by the team and their spot in the Eastern Conference standings at the moment is correct. The win over Vancouver may not have been pretty but it was still a three point addition to the table. In the crowded Eastern Conference it is necessary to grind out victory's for New England's playoff hopes down the road. If fully healthy, Feilhaber and the Revolution seem to have the talent to earn points on the road and win at home, both of which are important for any team wishing to make the playoffs.
Off Target
San Jose:
The team put in a fairly complete performance against Columbus, though right midfield remains a question mark as Joey Gjertsen didn't do much to prove he should be starting over Anthony Ampaipitakwong or Khari Stephenson and had a few heart-stopping giveaways. Against Vancouver, the offense was incapable of finding the net more than once, which eventually cost the Earthquakes two points, and while that certainly wasn't a problem versus Columbus, the team will need to maintain some degree of consistency.
New England:
Yet again, the Revolution are suffering from injuries. Marko Perovic is out with a knee sprain and is absence is being felt. Perovic is the attacking minded player that head coach Steve Nicol needs in his lineup. With his loss the bulk of work falls on central midfielders Benny Feilhaber and Shalrie Joesph. Chris Tierney did look good setting up in Marko's position of left midfielder last week, but his impact was really only felt in the first half of the game. In Perovic's absence it is important that Tierney steps up.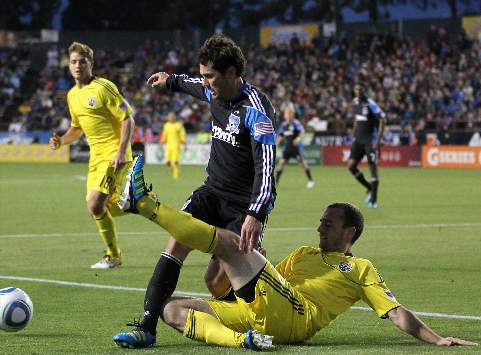 Tactics
San Jose:
Frank Yallop's experiment with the 4-3-3 has been laid by the wayside after a series of positive performances in a 4-4-2 setup. Chris Wondolowski has found his form playing up top, rather than at right wing, and has formed a good understanding with Lenhart. Countering the influence of Shalrie Joseph will be a big task for whoever Yallop starts in central midfield on Saturday evening and he will have to do it without Brandon McDonald, who was red-carded for an elbow late in the Columbus match. Ryan Johnson and Bobby Convey have formed a good understanding on the left flank, and Yallop will likely continue with that combination as long as the two can produce the kind of form they showed Saturday.
New England:
Last weekend on the game sheet New England finally admitted they were playing a 4-5-1 formation. This formation will most likely stay this way until Steve Nicol possibly signs an offensive designated player in July. Don't expect to see many lineup changes against San Jose. On the injury report Rajko Lekic is listed as questionable with a knee contusion but he should play Saturday evening.
Intangibles
San Jose:
Balancing a busy schedule will be crucial for Yallop and his men. After two games last week, the Earthquakes will play New England on Saturday evening and host Chicago in the U.S. Open Cup the following Tuesday before traveling back to Chicago to face them once more in MLS play. Yallop's rotation of the defensive line between the Vancouver and Columbus games worked a treat and any success in the coming week could be incumbent on the team's continued ability to find the right combination of skill and fresh legs.
New England:
New England is making its fourth trip to the West Coast this season. In fact, New England has played more teams from the Western Conference then the Eastern so far during the season. The Revolution have put on the miles early this season and that does add to fatigue. After the San Jose game the Revolution will travel straight to Kansas City for a US open cup match.
Outcome
Nick Rosano:
After an emphatic win over Columbus, the Earthquakes will have to be careful to remain grounded, but they should be able to post a win, 2-0 to the home side.
I think Steve Nicol will play a very defensive minded Revs team. Look for the New England midfield to bunker down and not over commit going forward. I think the final result will be 1-1.
Follow Goal.com on

to get the latest soccer news directly. Check out Goal.com's

page; be part of the best soccer fan community in the world!