Two long-time rivals clash in the California Clasico.
On Form
San Jose Earthquakes
: Aside from a lapse in marking on one set piece, the Earthquakes back line looked solid against Kansas City, and there was not too much for Jon Busch to do. Khari Stephenson tested Jimmy Nielsen from range a couple times, while Simon Dawkins once again looked sharp off the bench. To his credit, Steven Lenhart made sure his presence was always felt by the Kansas City defense, though he could not come up with the play that put San Jose on the score sheet.
Los Angeles Galaxy
: Despite missing arguably its three best players Saturday, the Galaxy came out of Colorado with a 3-1 victory as the defense stood tall once again. This Galaxy team has consistently proved to be more than the sum of its parts, and the starting backline of Sean Franklin, Omar Gonzalez, A.J. De La Garza and Todd Dunivant has a lot to do with that. Juninho also marked a successful return from his marriage in Brazil with one of the long-range goals that are becoming his trademark.
Off Target
San Jose
: The Earthquakes midfield failed to generate many chances for its forwards, and after a string of positive results, simply looked lacking in imagination. Sam Cronin and Antony Ampaipitakwong were substituted at halftime after looking less sharp than usual. Bobby Burling lost C.J. Sapong on the lone goal of the match, though had a decent game aside from that lapse. While the experiment of Bobby Convey at left back and Ramiro Corrales at right back has seen some moderate success, neither were at the top of their games on Friday evening.
Los Angeles
: Frankly, it's difficult to find much fault with the Galaxy these days. Despite missing key players through international duty (Ricketts, Donovan) and various weddings (Beckham, Juninho), this team keeps grinding out results. LA has been suspect with holding onto leads late in games, but they put Colorado away comfortably last week.
Tactics
San Jose
: Defeat against Kansas City won't bring wholesale change from head coach Frank Yallop, but we could see some tweaks here and there. The formation (which could be described any number of ways, but let's say 4-4-2), will stay mostly the same, though there should be a few personnel changes. Ryan Johnson returns after a personally successful Gold Cup campaign with Jamaica, where he scored two goals, though he could more likely find himself shifted further out left should Yallop decide to hand him the start. The Earthquakes still haven't found someone who can truly make the right midfield position his own, which will be something to look out for when the lineups come out on Saturday afternoon.
Los Angeles
: Provided David Beckham is over the back spasms that kept him out last week, expect to see him slot back into central midfield with Juninho against San Jose. Chris Birchall gets one more game at right midfield in the Galaxy's preferred 4-4-2 before Landon Donovan returns from Gold Cup duty, though Michael Stephens could start. It will be interesting to see if Paolo Cardozo, the diminutive Uruguayan playmaker, gets another late cameo.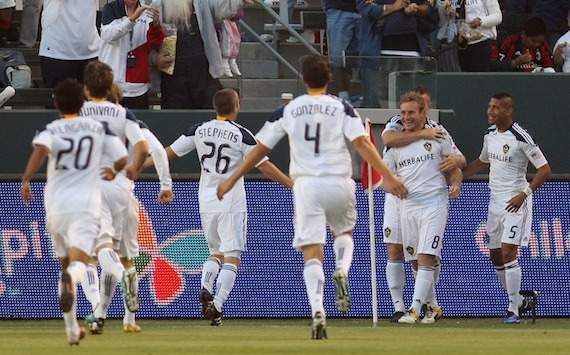 Intangibles
San Jose
: The Earthquakes have excelled in their last few home games, but league-leading Los Angeles presents the toughest test out of any of the teams the Earthquakes have faced in the last month. The team can go a long way towards proving its playoff credentials with a win over the Galaxy.
Los Angeles
: Getting Beckham back helps (though it may just be gravy, after watching LA grind out a win on the road Saturday). This is by far the most substance he's delivered on the field during his time in MLS, and he adds another dimension to the Galaxy when he's on the field.
Prediction
Nick Rosano
: A draw looks to be on the cards for this one, 1-1.
Knowles Adkisson
: If the Galaxy can go into high altitude without Landon Donovan, David Beckham and Donovan Ricketts (which is why I picked them to lose), and still come out with a 3-1 win, I'm not going to look foolish two weeks in a row. Galaxy 3 -1 Earthquakes.
Keep updated with Major League Soccer by visiting Goal.com's MLS page and joining Goal.com's

page.