On Form
San Jose Earthquakes:
The goals just keep on coming for Chris Wondolowski. He scored his 13th and 14th goals of the season in the team's 2-0 victory over D.C. United and has firmly established himself in the MVP race. What really makes Wondolowski stand out among the rest is his league-leading eight game winning goals. Although he gets plenty of help from his teammates in setting him up, there is no doubt the Earthquakes could easily be on the wrong end of the table without his goals. Another strong performer against D.C. United was fullback Tim Ward, who assisted Wondolowski's first goal and locked down the right flank. Ward, acquired in August from Chicago, had a shaky start to his San Jose career, but has finally settled in at right back. Finally, the team showed great resiliency in walking away with three points despite conceding a good deal of possession to D.C. It is this trait that can pose a serious threat to teams who underestimate San Jose come playoff time.
Houston Dynamo:
No one is really in form for the Dynamo at this point. Well, Dominic Oduro scored a goal. That's a positive thing. It's generally good when soccer players do that. But the simple fact is that no one is on form for the Houston Dynamo because they aren't playing well at present. Thankfully for them, only two games remain in this season.
Off Target
San Jose:
Despite the Earthquakes' generally sturdy defense against United, the backline nonetheless presented D.C. with a number of chances that stronger teams would be more than happy to put away. Chris Leitch looked the shakiest of the bench, exposed on the wing a few times by Carlos Varela. Furthermore, the San Jose players started the match with some scrappy play, leading Brandon McDonald to get sent off along with Jaime Moreno for an off the ball incident less than 10 minutes into the game. Although physical play is the norm in MLS, the Earthquakes will have to keep their cool if they want to avoid similar incidents and make a deep playoff push.
Houston:
A number of people deserve to be picked on in this category, but the two guys most deserving of this distinction are probably the two guys who managed to get straight red cards last week against New England. Both Geoff Cameron and Joseph Ngwenya got sent off in the dying minutes of the game, ensuring that their seasons are now over. It's possible that both of them got sent off on purpose so that they could start their winter vacations early.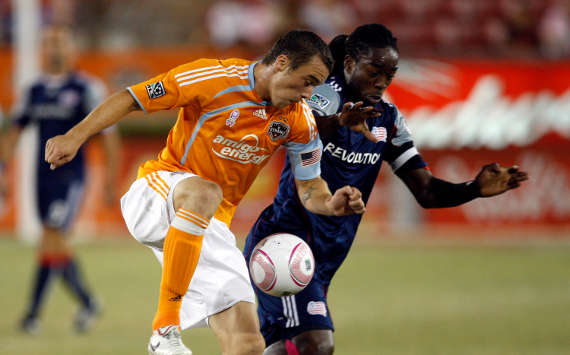 Tactics
San Jose:
Brandon McDonald will be suspended following his red card, meaning Bobby Burling will most likely partner Jason Hernandez in the center of defense. Further up the field, Frank Yallop has been tinkering with his lineup, but the midfield four of Convey, Cronin, Stephenson, and Wondolowski will almost certainly go untouched. Up top it is a different story. Geovanni will almost certainly start, and Scott Sealy will likely partner him. However, the forward has not had the desired impact since joining the starting XI and Yallop could replace him with Ryan Johnson (back from international duty with Jamaica) or Eduardo. As far as play style goes, San Jose has looked comfortable sitting back and picking out their opportunities rather than pressing hard. They were picked apart when trying to play a more open game against Chicago at the end of September and despite facing a weaker Houston side, Yallop will most likely go again with the more conservative approach.
Houston:
4-4-2 diamond will likely be the formation, as it has been so often. Wouldn't it be really cool if Dom did something crazy? What is he accomplishing by playing players who are unlikely to have a significant role in the team next year in a formation that is tried and true? Why not use the last few meaningless games in an attempt to learn something about your team? Or develop young players? Or he can just start Pat Onstad and bench Danny Cruz. Whatever.
Intangibles
San Jose:


The Earthquakes are finally in the playoffs for the first time since returning to MLS, but they need to remain focused for the remainder of the regular season in order to avoid senseless bookings such as Brandon McDonald's red card against D.C. United. Maintaing focus through the end of the season and not getting ahead of themselves will ensure the players the best possible start to the playoffs.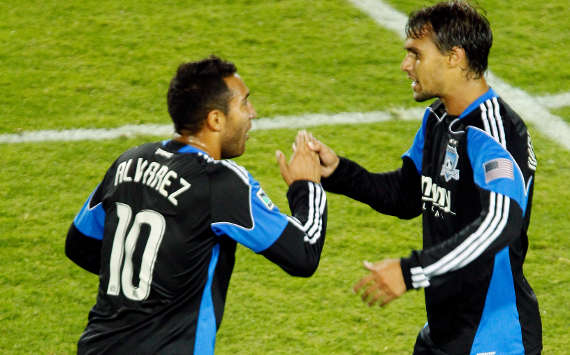 Houston:
Here's where playoff shenanigans might come into play. The Houston Dynamo might actually win this game if the Quakes are smart enough to employ the tried and true tanking technique. If Seattle is serious about this "Trophies, Not Friendlies" business, they'll be losing their next couple of games intentionally. It looks like 4th in the West will have to play L.A. or Real Salt Lake, both looking strong lately, while 5th will get to play the Columbus Crew, who haven't played that well recently. What's the incentive to win? It's hard to believe that a coach will tell his players to lose, or that professional athletes could remain uncompetitive, but if San Jose really want a shot at MLS Cup, their best strategy to get through the early rounds might be to lose to Houston.
Prediction
San Jose:
San Jose to win it 1-0. The two-goal win was something of an anomaly, so it's back to normal this time around.
Houston:
The Quakes aren't smart (or shameless) enough to tank, while Houston will be without Geoff Cameron. This should be an easy win for the Quakes. 3-1.
For more on Major League Soccer, visit Goal.com's MLS page and join Goal.com USA's Facebook fan page!