Both teams will have to cope with key players missing due to suspension and Gold Cup call-ups
On Form
Houston Dynamo:
Dynamo midfielder Brad Davis currently leads the MLS in assists with eight. Davis added two more assists last weekend against FC Dallas, the first coming in the 42nd minute, and the second coming in the 87th. Davis' assist to Houston forward Cam Weaver in the 42nd minute was Weaver's fourth goal of the year. He shares the team lead in goals with fellow striker Will Bruin.
San Jose Earthquakes:
Rookie midfielder Anthony Ampaipitakwong posted his best-ever performance in an Earthquakes uniform, grabbing assists on both of San Jose's goals with accurate crosses. One of those assists found the head of Ramiro Corrales, who had a good game himself, starting at left midfield in head coach Frank Yallop's 4-4-2 formation. Chris Wondolowski was on point with another goal, and his presence will be sorely missed while he is with the U.S. national team at the Gold Cup.
Off Target
Dynamo:
Houston defender Kofi Sarkodie made his second start of the season against FC Dallas. Unfortunately for the Dynamo, Sarkodie made a critical mistake in the 72nd minute when he received a second yellow and was ejected from the match. Not only did he leave his team shorthanded for 18 plus minutes against their cross-state rivals, he leaves them even further short-handed defensively this weekend. Houston is already short two defensive players due to international call-ups.
San Jose:
Ball movement and missed marks really hurt the Earthquakes last Saturday. The midfield looked disjointed throughout the first half, while Wondolowski and Steven Lenhart often found themselves too far apart to combine effectively. Things got better in the second half, especially with Joey Gjertsen replaced by Ampaipitakwong on the right wing, improving play on that side of the field. Still, missed marks on the defensive end cost the Earthquakes as no one tracked Dominic Oduro and Cory Gibbs as they scored the goals that gave Chicago a share of the points.
Tactics
Dynamo:
As their previous match showed, Houston relies on the strong play of its midfield to control the flow of it's attacking half. It is no coincidence that Davis has eight assists on the season, as he has been the team's driving force so far this year. Look for Houston to scramble to put together a defensive unit, yet maintain the majority of their offensive third. I expect the Dynamo to stick with a 4-4-2 formation and once again rely on Davis for offensive creativity. Defensively, we may see Geoff Cameron step into his old role as center back to help fill in for absences. Cameron won MLS Best XI honors in 2009 while playing center back before moving to midfield.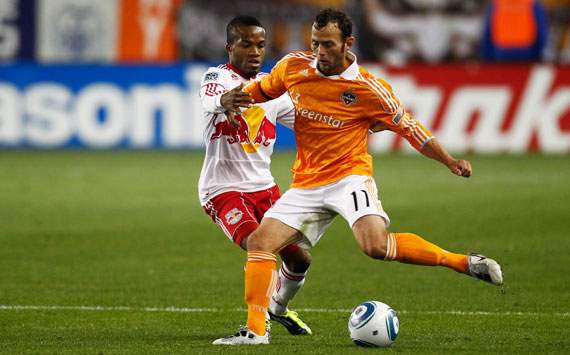 Brad Davis has been one of the league's best so far this season
San Jose:
The big question is how the Earthquakes will deal without their Gold Cup absentees, Wondolowski and Jamaican international Ryan Johnson. Ellis McLoughlin can play in either of their positions, but will likely start up top, as the combination of Corrales at left wing and Convey at right back looked good in Chicago. Anthony Ampaipitakwong could be in line for another start at right wing after Joey Gjertsen's poor outing last Saturday, but don't expect much else to change in Yallop's 4-4-2.
Intangibles
Dynamo:
The Dynamo will be down three critical defenders this week including the previously mentioned Sarkodie. Perhaps even more concerning, Houston will be forced to play without two of their center backs. Both Andre Hainault (Canada) and Jermaine Taylor (Jamaica) were called away to play with their national teams for the Gold Cup.
San Jose: Can San Jose continue its unbeaten run despite losing two of its top offensive producers? San Jose went unbeaten in regulation play in May, but Wondolowski and Johnson accounted for three goals and three assists between them. The team will have plenty of momentum coming into the game with Houston, but self-belief will be important if the team wants to make it five unbeaten in MLS play.
Prediction
Ryan Scally:
With a defensive unit that has a lot of questions surrounding it, one would think that San Jose is heavily favored. However, with the Earthquakes' notable absences in their offense, this match as all of the makings to be a low-scoring affair. This one will end up being a 1-1 draw.
Nick Rosano:
The Earthquakes should have enough to see off Houston in a tight 1-0 win.
For more on Major League Soccer, visit Goal.com's MLS page and join Goal.com USA's Facebook fan page!