The Cascadia Cup rivals meet for the first time in Major League Soccer
On Form
Vancouver Whitecaps:
This is the first game for the Whitecaps in the Cascadia Cup and the Vancouver fans will be out in force. Despite the team being shockingly poor of late, a reported 500+ strong crowd will descend upon Qwest Field. Let's hope they can hold their own against the undisputed best fans in MLS. If Seattle's gigantic tifo display against Portland is any indication, the Whitecaps fans might be in for quite a night.
Seattle Sounders FC
: Goalkeeper Kasey Keller is currently leading MLS by allowing only 0.86 goals per game. Keller held the Chicago Fire scoreless this past Saturday and recorded his fourth shutout of the year. Keller, who has 46 saves in 2011, is arguably the MVP of the Sounders' past two games, including an outstanding performance against Real Salt Lake last week.


Off Target
Vancouver:
The Whitecaps defense has not been as expected this year. We were all lead to believe it was scoring goals that was going to be the problem, but the Caps strong defence would keep them in games. This just hasn't turned out to be true and now other MLS teams are describing them as 'leaky'. Neither Michael Boxall, Greg Janicki, nor Mouloud Akloul has stepped up to partner Jay DeMerit in the back. Jonathan Leathers has been ok, this year but his replacements Wes Knight and Bilal Duckett have not been up to MLS level. Add in a few questionable holding midfielders and opposing teams are having shooting practice at the Caps' expense.
Sounders:
A Seattle striker has not scored a goal in 533 minutes of play. The last to do it was designated player Fredy Montero, who scored in the 7th minute against the Columbus Crew on May 7th. Coach Sigi Schmid has since shuffled and re-shuffled his lineup to try to find a way to generate goals. Consequently, Montero has started the past two games on the bench and may continue there if forward Mike Fucito keeps generating positive results.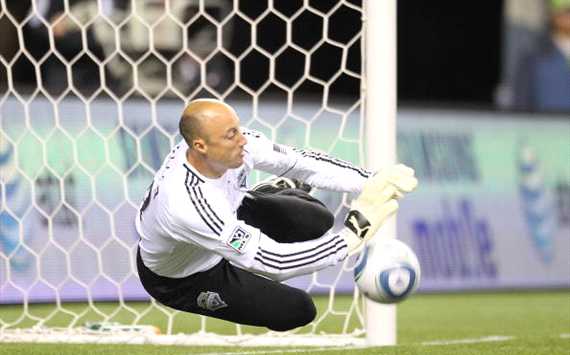 Keller
| Still going strong in his final season

Tactics
Vancouver:
The new coach shuffle has left a few players with an opportunity to establish themselves in the Whitecaps starting eleven. Bilal Duckett, Alex Morfaw, and Mouloud Akloul have all been given a run and have not impressed. But to give up on them so quickly would mean admitting Teitur Thordarson was right, so I expect them to get another run out to finish up the three-game road trip. With Eric Hassli back, expect Camilo back to the left after Teibert had such a bad game last week. Predicted line-up: Cannon, Duckett, Akloul, DeMerit, Rochat, Salinas, Morfaw, Koffe, Camilo, Chiumiento, Hassli.
Sounders:
Schmid has used a couple of different formations throughout the year in an effort to spark offensive production. His fallback 4-4-2 formation is the most common and I would expect to see this on Saturday. However, if Seattle is able to have all of its midfield pieces healthy, we could see a 4-5-1 or possibly a 4-3-3 late in the game. Look for Seattle to continue to rely on midfielders Brad Evans, Mauro Rosales, and Alvaro Fernandez to act as the creative forces out of the midfield.
Intangibles
Vancouver:
The Whitecaps are facing their first glimpse at the MLS record book. With their loss in Salt Lake the Caps have tied the MLS record for longest winless streak at 13 games. I suspect the Seattle Sounders would love to be the team to give the Whitecaps sole possession of the title.
Sounders:
This week following a reserve game with Vancouver, Schmid had indicated that the team is continually looking at new players to come aboard and generate offense. This includes two trialists with the team this week. One would have to imagine that part of this process is to motivate Seattle's current crop of forwards. Look for some inspired players on the pitch this Saturday as they fight to keep their jobs and impress their coaches.
Outcome
Trevor Leach:
This squad is a work in progress and there is no better time than now to pull out a win. But does anyone really think they have the ability to do that? 2-0 Sounders
Ryan Scally:
Derby matches are always exciting. One might argue that this rivalry is not as intense as the rivalry with the Portland Timbers, however, it is still a derby and both sides will be extremely motivated to win the Cascadia Cup. The Sounders have been playing solid defense lately. Combine that with quality goalkeeping from Kasey Keller and an offense motivated to score multiple goals, and we could see an offensive show. I predict a 3-1 Sounders victory.
For more on Major League Soccer, visit Goal.com's MLS page and join Goal.com USA's Facebook fan page!