The struggling Reds head to Qwest Field.
On Form

Seattle Sounders FC by John Zielonka: Blaise Nkufo appears to have settled into his new MLS surroundings. He scored the lone goal in the victory over the Chicago Fire. The physical striker now has four strikes in his last two matches. Seattle recorded its third straight shutout and given up six goals in 11 games. Kasey Keller now has 11 clean sheets this season.
Toronto FC by Mike Beavais: Um, gimme a sec. I'm sure there's something good that came out of the last week for TFC. Hmmm…oh, well Jacob Peterson scored his first ever goal in a Toronto shirt on Tuesday night in the Champions League versus Real Salt Lake. Taking a ridiculous Mike Vick-like bomb from Jon Conway, Peterson ran right at Chris Wingert and then unleashed a wicked strike past Nick Rimando. This was one of the prettiest goals that the Reds have scored all year and was probably the sole highlight of Toronto's week.
Off Target

Seattle: Fredy Montero has not scored a point in MLS play since August 28. He accounted for both Seattle goals in the 2-0 home win over the same Chicago Fire. Fatigue may be a factor as the MLS regular season, CONCACAF Champions League and U.S. Open competitions are winding down.
Toronto: Take your pick. In TFC's short history, this might have been one of the worst weeks ever. On Saturday, the Reds dropped a must-win game versus the Earthquakes and that pretty much ended their playoff hopes. The killer was Chris Wondolowski's third of three goals, which came only 45 seconds after the Reds had pulled within a single goal. That was the dagger into the Reds' hearts, but it was gift-wrapped for him. You simply cannot concede that quickly after getting yourself back in a match.
To compound matters, captain Dwayne De Rosario expressed displeasure with his current contract with a check-signing goal celebration and then told the gathered media after the match that he expects more money from Maple Leafs Sports & Entertainment. As expected, that went over like a fart in church considering the timing of the announcement. You don't ask for a raise when your team, moments earlier, doomed itself to a fourth-straight year without a post-season.
Tactics

Seattle: The Sounders are winning and ever so close to securing a playoff slot. Head coach Sigi Schmid won't change from the 4-4-2 that's given Nkufo more freedom and room around the box. The midfield and defense are solid, so there's no reason to adjust tactics based on recent results.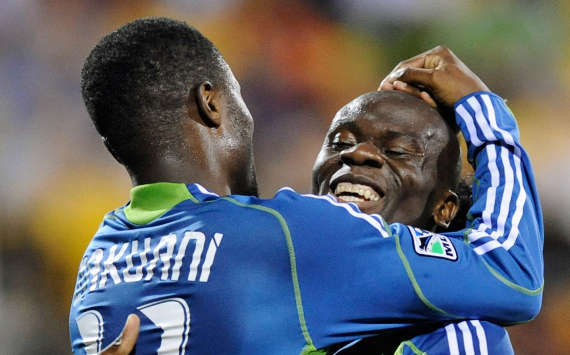 Toronto:
Hey, look at that! Nobody's suspended this week. This must be a first for the Reds this season. That being said, Nick Dasovic will not being picking from a full complement of players. Martin Saric will likely be unavailable thanks to the hamstring injury picked up two weeks ago versus Cruz Azul. Joseph Nane, another casualty in Mexico, is also a question mark. Maicon Santos, who left Tuesday night's match with an ugly bump on his head thanks to a collision with Nick Rimando, will be a game-time decision.
As for formation, since this is yet another must-win for Toronto, they cannot afford to play a conservative road game and must take the play to the Sounders. Look for a 4-3-1-2 with De Rosario just in behind Toronto's forward pairing.
Intangibles

Seattle: The Sounders have four matches left in the MLS regular season and cannot afford a letdown. They have a six-point cushion over their closest competitor for the eighth and final post-season tournament slot. A win over Toronto FC would just about seal the deal.
Toronto: The Sounders in the second game of a three match run versus the three clubs who currently reside just outside of the top eight. After having already dispatched the Fire, the Sounders will look to do the same with Toronto and then KC. Saturday's match has the potential to have a six-point swing – taking three points for yourself also means depriving a rival of three. If Toronto still has any designs on the playoffs and, at this point, who knows if they do, a win in Seattle will not only prolong the Reds' season, but it might very well change the entire face of the post-season landscape in the East.
Outcome

Seattle: Three more home points for the Rave Green over a fading Toronto FC squad. Seattle Sounders FC 2 (Zakuani, Nkufo) - Toronto FC 0.
Toronto: The Sounders are a playoff team. The Reds are not. Take Sigi Schmid's XI here 2-0.
For more on Major League Soccer, visit Goal.com's MLS page and join Goal.com USA's Facebook fan page!