The Sounders host struggling Sporting KC after a 1-1 draw against arch-rival Portland last weekend.
On Form
Sporting Kansas City
: LIVESTRONG Sporting Park. As
recent photos clearly show
, this facility is on its game right now. Opening day is June 9, so all that remains are the finishing touches. The new primary videoboard is in place, and the 24 foot by 84 foot high-definition monstrosity is now the largest of its kind in United States soccer. This is going to be a special place to watch a soccer game.
Seattle Sounders FC:
Midfielder Alvaro Fernandez appears to finally be living up to his Designated Player billing. He tallied his third goal of the 2011 MLS campaign on Saturday, as his left-footed strike gave the Sounders a lead against their long time Pacific Northwest rivals, the Portland Timbers. It was the only score for the home side in the 1-1 draw. Fernandez is one goal behind Brad Evans, who leads the team with four goals. The Uruguayan will need to take on a larger offensive role after Evans suffered a thigh strain in the Portland matchup.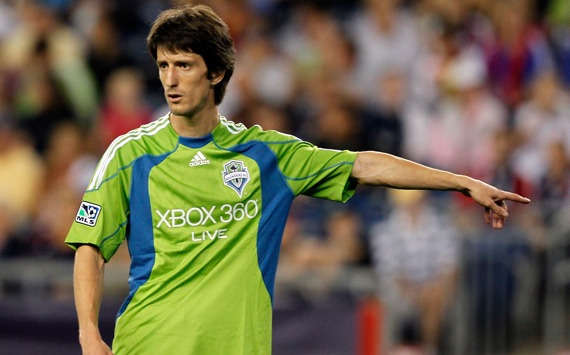 Off Target
Sporting KC:
When the stadium is the only thing on its game, it's safe to say things aren't going well for the team which will be playing in it. It's now four losses in a row for Sporting KC, and while the first three of those were by one goal, the team was dismantled 4-1 by the Galaxy Saturday night. Once again, defensive mishaps were the order of the day, especially one comical sequence by Roger Espinoza where he gave the ball away in his own box, then proceeded to deliver a flying sidekick to David Beckham, conceding a penalty which was then converted by Landon Donovan.
Seattle:
Besides the Evans injury, midfielder Erik Friberg tweaked an ankle just prior to the Cascadia derby. Mauro Rosales appeared to be getting back to form during last week's training sessions, but was still held out of the lineup. Head coach Sigi Schmid will have to dig deeper into his roster to cope with a depleted midfielding corps.
Tactics
Sporting KC:
Peter Vermes will continue to stick with his 4-3-3 formation, but expect some changes from Saturday night. Graham Zusi started as a forward and failed to impress, so rookie C.J. Sapong could return to claim the starting spot he's held for most of the season. The team is eagerly awaiting the return of Designated Player Omar Bravo, who's been sidelined most of the season with a sports hernia. His return could come this week in Seattle.
Seattle:
The Sounders have struggled to score goals this year, as they've notched just 13 goals in 11 games. Schmid saw better results when Rosales was in the lineup in the 4-3-3 formation. The Argentinean played as a third forward and provided the distributions that led to an increase in scoring opportunities. If Rosales does return, the veteran coach will revert back to the tactics that worked.
James Riley and Tyson Wahl, playing wide the wide positions on defense, have been very aggressive in the opponent's offensive third of the pitch. It hasn't let to many goals nor has it hurt on counter attacks. This strategy isn't likely to change as the team attempts to overcome their health and offensive woes.
Intangibles
Sporting KC:
On April 2nd, Sporting had a 3-0 second half lead at Vancouver, but imploded down the stretch and had to settle for a 3-3 draw. Since then, the team has procured exactly zero points from four MLS matches, and one has to wonder how much that implosion has affected this team's mentality. Of course, mentality only goes so far, and it also seems this team just doesn't have the defensive personnel to be an MLS contender. A big performance will be required to escape Qwest Field with any points.
Seattle:
Getting motivated to play last-place Sporting KC could be difficult after the much anticipated and hyped Portland game. The Sounders will need to avoid a letdown against a clearly inferior opponent.
Prediction
Seth Vertelney:
This team just hasn't figured things out on either side of the ball and until they show positive signs, I have to continue picking against them. 3-2 Sounders.
John Zielonka:
The Sounders' defense holds their own against Sporting KC to earn three points at home. Seattle Sounders FC 2-0 Sporting KC. Fernandez and Jaqua notch the tallies for Seattle.
For more on Major League Soccer, visit Goal.com's MLS page and join Goal.com USA's Facebook fan page!