SEATTLE, Wash. -- An understrength Real Salt Lake held firm in a terse game with Seattle Sounders FC. Robbie Findley missed a penalty kick in the first half in what proved the game's only clear chance.
First Half
Seattle blasted out of the gates, eager to test Salt Lake's inexperienced youngsters. Chris Schuler in particular had a few nervy moments, leading to close chances by the hosts.
He eventually settled down for a solid game as Seattle continued to press. Using a very direct system, Sounders would direct crosses and long-distance throw-ins at Nate Jaqua, letting him jostle in the air for possession.
Initially, RSL's midfield sat nearly on top of its swarming defense to collapse on Seattle's energetic attackers, using Robbie Findley's pace over the top to alleviate pressure.
Slowly, however, the visitors carved out some possession in the game, using slick one-touch passes to flow up-field.
Despite the increased possession, it was Findley's pace that created the best opening of the half. He ran at Jeff Parke just after the half hour mark and the Sounders defender slipped in the box. As Parke regained his footing, he clipped Findley, who fell quickly to the turf.
Referee Paul Ward awarded a penalty, and Findley himself stepped up to take it. The U.S. international hit a tame pk down the middle, which Kasey Keller easily saved.
Seattle used the morale boost of the save to push on as the half drew to a close. Fredy Montero tried a rabona in the box which was deflected out and Osvaldo Alonso hit a low long-range blast which marked Seattle's first attempt on goal.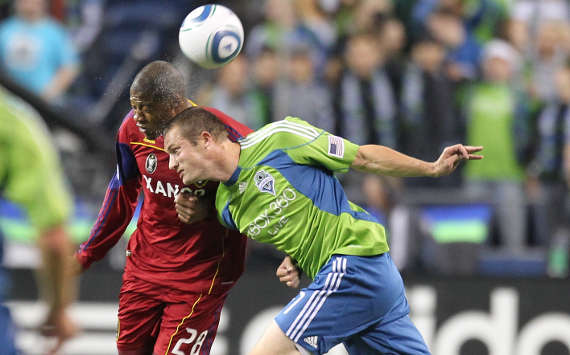 Second Half


Zakuani's pace, a threat all game, created the first good chance of the second half. He blazed between two defenders in the box, but Kyle Reynish moved off his line quickly to smother. Reynish was only starting because of an Achilles tweak suffered by first-choice Nick Rimando in training Wednesday.
Despite a few early shaky catches and clearances, Reynish too found his groove in an impressive Lakers backline.
Even the forwards helped out, with Alvaro Sabario earning the game's first yellow nine minutes into the half when his hard tackle, which won the ball, prompted the referee to pull out a card.
With the lines compact, the game took a very terse outlook, neither side creating anything more than half chances.
One good shot came from Andy Williams, who wiggled in from the flank and uncorked a swerving left-footed shot. Keller dove to save it.
Alonso replied, one-timing a volley at the top of the box. His shot fizzled a few inches over the bar.
The game's completion changed somewhat with a series of substitutes by Seattle. Energetic and pacy, they carved out a handful of good chances, especially through the bullish Michael Fucito, but still the patchwork Salt Lake defense held.
For more on Major League Soccer, visit Goal.com's MLS page and join Goal.com USA's Facebook fan page!