Dallas heads to Seattle to take on the Sounders.
On Form
FC Dallas:
Dallas' defense is on great form and that won't change any time soon. In truth, the Hoops are back to being one of the most dominating defensive teams in the league, led by defensive midfielder Daniel Hernandez who seems to be the rock that the rest of the team is built around.

Seattle Sounders FC:
The defense not only accounted for the lone tally but also held the opposition scoreless in Saturday's 1-0 victory over Sporting KC. Defender Jeff Parke provided the offensive fireworks when he scored in the 93rd minute of play, his first goal in seven years. Kasey Keller and his back four held KC off the scoreboard to notch their third shutout of the season.
Off Target
Dallas:
Unfortunately, the attack hasn't exactly followed. Of course, scoring goals against Real Salt Lake and scoring against Seattle are two different things. Still, there hasn't been much consistency and Dallas is relying on too many youngsters to get the job done effectively right now. As the season drags on, things may line out, but at this point there is no reason to think that Dallas will an attacking force any time soon.
Seattle:
Finishing remains a problem for the Sounders. Seattle is averaging one goal in their last four matches. Their biggest target in front of the nets is 6'3" forward Nate Jaqua, and he's been missing-in-action. This year the lanky striker, who suffered from groin ailments most of the 2010 season, has one shot-on-target and no goals or assists.
Tactics
Dallas:
No reason to change things up right now. The Hoops are doing things the way they like to do them. It's a gritty group willing to chip out results, and Schellas Hyndman seems to be fine with that. There are moving parts up front with Marvin Chavez, Fabian Castillo, Eric Avilla and Ruben Luna, but whichever players are on the pitch, the style remains the same.
Seattle:
Head coach Sigi Schmid is still looking for the right formation to generate more offense. He's started three forwards up front, and utilized outside backs James Riley and Tyson Wahl to make deep runs into the offensive third of the pitch. With tallies at a premium in this critical Western Conference matchup, Schmid needs for these tactics to jell to create more scoring chances.
Intangibles
Dallas:
The crowd in Seattle is always a factor, but the biggest intangible is the brillance that Fredy Montero can bring. It takes special play to break down Dallas' defense, and Montero is one of the few strikers in the league capable of really unsettling that unit.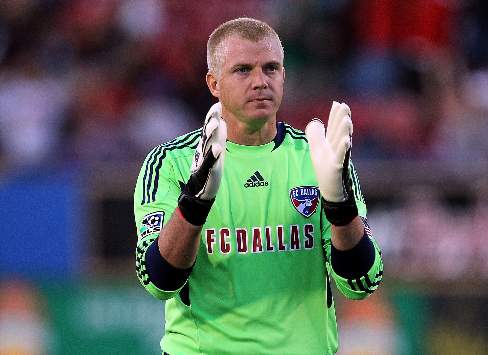 Seattle:
Midfielders Brad Evans, Erik Friberg and Mauro Rosales still aren't at 100% fitness and forward O'Brian White continues to recover from a blood clot. These nagging injuries and Steve Zakuani's season-ending leg fracture have forced Schmid to change his starters from match-to-match. The lack of a consistent lineup and chemistry could be one of the key factors in Seattle's scoring woes.
Outcome
Allen Ramsey:
This might be the week that Dallas comes up short. With the quick turnaround and a long road trip, look for Seattle to come out on top. Seattle 2-1 Dallas.
John Zielonka:
With goals hard to come by, the Sounders and FC Dallas each earn a point. Seattle Sounders FC 1 – 1 FC Dallas. Fredy Montero notches one for the Rave Green. Brek Shea equalizes for the visiting Dallas side.
Keep updated with Major League Soccer by visiting Goal.com's MLS page and joining Goal.com's

page.