Both squads are looking to break out of the middle of the pack in the league table at the expense of the other.
On Form
Seattle Sounders FC:
Newly acquired midfielder Mauro Rosales earned his first-ever MLS assist on Brad Evans' first half goal in the Sounders' 2-2 draw at San Jose. The Argentinean provided the spark to create additional scoring chances despite forward Fredy Montero's absence, who was back in Seattle recuperating from wrist surgery. Seattle may have found another offensive weapon to go along with Steve Zakuani's darts into the box and Montero's scoring prowess. The trio may be exactly what the Sounders need to get out of their winless funk.
Chicago Fire:
When we're talking about form and the Chicago Fire we first off think of the dynamic Uruguayan duo. Diego Chavez and Gaston Puerari have been absolutely phenomenal for the Fire this year. With a combined total of three goals in two league matches played, they are certainly the topic of discussion. Anibaba also picked up significant confidence after a wonder goal against the Rapids in midweek USOC action with an even better goal call from Brendan Hannan.
Off Target
Seattle:
Kasey Keller and his defenders allowed two goals for the first time this year. On San Jose's tying goal, Khari Stephenson's long range blast went off Keller's fingers and into the upper corner of the net. You may have to question if Keller could have reacted better on the 30+ yard shot from Stephenson.
Chicago:
Defensive errors have cost the Fire a tad bit but all is fixable. Introducing a three man back line in 2011, Carlos De Los Cobos is fully aware of what's to come. After a shaky performance against Sporting KC, Josip Mikulic has recently been replaced by former Chivas USA defender, Yamith Cuesta. Hoping for the better, Sean Johnson will seek help from his defenders in search of his first MLS shutout of 2011.'

Tactics
Seattle:
Forwards O'Brian White, Nate Jaqua, Montero and midfielders Rosales and Evans give head coach Sigi Schmid additional tactical flexibility in front of the nets. He could decide to use Jaqua and Montero as his two forwards, or Montero further away from the goal as a playmaker with Zakuani and Rosales on the wings. O'Brian and Jaqua would have to share the lone striker role.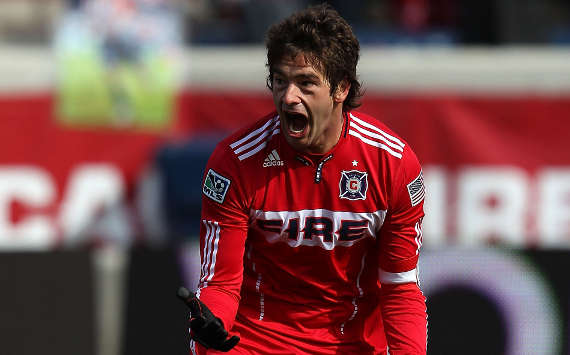 Diego Chavez | Important spark for Fire
Chicago:
There will be little if none changes made for the Seattle meeting. A 3-5-2 formation can be expected with Gibbs-Cuesta-Anibaba in the back, Nyarko-Videira-Pause-Pappa-Segares making up the five-man midfield with the attacking duo Chavez and Puerari pairing up front. With Seattle's current woes, the Fire will look to take advantage of their quick fast breaks off of Nyarko and Segares.

Intangibles
Seattle
: By scoring two goals, the Sounders should be in a better frame of mind in the upcoming afternoon encounter against the Fire. With the confidence level returning, the Sounders may be ready for a breakout game to notch their first win of the year.
Chicago
: As mentioned before, Diego Chavez and Gaston Puerari are to be feared more than anything. The two create not only magic on the field, but already have proven chemistry amongst them, as this is not the first club where they are teammates. Reuniting the two may be the best-kept hidden secret.
Outcome
John Zielonka
: The Sounders douse the Fire and hand Chicago their first loss of the 2011 season. Seattle Sounders FC 2 (Zakuani, White) - 0 Chicago Fire.

David Gubala:
The 36,000+ will not be able to outweigh Seattle's poor form on the field. Chicago will take this one 2-0 with Chavez and Puerari sharing the goals.
Keep updated with Major League Soccer by visiting Goal.com's MLS page and joining Goal.com USA's Facebook fan page!