In their second game under new coach Tom Soehn, the Whitecaps travel to face reeling Real Salt Lake.
On Form
Vancouver Whitecaps:
Pinky and the Brain seem to be developing some great chemistry. By which of course I mean Eric Hassli and Camilo Sanvezzo. Both have found their shooting boots and have made a habit of troubling the net. When apart on the field they both set up with the ball to cut inside for a shot, Camilo on the left, Hassli on the right. When closer together, Hassli's size creates space for Camilo's inner terrier to rummage around for loose balls. If they can only stay together I can see them being very dangerous partnership.
Real Salt Lake:
Last week we started to see a pulse in the previously lifeless Salt Lake attack. Against Seattle, RSL managed 13 shots and six shots on goal, not to mention their first goal in three matches courtesy of Nelson Gonzalez. Most encouraging is that the opportunities Real created were much more dangerous than what we've seen lately, even when playing a man down. Only some terrific goalkeeping kept them from hitting paydirt multiple times. Fabian Espindola, just back from injury, was a breath of fresh air for the stagnant offense.
Off Target
Vancouver:
Eric the Red strikes again. It's almost too strange to be true. How is it possible that Eric Hassli got another red? He has developed a problem of getting excited, losing his head, and lunging into a tackle when there is no need to do so. In Wednesday's game he was 80 yards from his own goal and decided to leap into a tackle in a full-hearted effort to get the ball back, but unfortunately he missed the ball, left his cleats up and got a piece of shin. It was never enough to injure someone but he doesn't leave the ref with much choice, especially when they are already keeping an eye on him. Now he's left his team down their best striker yet again, and there isn't really anyone good enough to fill the hole.
Salt Lake:
It was an unexpected hiccup from the defense last week as RSL gave up two goals. That was equal to their season's total for goals allowed up to that point. Granted, both goals came after they were reduced to ten men thanks to Jamison Olave getting a straight red. On that subject, RSL is so hamstrung by suspensions, international absences, and injuries that they only have 18 players available. Pretty much everyone that is available, healthy, and under contract should be selected for the Vancouver match.
Tactics
Vancouver:
We had our first glimpse of the Tom Soehn era on Wednesday. Rookie Bilal Duckett slotted in at right back, Alex Morfaw in central midfield, Mouloud Akloul at center back, Joe Cannon in net, Camilo pushed out to the left and Davide Chiumiento dropped in up front behind Eric Hassli. Soehn's changes were clear. He wants ball control and passing instead of the ridged 4-4-2, kick it up to a big target man and work it to the wings for a cross into the box. It's too early to tell if this is a permanent change, just giving someone new a chance to show their skills, or player rotation during a busy time, but one thing is clear, there will be no Eric Hassli this game so we might get a few more line up surprises.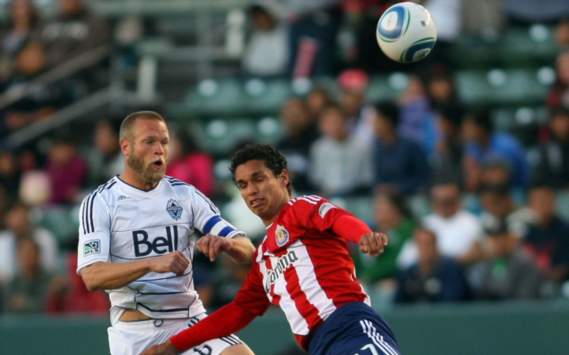 Jay DeMerit helped the Whitecaps to a 1-1 draw at Chivas USA Wednesday
Salt Lake:
I could fill a whole page here. The easy one is who will replace Jamison Olave- it will be Chris Schuler. Not so easy is knowing whether Jason Kreis will elect to change formations. He has been quite beholden to a 4-4-2 but has indicated that a 4-5-1 is on the table given the lack of available forwards. If Kreis sticks with the 4-4-2, the strike partner for Espindola could be Jean Alexandre, though he was underwhelming against Seattle. Newcomer Artur Aghasyan could be in the mix as well. In the midfield, Gonzalez and Luis Gil made their case for more playing time after showing well in their minutes last week.
Intangibles
Vancouver:
It's game two for team Soehn in Salt Lake. The coaching staff has been adjusted, with the two coaches with the least amount of MLS experience being let go. Immediate reports are that the practices are more upbeat and more professional with Soehn. He has shown a tendency to get away from playing long 50/50 balls and towards keeping the ball more. The MLS playoffs are the ultimate goal and that means getting many wins fast.
Salt Lake:
I know I'm supposed to be writing about RSL, but all the intangibles seem to be on the Whitecaps' side. After losing at home in MLS play for the first time since the Hoover administration, the fortress that was Rio Tinto seems less imposing than it once was. That can't be anything but a positive for Vancouver. And, they just fired their coach, which is one of those moves that can inspire a team or send them on a downward spiral. We'll begin to see which this Saturday.
Prediction
Trevor Leach:
Whitecaps minus Eric Hassli equals no goals. So can the Whitecaps keep a clean sheet? Probably not. The 'Caps should be happy with any points here but they'll always let in a goal. 1-0 Real Salt Lake
Jeremy Horton:
In my opinion, Salt Lake is starting to look a little better, particularly on offense. Their confidence is rising, and playing a team that hasn't won since week one could be just what the doctor ordered. Real Salt Lake 2-0 Vancouver Whitecaps.
For more on Major League Soccer, visit Goal.com's MLS page and join Goal.com USA's Facebook fan page!