Real Salt Lake looks to overcome a multitude of injuries when its hosts struggling Toronto FC.
On Form
Toronto FC:
Positives are hard to find with a team that is at best in rebuilding mode and in the worse case scenario floundering for direction. But if you believe technical director Aron Winter, there is a plan that is still materializing that would see TFC making vast improvements through the transfer market in a few weeks time. Winter sees needs for leadership in all areas of the pitch but does believe that there are key pieces presently with the squad. Surely one of those is second year keeper Stefan Frei, who continues to impress despite an anemic team defense that allows league leading attempts at goal and goals conceded. Other positives are the continued impressive early form of teenager Doniel Henry at center back and the dead ball skills Nathan Sturgis has been able to bring to the attack since being inserted into the line up.
Real Salt Lake:
In their tough Wednesday night match against Chicago, RSL did a great job managing the game. They completed about twice as many passes as the Fire, and their high degree of possession meant that they didn't have to face a lot of trouble in their own end. For the first time in a while, I didn't feel like Salt Lake was ever in danger of conceding. It's tough to go on the road and dictate the pace of the game, but Real did just that in Chicago.
Off Target
Toronto:
After a heartbreaking finish to its last outing, Toronto FC looks headed for more disappointment as they prepare to take on MLS powerhouse Real Salt Lake on the road Saturday night. What appeared to be positive progress coming out of the Reds' two-game road trip that delivered points away to the LA Galaxy and New England Revolution, was stopped in it's tracks in the final moments of last week's home loss to ten-man Seattle Sounders FC on a Fredy Montero free kick against the run of play. The franchise that's seen very few highs and too many lows in its five years of existance have an opportunity to show some character with a strong showing at Rio Tinto...but that's a tall task in one of the league's toughest buildings to get results. If Alan Gordon is healthy enough to get the start, goals are a possibility. If not, the prospects are bleak.
Salt Lake:
The positives above come with an asterisk. While RSL passed the ball twice as much as Chicago, many of those were passes around the back line or negative balls from the forwards and midfielders. What Salt Lake lacks right now is that dangerous pass through the defense that creates a scoring chance. And they're not doing much right now with the chances they do have - this team is literally out of strikers. And remember Fabian Espindola, the heart and soul of the offense in recent weeks? Injured.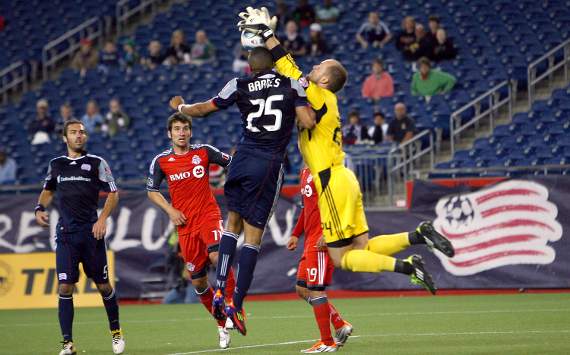 Stefan Frei has been busy in goal for TFC this season
Tactics
Toronto:
Look for Winter to deploy a more defensive stance on Saturday and take offensive opportunities off the counter. The midfield question marks continue with the unknown status of Julian de Guzman due to injury and/or the beginning of his exit from the team. Add to that the recall this week of Alen Stevanovic from loan by Torino FC of Italy's Serie B and Tony Tchani's injured status. So its likely Sturgis and Mikael Yourassowsky in the middle of the park with help from the wings to bog down the RSL attack.

Salt Lake:
Head coach Jason Kreis said he is "dumbfounded" by how snakebitten his offense is. With Espindola, Alvaro Saborio, Arturo Alvarez, and Paulo Jr. all injured, he may once again be forced to start two midfielders up top. The most likely candidates are Luis Gil and Jean Alexandre. But these two promising young players don't change the reality of the situation: RSL may be trotting out six midfielders on Saturday.
Intangibles
Toronto:
A freak lightening storm managed to work in TFC's favor a few weeks back canceling the second leg of the Canadian Championship final against Vancouver Whitecaps FC when the Reds were looking at certain defeat. Perhaps the forces of nature can conjure up something to keep them out of the loss column on Saturday. Otherwise, it doesn't look promising.
Salt Lake:
Salt Lake has been living on 0-0 and 1-1 draws lately. That's acceptable on the road, but returning home with a struggling opponent in town, the pressure will be on to get the full three points. Getting a clean sheet seems possible given how many times they have done it this season, but somebody's going to have to stick the ball in the net at some point.
Prediction
Jim Douros:
I expect a convincing RSL victory against an overmatched and down TFC. This should be one sided from the outset with the result a foregone conclusion by early in the second half. 3-0 RSL.
Jeremy Horton:
There's plenty of talent on the defensive end to earn RSL a zero, so the outcome of this one will come down to whether they can manage a goal. I think they'll do just enough to earn a win. Real Salt Lake 1-0 Toronto FC.
For more on Major League Soccer, visit Goal.com's MLS page and join Goal.com USA's Facebook fan page!