Saborio, making his return from the Gold Cup, scored twice in the 3-1 thrashing, with Maicon Santos notching a consolation late.
SANDY, Utah - Real Salt Lake dominated Toronto FC Saturday, defeating the Canadian side 3-1.
Salt Lake had struggled coming into this match, but there was no sign of struggles on this night. The side controlled the match from start to finish.
"I thought [our guys] were quite good for the majority of the game," Salt Lake coach Jason Kreis said. "This is another positive step for us."
While Salt Lake posted 10 shots on goal, Toronto's only shot on frame came when a defender slipped. Maicon Santos capitalized with a beautiful strike from distance for a consolation goal.
"Salt Lake is very good," Toronto coach Aron Winter said. "They were better [tonight]."
Toronto's offense looked lost as the side seemed incapable of building up to an attack. Other than the one slip, the side's best opportunities came when a player would try to go it alone from 30 yards out.
Alvaro Saborio scored twice in his return from a disappointing Gold Cup for Costa Rica.
"Great game for [Saborio]," defender Nat Borchers said. "[We're] happy with this result and we can move forward with confidence."
Salt Lake dominated the first half, landing six of nine shots on goal. Toronto was unable to build any semblance of an attack or put a shot on frame.
Salt Lake nearly scored in the 11th minute when Kyle Beckerman's left footed service found Jamison Olave's head. However, Toronto narrowly escaped when Olave was unable to put the ball on frame.
Collen Warner nearly got Salt Lake on the board in the 15th minute when his shot made it by Frei but hit the post and bounced away harmlessly.
Toronto's best early opportunity came in the 20th minute when Gianluca Zavarise tried to take it himself and was easily run out of bounds by Olave.
Salt Lake's dominance finally paid off in the 39th minute when Nat Borchers got free on a Kyle Beckerman corner kick and headed the ball into the net.
The home side wasn't done. Alvaro Saborio scored next in the 42nd minute, putting in a cross from Beckerman.
Saborio's second came in the 60th minute, when he caught up to Robbie Russell's pass over the top and easily beat Frei inside the right post.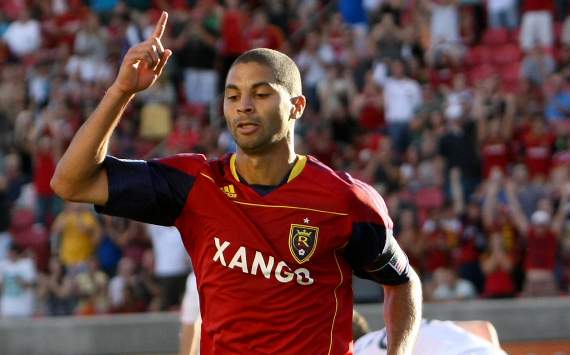 Toronto FC quieted stadium in the 66th minute when Olave slipped and Maicon Santos took the ball around him. Santos fired from outside the box and beat Nick Rimando to pull one back for Toronto.
The match got a bit rough toward the end as a number of hard fouls earned bookings. Will Johnson received a yellow in the 85th minute for a hard slide from behind that might merit a look from the league office.
Salt Lake will have next week off while Toronto will play host to Vancouver on Wednesday.
Read more from Tyler G. Page at www.realsoccernation.com.
Keep updated with Major League Soccer by visiting Goal.com's MLS page and joining Goal.com's

page.