Last year's Supporters' Shield winners suffer first loss in 2011.
Real Salt Lake defeated the visiting Los Angeles Galaxy 4-1 Saturday in a rematch of the 2009 MLS Cup.
Salt Lake took an early 2-0 lead in the 10th minute, which was particularly problematic for the Galaxy as their offense is almost entirely based on a counter-attacking style.
Still, LA contended more than the box score indicates. The side had numerous chances to score and added a goal late.
First Half

The match started with fireworks as Salt Lake scored on its first possession. Andy Williams took a second minute cross from Paulo Araujo Jr. and put it into the back of the net.
David Beckham hit the woodwork on the next possession with a free kick. The ball bounced around between the posts but it was pounced on by Nick Rimando.
Javier Morales scored Salt Lake's second goal on a 10th minute penalty kick. The play was set up when Paulo Jr. won a 50/50 ball from Josh Saunders, who missed the ball but committed a foul. Saunders was fortunate to escape a red card, but Morales converted the penalty.
Morales scored his second in the 42nd minute when he one-touched a Chris Wingert throw-in from the top corner of the box into the back of the net.
The half played out as an end-to-end affair as each side received numerous opportunities to score. Salt Lake clearly dominated, but Los Angeles had opportunities as well.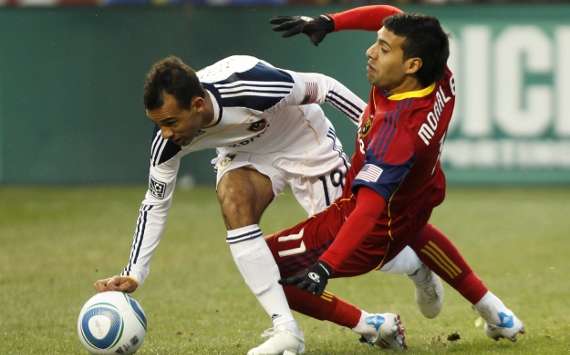 Second Half
The second half played similar to the first. The match was wide open and both sides had opportunities to score. Salt Lake clearly had more; however, Los Angeles was able to get one goal.
The half opened in controversy as Saunders saved a Nat Borchers header but fell into the net. The assistant referee called Borchers off-side and nullified the score.
Salt Lake continued to attack, despite their lead, and missed on a few close opportunities. Most of Los Angeles' chances were longer shots on frame from Beckham.
Salt Lake scored again in the 68th minute when a defensive miscue let Fabian Espindola get behind Los Angeles' back line. Espindola crossed the ball past Saunders to Paulo Jr., who scored easily.
Juan Pablo Angel scored with 10 minutes to go as Beckham tricked Salt Lake with a quick free-kick into the area. The move surprised Salt Lake's defense. Salt Lake's Nick Rimando charged late and missed the ball on the play. Angel was able to connect with it and score.
Los Angeles' goal was too little, too late, as the match ended with the 4-1 result.
For more information on all things Real Salt Lake visit www.realsoccernation.com.
Follow Goal.com on

to get the latest soccer news directly. Check out Goal.com's

page; be part of the best soccer fan community in the world!