Two Western Conference powers are set to meet.
On FormReal Salt Lake:
The defense continued its strong run of form by posting another clean sheet in a 1-0 win at San Jose in the season-opener for both teams. In four meaningful contests this season (one MLS match and three Champion's League matches), Real have only allowed one goal. If RSL can keep that trend going, they should amass points in almost every contest they play. Hosting the Galaxy and their many offensive weapons will put the defense to the test. But the bottom line is this team doesn't know how to lose right now, after nabbing full points in a contest they should have drawn or even lost, and that's not a good sign for opponents.
Los Angeles Galaxy:
Juninho. Forget Landon Donovan, David Beckham, and Juan Pablo Angel. The 22-year-old Brazilian has stolen the show so far this season, scoring both of the Galaxy's goals.
Juninho
has led the side to a road win in Seattle and a comeback draw in the home opener. Los Angeles currently tops the table, by virtue of already playing two MLS matches and earning points in each.
Off Target
Salt Lake:
The weather in San Jose was more conducive to a scoreless draw, but after snagging a goal to take a 1-0 lead with 25 minutes to play, Salt Lake didn't do a great job killing off the game. Over the past season or two we've grown accustomed to seeing the Royal Army build a lead and then put the match to bed with efficient possession play, forcing the opponent to chase the ball. But last Saturday the final few minutes were full-on panic mode for RSL as San Jose launched attack after attack, with Real only able to clear and catch their breaths for a moment before absorbing the next wave. L.A. is more dangerous than San Jose, so if Salt Lake do find themselves with a late lead, this type of play down the stretch will likely cost them.
Los Angeles:
The Strikers. With Angel out of the lineup in Seattle and coming off the bench in Sunday's draw, the Galaxy's attack faltered. Both goals came on long strikes from Juninho that are unlikely to be allowed by Jason Kreis' defense. Beckham and the midfield are certain to provide great service into the area. However, it's unclear if the Galaxy have anyone other than Angel who can capitalize on these gift-wrapped opportunities. In addition, the absence of Landon Donovan will not help Los Angeles in Saturday's match-up.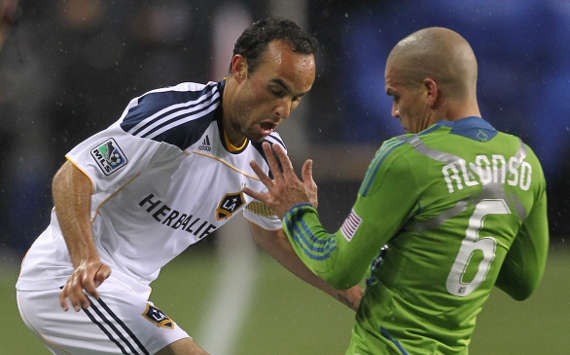 Tactics
Salt Lake:
Don't be surprised to see RSL's cagey outside backs stay home a bit more against the Galaxy. Given how well L.A. use the wings, things could get dicey for Real if the center backs are forced to close down runs up the touchlines. Expect to see most of the respect on Beckham's side of the pitch - his crosses need to be contested, and Salt Lake will want both center backs in the box to clear those well-placed services. The Galaxy are one of those teams to whom you don't want to give set pieces in dangerous spots, so expect Jason Kreis to talk to his team about being careful with their tackles in the back third.
Los Angeles:
The Galaxy love to counter-attack, but the side will be without the services of Landon Donovan. Their best opportunities to score will likely involve Angel getting service from Beckham. While they will still play a counter-attacking style, Los Angeles will be most deadly on corner kicks and other set pieces near Salt Lake's goal.
Intangibles

Salt Lake:
The Rio Tinto effect will be in play for RSL, as it is in every home game. The much-talked-about home unbeaten streak is now 35 matches across all competitions and shows no sign of being broken anytime soon. But with bad weather forecast for Saturday night (not a surprise in Utah in March), conditions could be the great equalizer. Both teams got a lesson in bad weather soccer this past week, so neither will gain an advantage. But for a game featuring two teams that play the most attractive soccer in MLS, this one might be a little more rough-and-tumble than expected thanks to the conditions.
Los Angeles:
Both sides have key pieces away on international duty. This challenges depth and may alter the strategy for both sides. Without Donovan, the Galaxy will need someone to step up on the counter-attack. Look for the side to exploit Jamison Olave's likely absence on the back line.
Outcome
Jeremy Horton:
There could be some very funky bounces in this one if the weather and the field are rough. That could lead to a high-scoring game. Real Salt Lake 2-2 L.A. Galaxy, goals by Espindola and Barrett in the run of play, Morales and Beckham off set pieces.
Tyler Page:
Real Salt Lake hasn't lost at home in almost two years. That trend will continue as Salt Lake will win 2-1. I expect Morales, Paulo Jr., and Angel to score the goals.
Follow Goal.com on

to get the latest soccer news directly. Check out Goal.com's

page; be part of the best soccer fan community in the world!