Houston and Real Salt Lake lock horns at Rio Tinto Stadium.
On FormReal Salt Lake:
Salt Lake was back to its winning ways this past weekend, beating Chivas 1-0 at home. RSL is one point shy of L.A. for most in the league, but they have a whopping four games in hand on the Galaxy. With all that this team has been through so far this year, that's quite a good showing. And slumping forward Alvaro Saborio had a better game this time around; though he didn't score, he was a constant problem for Chivas' back line. His work was almost single-handedly responsible for Andrew Boyens having to commit some bad fouls which led to him being sent off early in the match.
Houston Dynamo:
Will Bruin is the man to watch. Right now Bruin is still living off the three goals against United, but considering that he's a rookie and leading the team in scoring the forward is worth keeping an eye on. Right now Houston's goals are coming from a bunch of different spots, but if Bruin continues to improve that could change.
Off TargetSalt Lake:
Real continues to play "in a funk" according to head coach Jason Kreis. Despite playing with a two-man advantage over Chivas for the final half, it took a late goal from Will Johnson to keep the game from being a frustrating 0-0 draw. The mojo is sorely lacking on offense, and it will be harder than ever to get it back now that midfield star Javier Morales is going to miss most of the season after suffering a gruesome injury that basically destroyed everything below his knee.
Houston:
Houston's defense has been the biggest source of disappointment over the last couple of matches. After giving up just five goals in six matches in the month of April, the Dynamo have shipped four already in two matches this month. A return to form is crucial against Salt Lake, though with RSL's talent, that will be a tall task.
Tactics
Salt Lake:
The water cooler discussion around town this week will be how Kreis chooses to replace Morales. In Kreis' own words, RSL has "multiple options", but none of them bring everything Morales brought. Andy Williams is the logical choice, but his wife (a leukemia survivor) is having new health issues - Williams' mind is (rightly) elsewhere. Ned Grabavoy can play the attacking mid position, but he hasn't done so in a while. The out-of-the-box choice might be Collen Warner, the second-year player on whom RSL brass are very high. The skill is there, but the experience is not. Still, there's no other way to get match experience than playing matches, so don't be surprised to see plenty of Warner in the near future.
Houston:
The big deal this week will be keeping the ball and taking some of RSL's possession away. As good as Salt Lake can be when on top of a game, it's a squad that can be frustrated when not getting enough of the ball. That's easier said than done, but Salt Lake is in the middle of tough times, and Houston should have a chance to take control of this match.
IntangiblesSalt Lake:
How will Salt Lake be mentally? To say the last few weeks have been difficult for Real would be a huge understatement. Players were in tears after the Chivas match as they tried to make sense of their emotions following the Morales injury. Fabian Espindola - already fragile after some missed chances recently - was even more distraught after seeing Morales stretchered off. In fact, Kreis actually subbed him off so he could go to the hospital to see his friend. RSL could suffer a big letdown against Houston or they could be galvanized into the team we haven't seen in a while. Either is possible.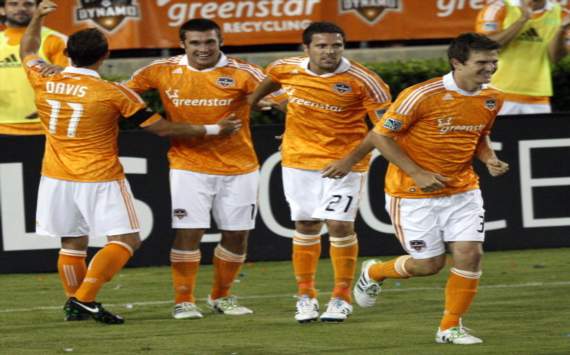 Houston:
It's not hard to spot a couple of things. Going to Salt Lake to play a game is never fun. Seattle and Portland can get all the press for this weekend, but when you take in to account the quality of team you're facing, I'd vote Salt Lake as the toughest place to play in the league. That being said, this might not be the same Salt Lake given the injury to Javier Morales, this might not be the same Salt Lake team.
OutcomeJeremy Horton:
These last two weeks have been the toughest I've seen in five years of covering RSL. To have them come back-to-back is beyond cruel. I have to think RSL will respond to the adversity, but right now this team has problems that go deeper than losing Morales. Those problems won't be easily solved. Real Salt Lake 1-1 Houston Dynamo.
Allen Ramsey:
Normally I take Salt Lake at home, so I'll stick to that given Houston's recent poor run. 2-0 Salt Lake.
Keep updated with Major League Soccer by visiting Goal.com's MLS page and joining Goal.com's

page.