Two of the league's best teams meet for the Rocky Mountain Cup.
Watch complete live match coverage of Major League Soccer every week on FOX Soccer! For a complete broadcast schedule, click here

On Form
Colorado Rapids:
Drew Moor especially was not happy with how the match against FC Dallas was going last Friday night. He stepped up and became the glue that kept the team from losing by even more goals. As always, Omar Cummings and Caleb Folan are ready and able to display their power.
Real Salt Lake:
The RSL train rolls on, and at 3-0-0, this is the only team left in MLS with a perfect record. And just in case you think Real's record isn't for real because they've played a bunch of patsies, consider this: Their three victims to this point are a combined 5-0-6 aside from their losses to Salt Lake. This past week, RSL dominated New England throughout for a 2-0 road win. What made this one such a statement was that Real started only two regulars against a full-strength Revolution side. Now that's when you know you're on fire.
Off Target
Rapids:
There were a lot of flaws exposed last week, and most of them were in the midfield positions. For some, like Joseph Nane, it was their first time starting a Rapids' match. If the midfield cannot control the ball, and utilize the strikers they have been blessed with, it will be another painful game to watch.
RSL:
I'll earn my money for the week in this paragraph, because it's honestly hard to think of something where Salt Lake is off target. So I'll go with Will Johnson getting sent off against New England. It probably wasn't wise of him to go charging into a dust-up when he was already sitting on a yellow card, but somehow he ended up coming out of it with a second yellow. The absence of his tenacity and work rate will certainly be a factor for RSL against Colorado, but the evidence from this past Saturday suggests the dropoff won't be too severe.
Tactics
Rapids:
The ability to take the field confidently and to keep control of the ball will be the defending champions' best approach. This game is between the best of the best, and the Rapids must come prepared for battle, drawing on experience and speed.
RSL:
Real won't deviate much from what has been working so well, but they will need to be mindful of the Rapids' multitude of weapons on offense. Omar Cummings is one of the most dangerous forwards in the league, and Caleb Folan has been a revelation alongside Cummings. Add a more-than-capable midfield and speedy attacking options off the bench and Salt Lake will have their hands full on defense. Kyle Beckerman will need to be on his game against his former team.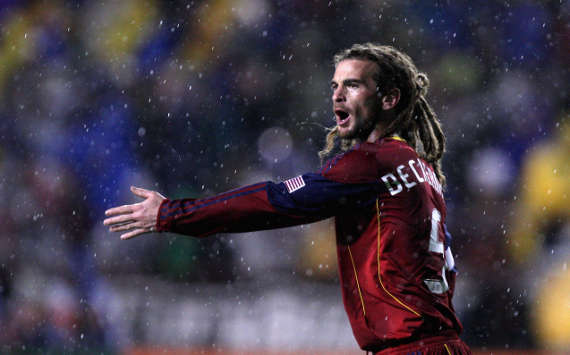 Intangibles
Rapids:
The Rocky Mountain Cup is the sole purpose for this meeting. Commercials have been made, trips have been planned, all for the battle that is to take place Wednesday night. The intensity in the air will play a huge part in this match-up.
RSL:
It's always an adventure whenever these teams play. Pretty soccer is usually the exception. And this season, the stakes have been raised even higher: Colorado are the defending champs, and RSL have thrown down the gauntlet as the team to beat this year. Expect this match to be spirited. We all know that Real are usually a stone-cold lock at home, but the last team to come close to knocking them off at Rio Tinto was the Rapids. Game on.
Outcome
Stephanie Gardner:
The Colorado Rapids are learning from the defeat against FC Dallas. They are entering Rio Tinto Stadium as the reigning MLS Champions, and they want to showcase that fact to their rivals. his will be a heated battle, with the Rapids tying RSL 2-2.
Jeremy Horton:
With Salt Lake scraping out two last-minute draws with Colorado last season, I'm tempted to change my usual method of automatically picking RSL 2-0 for every home game. But Real are still so dominant at home, and the Rapids got exposed in their last match, so I'll go Real Salt Lake 2-1 over the Rapids.
BONUS VIDEO: Check out some members of the Colorado Rapids discussing the match. The full video can be found below.
For more on Major League Soccer, visit Goal.com's MLS page and join Goal.com USA's Facebook fan page!