A curling Javier Morales free kick bounced off the near post and Fabian Espindola stuck it in the back of the net in second-half injury time for the win.
Watch complete live match coverage of Major League Soccer every week on FOX Soccer! For a complete broadcast schedule, click here

SANDY, Utah - There never seems to be a shortage of late-game drama in the Rocky Mountain Cup, and Wednesday night was no exception. Fabian Espindola scored in second-half stoppage time to win the game for Real Salt Lake 1-0.
First Half
The first quarter of an hour was evenly split between the two rivals as both teams tried to force the other to play their style, but a fierce north wind kept the chances to a minimum. Not until the Rapids' Jamie Smith took an opportunistic volley in the 17th minute did either team threaten to score. But Smith's volley went right to goalkeeper Nick Rimando, who had no trouble with it.
RSL didn't get many good chances in the first half hour, but they nearly nabbed one in the 30th minute when Tony Beltran took a very hopeful go at it from 35 yards out. But his shot fooled Matt Pickens a bit, and the goalkeeper fumbled it in front of himself. Diving forward, Pickens was barely able to swat the ball out of bounds before Javier Morales could knock it into goal.
In the 37th minute, Real probably should have taken the lead off the foot of Espindola. Morales played a deft chip over the defense where Espindola ran onto it. Sliding his foot under the falling ball, somehow he managed to poke it on goal, but Pickens made an outstanding reflex save, diving to his left to preserve the scoreless draw going into the half.
Morales had one more chance to break the deadlock just before half when he ripped a free kick from 30 yards. But with the wind blowing hard at his back, he could not get the ball to drop in time.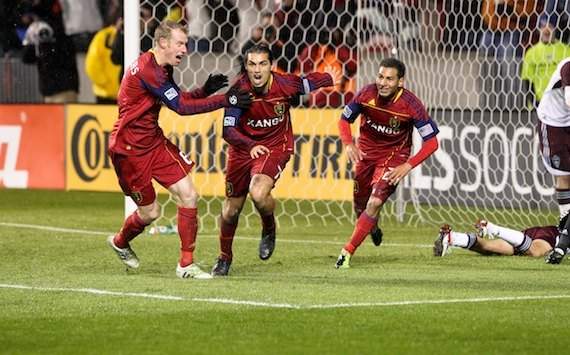 Second Half
Salt Lake came out of the locker room a bit brighter, and in the 49th minute Jamison Olave got free on a Morales corner but punched it just over the bar. Nevertheless, it was an encouraging start for the home side who looked uncharacteristically out-of-sorts in the first half.
RSL continued to threaten more than Colorado, but the Rapids' defense was well-prepared for what Real like to do, and they caught Salt Lake offside many times on the night. Espindola had a goal called back earlier in the match, and Alvaro Saborio also saw a breakaway blown dead for the same before he was subbed off.
Real had a good push in the final 15 minutes of the match, launching a few promising attacks and applying better pressure than they had all night. The best opportunity came when Andy Williams stuck a perfectly-weighted through-ball for Paulo Jr., who would have had a tap-in goal, but Brian Mullan made a goal-saving tackle.
Just as it looked like the match was headed for a certain scoreless draw, RSL came through with late-game heroics yet again. Olave was taken down just outside the box, and Morales hit a terrific free kick off the post. With Pickens on the turf, the ball fell to Paulo Jr. who slid it to Espindola and Espindola tapped it in. Moments after kickoff, referee Baldomero Toledo blew the match dead, leaving Colorado shocked and Real celebrating.
The Rapids are now off for eight days until they return home to host the Seattle Sounders. Meanwhile, Salt Lake have a week to prepare for one of their most important matches in history: leg 1 of the CONCACAF Champion's League final at Monterrey.
For the latest insider info on all things RSL, follow Jeremy on Twitter @RSL_Jeremy
Keep updated with Major League Soccer by visiting Goal.com's MLS page and joining Goal.com's

page.