The Catalans need a win in the crucial clash Sunday to gain ground on their fierce foes in the race for La Liga, while defeat would all but end their title defense.
Andres Iniesta
says
Barcelona
must play the "perfect match" to beat
Real Madrid
on Sunday and revive its flagging hopes of winning the Primera Division title this season.
Barcelona won the sides' Clasico meeting at Camp Nou in October, but now trails its archrival by four points with 10 rounds of La Liga remaining.
Damaging defeats at Real Sociedad and Valladolid in recent weeks have left the Catalans off the pace in third (also a point behind Atletico Madrid), while Los Blancos are unbeaten in all competitions since the loss in Barcelona (31 games) and have made up 10 points on the current champions in that time.
But Iniesta believes his side can draw inspiration from past victories at the Santiago Bernabeu.
"More than ever before, we need to be brave," he said. "We have had to go there and win to claim La Liga in other years, so if we want to repeat that this year we'll need to do the same. We'll have to play the perfect match.
"There cannot be any negative thought or doubt — what we want is to win and to put pressure on the leaders."
Madrid's "BBC" trio of Gareth Bale, Karim Benzema and Cristiano Ronaldo has hit the headlines in recent weeks after racking up 50 goals so far this season, but Barcelona's own triumvirate of Lionel Messi, Pedro and Alexis Sanchez has accumulated 49 strikes in 2013-14.
Pedro has been in fantastic form in recent months, while Alexis has played his finest soccer under coach Gerardo Martino since arriving in the summer of 2011 and netted a wonderful winner to decide the last Clasico clash.
However, both of those two could make way for the likely return of Neymar on Sunday, with Iniesta set to operate in an advanced role on the left as he did in both games against Manchester City recently.
"It's always unfair that one of them has to be on the bench," Iniesta added. "Both Pedro and Alexis have had spectacular seasons and whether they play or not, they'll be a great help to us."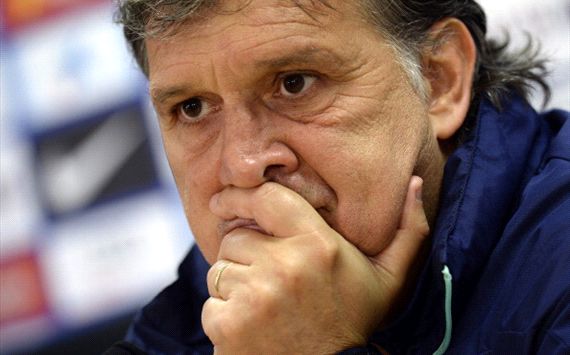 Last chance saloon: Martino knows Barca must win Sunday.
Gerard Pique has recovered from an ankle injury, but captain Carles Puyol, who will leave Barca at the end of the season, is doubtful for Sunday's clash, while Isaac Cuenca and Jonathan dos Santos are both still sidelined.
Coach Martino has an otherwise fully fit squad to choose from, however, at the start of a crucial four-week period that also includes the Champions League quarterfinals against Atletico and the Copa del Rey final versus Madrid at Mestalla.
Martino, who has refused to confirm whether he will be at Barca next season, reiterated Iniesta's words and claimed Sunday represents his side's "last chance" to haul itself back into the title race.
"We need a perfect match," Martino said on Saturday. "That means playing well, having possession of the ball and not losing it because we don't want to let Real Madrid counterattack or leave Bale or Ronaldo one-on-one on the wings.
"This is our last chance in the league. Clawing back four or seven points would be very difficult with only nine games left."
For his part, Carlo Ancelotti said Madrid will set out to win on Sunday — even though a draw would maintain his side's four-point advantage over Barca.
"I am not thinking about a draw," he said Saturday. "We will give everything to win the game and, in any case, a draw would help Atletico. We will prepare the game as we always do: Our idea is to play attacking football, to attack together and defend together. Barcelona will try to impose their ideas and we will look to do the same."
Ancelotti is without Jese Rodriguez after the young winger ruptured his anterior cruciate ligament in the 3-1 Champions League win over Schalke on Tuesday, while Germany midfielder Sami Khedira is still sidelined after suffering an identical injury earlier this season and Alvaro Arbeloa is out for two months with a knee problem.
Better news for the Italian coach sees Benzema return following an accidental collision with Ronaldo in the 1-0 win at Malaga last weekend, while Pepe is available again after flu.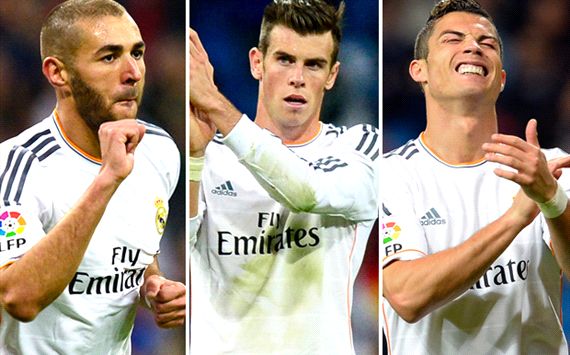 "BBC" on Sunday: Benzema returns alongside Bale and Cristiano against Barca.


Madrid has been installed as the favorite to claim La Liga and also to win Sunday's Clasico clash, but Xabi Alonso is wary of Barcelona.
"Barca's players are very good, they know each other extremely well and have been playing together for a long time," the midfielder said. "These matches are always intense and, historically, the two teams are always fighting it out for the biggest titles. There is maximum tension and the games are highly competitive.
"A win for us would be the best possible news — hopefully having played well and enjoyed ourselves too."
The last two Liga titles have been won with 100 points (by Jose Mourinho's Madrid in 2011-12 and Tito Vilanova's Barca in 2012-13).
Real can still match that tally, but will need to win all of its remaining 10 games.
Barca won the Camp Nou Clasico 2-1 in La Liga in October and if it avoids defeat Sunday, the Catalans will boast the superior head-to-head record, which would count in its favor should the two teams finish level on points at the end of the current campaign.