The Portland Timbers will be back at home against the Columbus Crew looking to get all three points.
On Form
Columbus Crew: Hard to take any positives from a thumping 3-nil defeat, but the light which dimmed the least was midfielder Eddie Gaven. The 24-year-old veteran's play has been steady as ever, and he has been statistically the most dangerous player in the Black and Gold's attack, leading the club in terms of shots on goal and fouls suffered. He was a danger to Quakes keeper Jon Busch all night, accounting for three of the visitors five shots on goal, the best of which was a left footed effort from about 25 yards out. One of the most underrated players currently in MLS, Gaven has proven to be a complete midfielder ever since coming onto the scene has a 16-year-old wonder kid.
Portland Timbers: A rivalry was renewed last weekend when Portland went to Seattle to take on the Sounders at Qwest Field. Mamadou Danso quieted over 36 thousand fans with his 65th minute goal to give his Timbers a 1-1 draw in hostile territory. Since starting 0-2, the Timbers have gone 4-1-2 and are hanging tough in the Western Conference with 14 points, currently tied with Seattle for fifth, but just three points out of second.
Off Target
Columbus: When the results are coming your way, the negatives are given less attention than when you lose. Those negatives have been brought to the spotlight after getting drubbed in California. The Black and Gold are still searching for goals, especially from open play. The defense that looked impregnable all of three weeks ago is a shadow of itself. The coaching is suspect and downright puzzling at times. Home attendance is down. Designated players are making no impact and publicly stating their lack of commitment. For the loyal Crew fans, the dark ages they thought were finally gone seem to be returning quickly.
Portland: For the majority of the season, the Timbers have been consistent with being strong at home and stagnant on the road. On Saturday night in Seattle, they flipped the script. Against a quality team in the Sounders, Portland played a hard-fought, clean match, and pulled out a point after a 3-0 loss in its last road match at L.A. Galaxy. Coach John Spencer had nothing but praise for his guys after the match. "We showed a lot of character," he was quoted as saying by MLSsoccer.com. "We go down a goal and I bet there's a lot of people sitting at home thinking, 'Here we go. Portland's going to lose [by] three or four.' "
"Tonight, I think we proved we're a bit of a lion," Spencer said in reply to some writers previewing the club and calling the team "lambs."
Tactics
Columbus: Robert Warzycha has held firm to his variation of a 4-5-1, but the goals have not come and the defense has been conceding more often each week. The Crew gaffer said that he has "talked about" making changes, but this would seem to go against his nature. Throughout his tenure, Warzycha has played only one true striker with a withdrawn forward. This withdrawn forward has usually been a midfielder, such as Dilly Duka, but there are indications that Warzycha could go to a 4-4-2 against Portland.
Portland: Things are coming together for the Timbers. Spencer utilizes the traditional 4-4-2 formation, and it is working. And Danso, a defender, has given scoring depth to the backline, netting the Timbers' eighth set piece goal of the season. Troy Perkins is back in net and playing strong, having only allowed a single goal in three matches. And Darlington Nagbe is beginning to play at full strength for the first time all year.
Intangibles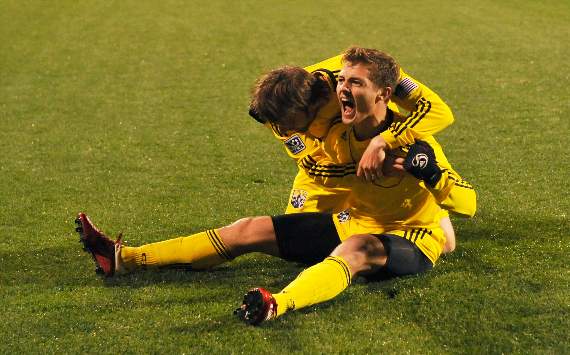 Columbus: Portland has won all of its home games so far this season. The support the Timbers Army gives the players is a sight to behold, and the Pacific Northwest has seen another fortress of a stadium rise up.
Portland: Keep Jack Jewsbury on the pitch! With the Timbers midfielder roaming the field, he has played a part in five of the last six Portland goals, including the assist to Danso in the club's lone goal for two straight matches. On top of Jewsbury's play, the Timbers will be at home for the rest of the month – four of the next five overall – and can gain some ground in the table.
Outcome
Justin Henley:
The Crew are looking for answers going to a place that has proven to befuddle even the best in MLS. Another comfortable home win for Portland. 2-0 to the Timbers.
Giovanni Albanese Jr.: Columbus is coming off a terrible second half showing in San Jose, losing 3-0. The team is better than that. But as great as the Earthquakes fans are, the crowd at JELD-WEN Field in Portland is even more of an advantage for the home side. Columbus won't come out as flat as it did against San Jose, and Portland won't be nearly as geared up as it was for its Cascadia Cup rival, but the Timbers still should pull this one out, 1-0.
Keep updated with Major League Soccer by visiting Goal.com's MLS page and joining Goal.com's

page.