The Union will be at home to host one of the toughest teams in Major League Soccer.
On Form

Philadelphia Union:
Philadelphia has two major strengths that should carry it through this match against Real Salt Lake. The first is an aggressive and intelligent defense. The strong defense starts with veteran goalkeeper Faryd Mondragon, who has let in only 10 goals in 12 matches this season. He, along with the solid Philadelphia back line, have tallied four shutouts so far as well. The second major strength has been the team's nearly flawless performance at home. It has not lost a single game at PPL Park. Philadelphia will be back at home this Saturday after playing its last two matches on the road, and will likely be elated to be playing in front of its passionate supporters.
Real Salt Lake:
It was good to see RSL come out swinging against the Crew on Wednesday, and even better to see it turn that pressure into a goal. Too many times this year we've seen Salt Lake put an opponent under lots of pressure but end up with nothing to show for it on the scoreboard. The first 15 minutes in Columbus should give Real confidence that it can dominate - and score - on the road.
Off Target
Philadelphia:
Questions still loom about the offense. The club did have a phenomenal performance against Toronto FC recently, scoring a franchise-best 6 goals. However, it has yet to prove that the attack can generate that sort of offense against high caliber teams. In matches against stronger clubs such as New York, Los Angeles and FC Dallas, the club has managed a total of two goals. The leading scorer from last season, Sebastien Le Toux, has only scored one goal so far this season and it was off of a penalty kick. Long story short, Philadelphia is still trying to figure out who its offensive leader is.
Salt Lake:
After striking early against the Crew, RSL spent the final 75 minutes playing defense. The midfield as a whole played its worst game of the season - there were all sorts of turnovers in bad places, and in general the effort just wasn't there. The malaise and poor passing from the midfield contributed directly to both Columbus goals.
Tactics

Philadelphia:
Philadelphia will definitely be looking for an offensive spark. Forward Carlos Ruiz is unavailable due to Gold Cup commitments, and midfielder Justin Mapp is currently listed as questionable due to injury. Missing some of his offensive weapons, manager Piotr Nowak might rearrange the typical 4-4-2 formation in order to generate more offense. On the other side of the pitch, the back line will be looking to continue its defensive dominance. RSL has struggled to score goals consistently, which Philadelphia's defense will surely be looking to exploit.
Salt Lake: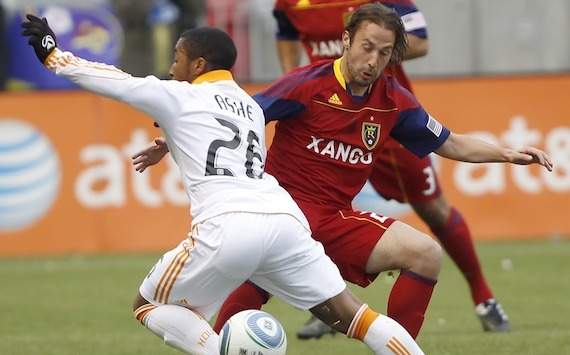 Nat Borchers should be back in the lineup against Philadelphia. Fabian Espindola and Jean Alexandre will most likely be the strike pairing, but the question still remains about what to do at attacking midfielder. Both Andy Williams and Collen Warner have seen plenty of time at the head of the diamond, but neither has given Jason Kreis a reason to give the lion's share of the minutes to one or the other. He will likely continue to use both until somebody separates himself.

Intangibles
Philadelphia:
Last season Philadelphia couldn't find its footing against RSL. The club lost 3-0 early in the season and managed a 1-1 draw later on. A much different looking club will be hosting RSL this Saturday at PPL park and will certainly be looking to turn last season's shortcomings around. As previously mentioned, Philadelphia is unbeaten at home and even without a few key players will be striving to put on a strong performance.
Salt Lake:
Playing on three days rest after a hot and humid game in Ohio where it spend 75 minutes chasing the ball, expect RSL to be low on energy. The team will need to be economical with its decisions about when to high press, and it will need to hold the ball more to avoid another game spent chasing.
Outcome

Aamer Bajwa:
Philadelphia's defense has been one of the best in MLS this year, and even with some of the offensive woes persisting, playing at home will help the club pull off a 2-1 victory.
Jeremy Horton:
On the second leg of an east coast road trip, with all the problems this team is facing, and coming off a late-game meltdown, it's difficult to see Real putting up much of a fight against the Union. Real Salt Lake 0-1 Philadelphia Union.
Keep updated with Major League Soccer by visiting Goal.com's MLS page and joining Goal.com's

page.