On Form
Philadelphia Union
: The most obviously in-form player is Sebastien Le Toux, but he's included on here every week, so we'll just go ahead and say he's having a spectacular season. His goal last week against Houston was assisted by the precociously creative Roger Torres, whose ability to create chances out of thin air has won him many admirers in Philadelphia. Amobi Okugo is another young player seeing significant minutes at the tail end of this season. The U.S. U-20 international is a big piece in manager Peter Nowak's long-term puzzle, as is his club and international teammate Jack McInerney, who has three goals this year despite turning 18 just a few weeks ago. Sheanon Williams's performances have made him a fan favorite in a fantastically short period of time.
Los Angeles Galaxy
: The Galaxy will be going into this week's match-up buoyed following last week's performance against hallway rivals, Chivas USA. Michael Stephens and Edson Buddle, who have had been slumping the past month, connected for a quality goal in the derby. The Englishman, David Beckham, shrugged off the ring-rust and knocked in his first goal of the season from a set-piece.
Off Target
Philadelphia
: Danny Califf was left out of the squad for Saturday's game against Houston. Although the given reason was fatigue, Califf's part in the embarrassing 4-1 loss to Colorado (he failed to cover Omar Cummings for the first goal) will not have helped his case. Danny Mwanga has come down from the heights of his mid-season goal explosion, and has had a difficult time finding the net recently.
Los Angeles
: Though everything appeared right for the LA side, one member struggled on the pitch – the captain. Landon Donovan was not himself against the Goats. The weight of carrying the team on his shoulders has started to surface. Coach Bruce Arena had been playing him for the entire match and after 70 minutes last week Donovan was seen hunched over trying to catch his breath. A Bugatti may be a good car, but it is still worthless without gas. Lucky for the Galaxy, Donovan's problem can be fixed with some R&R.
Tactics
Philadelphia
: Eduardo Coudet has missed some games with a calf strain, but Nowak might see his vast experience as an invaluable asset against the table-topping Galaxy. Danny Mwanga missed the Colorado and Houston matches with a shoulder sprain, but could also be set for a return. Given the midfield power of Los Angeles, it's unlikely that the defensively lacking Roger Torres will start, with someone like Andrew Jacobson or Justin Mapp preferred out wide. Keeper Brad Knighton is listed as probable with a strained shoulder, but will likely make his seventh start of the campaign.
Los Angeles
: It's a good bet that Donovan will not play, or have limited playing time, so the Galaxy might have to move some players to fill that void. Sean Franklin may be pushed up. Jovan Kirovski may get another placing in midfield. Whatever the moves are, LA are still trying to secure the Supporters' Shield and will come out strong. Playing conservative and vying for the one point is not going to cut it, especially with three weeks left till the postseason.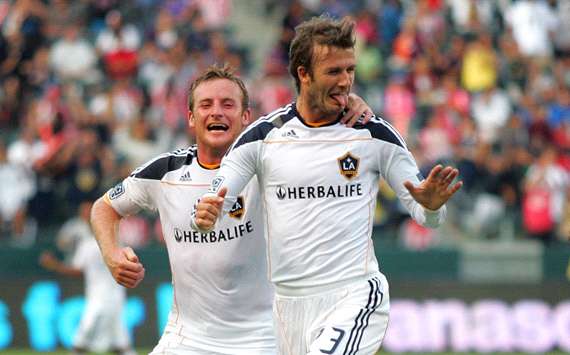 Intangibles
Philadelphia
: The playoffs are beyond the Union at this point, so many of these guys are now playing for pride. And, more importantly, contracts. If given chances, look for performances from fringe players like Toni Stahl, JT Noone, Cristian Arrieta, or Nick Zimmerman, who made his first start for the Union last week.
Los Angeles
: It would be easy to say the Galaxy have finally woken up and are ready to play after last week's performance, but slow down. Chivas USA is a special feud for LA. They always play with much vigor against them. This next match-up against Philly will determine if the Galaxy are ready for the playoffs.
Prediction
Philadelphia
: They've been a bit shaky recently, but there's a reason the Galaxy are first. I think they Union are looking at a 3-1 defeat here. Los Angeles seems to have shaken off some of the problems that were troubling them earlier this season, and with one of the most talented teams in the history of the league gearing up for the playoffs, I don't see the Union getting much out of this but a few post-game swapped shirts.
Los Angeles
: It's a tough one calling this game. The Galaxy could easily win or lose 2-0. Given the three days rest, the Galaxy and Union draw at one apiece.
For more on Major League Soccer, visit Goal.com's MLS page and join Goal.com USA's Facebook fan page!