On Form
Philadelphia Union
: Before or after the Colorado game? Since no one distinguished themselves Wednesday night against the Rapids, we'll consider pre-Colorado form. Keeper Brad Knighton allowed one goal in three games since replacing Chris Seitz on Sept. 11. Sebastien Le Toux scored his 11th and 12th goals of the season during the same stretch, keeping his name in MLS MVP discussion.
Houston Dynamo
: No one for the Dynamo has put in a string of consecutive great performances, but their closest thing to a consistent player right now is probably Geoff Cameron. He scored a great goal and did a very good job winning 50/50 balls as the Dynamo defeated D.C. United 3-1. With his combination of size, technical proficiency, goal-scoring ability, and defensive ability, Geoff Cameron is among the most balanced midfielder in the league. He is still under contract with the Dynamo for one more season and his solid form to finish the season serves two purposes. One, it gives the Dynamo something to work from and get excited about going into the next season. Two, it gets Cameron closer to a raise – either from the Dynamo or from a team in Europe.
Off Target
Philadelphia
: Before Wednesday, the Union back line had not allowed more than one goal in a game since August 22. After not posting a shutout all season, they did so twice in three games. So any criticism of the 4-1 debacle in altitude and on short rest in Colorado should be taken with a grain of salt. That said, the Philly defense resorted to all its bad habits on Wednesday: inconsistent marking, terrible set-play defense, a frustration-based card, and a woeful lack of pace.
Houston
: After last week, no one, really. That's what happens when you play an awful team like D.C. United. For the first time in a long time, it's hard to pick on someone on the Dynamo playing poorly. Interestingly enough, Mike Chabala and Bobby Boswell both didn't play against D.C. They may be the two most talented defenders on the Dynamo, but unfortunately, both of them have been extremely error-prone this season. With neither of them starting, the Dynamo made less mistakes. Does correlation equal causation in this instance, or did the Dynamo just look decent because they were playing D.C. United? Only time will tell.
Tactics
Philadelphia
: We know one thing: The Union will not play conservatively, content to finish the season with a few draws to make their final point total look good. Team manager Peter Nowak will play to win. And he won't be afraid to change things up if things aren't working. In the Rapids game, he used all three of his subs to start the second half.
Houston
: Against the Philadelphia Union, the most important tactical issue for teams is preventing Sebastian Le Toux from receiving the ball and getting into dangerous positions. As a result, Dominic Kinnear should probably avoid playing either Danny Cruz or Corey Ashe, two players whose strong suit is not defense, on the right wing. That is, unless Kinnear has a lot of faith in Andrew Hainault, which he probably shouldn't. It wouldn't hurt to have one of the central midfielders, probably either Geoff Cameron or Lovel Palmer, keep an eye on Le Toux as well. As for the attack, Colorado looked most dangerous on Wednesday with Omar Cummings cutting in on his right foot from the left wing. Moving Danny Cruz to the left and encouraging him to cut in and shoot might prove to be a useful tactic for Houston.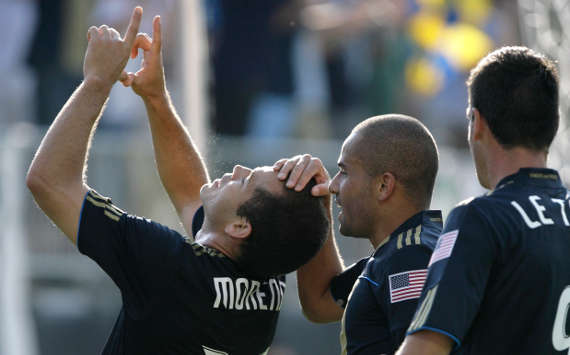 Intangibles
Philadelphia
: Was Colorado an aberration, or are the Union just not as good as we thought they were the last few weeks? Only they can answer that question. On Saturday they'll be at home, playing a Houston side playing out the string in a down year. We'll learn definitively whether Philly has been able to put the midweek meltdown behind them.
Houston
: The season is over, so just go out there and have fun. Philly doesn't have anything to play for either, so they will probably come out with a similar attitude. The Dynamo just need something to build on going into next season. The solid play of Geoff Cameron, Corey Ashe, Danny Cruz, and Cameron Weaver is certainly a start. These players are all 26 years old and younger and could be the new foundation for an aging Dynamo team. That is, assuming the organization shows Cameron and Cruz the money, as both seem young enough and good enough to score themselves contracts somewhere in Europe. Regardless, this game and every game from here on out is just about building on positives for next season.
Outcome
Philadelphia
: The Union will be playing their third game in seven days. They flew to the Rocky Mountains, sucked wind for 90 minutes, and flew back home. It's unlikely they'll be raring to go come kick off. Meanwhile, the Dynamo haven't played for a week. All things being equal, I'll go with the well-rested side. Philadelphia 1-2 Houston.
Houston
: After Philadelphia's poor performance against Colorado on Wednesday, the Dynamo should probably be very, very slight favorites. I like the Dynamo to put up some goals and wouldn't be surprised with either a narrow win or a scoring draw. Both teams have shaky defenses, so let's call it 3-2 to the Dynamo.
For more on Major League Soccer, visit Goal.com's MLS page and join Goal.com USA's Facebook fan page!